Are Meghan And Harry The True Drama Queens? New Book Alleges Just That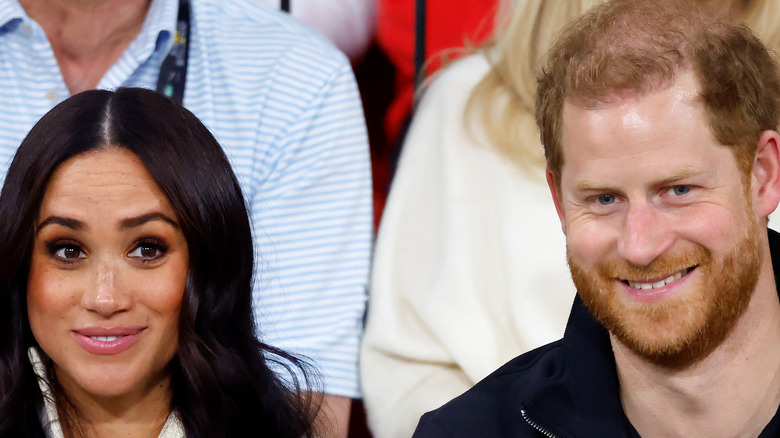 Max Mumby/indigo/Getty Images
We may receive a commission on purchases made from links.
Are they bullies or good guys? Whiners or victims? The public's opinion of Prince Harry and Meghan Markle tends to sway one way or the other, depending on which source you follow. For those who firmly believe the Duke and Duchess of Sussex are the true palace troublemakers, Tina Brown's new book won't disappoint. Dropping on April 26, "The Palace Papers: Inside the House of Windsor — the Truth and the Turmoil" reveals tidbits from insiders on both the black sheep couple and about other prominent royals.
Per Page Six, Brown paints Harry as a troubled young man, damaged by his parents' bitter marriage and the death of his mother, Princess Diana. His relationship with his father, Prince Charles, became strained after Camilla Parker Bowles entered the picture, and his personal demons caused his relationship with Cressida Bonas to fizzle out. When he began dating Meghan, says Brown, Harry's family was worried about his "obsession" with the American actress and questioned her ability to adapt to the culture and protocols of royal life. 
Sure enough, she says, Meghan was unwilling to accept her place in the family hierarchy. "Even before the engagement, she seemed to think that everyone in the shared office of William, Kate, and Harry was now hers to call in," says Brown. "What the Palace saw as her willful blindness to institutional culture was a direct clash with Meghan's worldview." Harry, meanwhile, had visions of the two of them "operat[ing] in the celebrity stratosphere once inhabited by Princess Diana."
Were Harry and Meghan really happy with Megxit?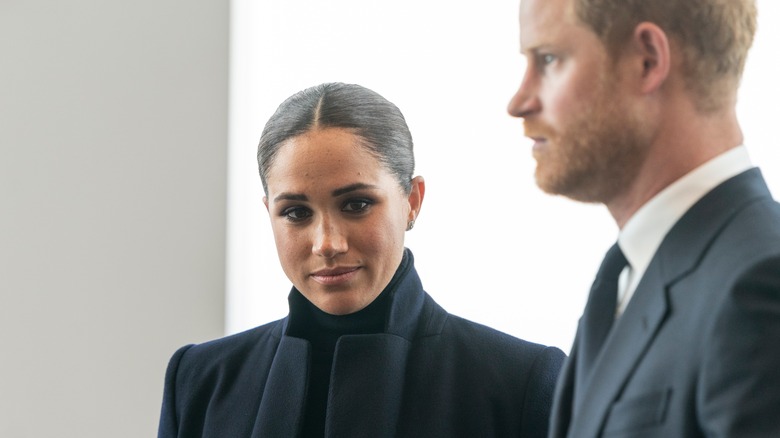 lev radin/Shutterstock
In Tina Brown's new bombshell book "The Palace Papers," she quotes a palace insider who alleges that Prince Harry and Meghan Markle share "a mutual 'addiction to drama'" that has fueled their actions both in and out of the royal family (via The Washington Post). One section details the couple's first joint Royal Foundation event with Prince William and Kate Middleton, in which Meghan reportedly "hogg[ed] the spotlight" and broke into a spontaneous speech. The Cambridges, says Brown, were not amused. 
The book goes on to detail Meghan's dissatisfaction with royal duties, which in turn made Harry less enthused about his role in the family. Brown quotes sources who confirm past claims that Meghan bullied palace staff and caused scenes during her wedding planning. Wanting a future as global ambassadors and philanthropists, the Sussexes reportedly weren't willing to wait until Meghan was more established within the palace. Instead, Brown writes, they announced their "Megxit" plan to step down from their official duties, hoping the royal family would support them.
An insider told Brown, "They thought ... it would force the Royal Family to respond by saying ... 'Okay, Harry and Meghan, what do you want? We're going to give you what you want'" (via Page Six). Instead, the palace let them go and stripped them of such privileges as Harry's military ranks — a reaction that left the Sussexes "really stunned."
Whether or not you believe this account of Meghan and Harry's drama-queen antics, the book promises to be juicy reading.