Ant Anstead Pays Tribute To Renée Zellweger One Year After Meeting Her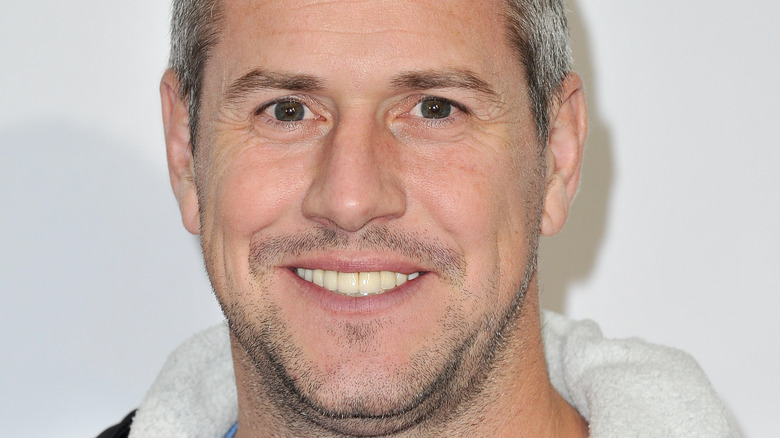 Allen Berezovsky/Getty Images
It's perhaps the most surprising relationship in recent history but apparently things are working out between Ant Anstead and Renée Zellweger. In fact, the reality star has just shared a tribute to his Oscar winning girlfriend on Instagram, sharing a rare photo of the two lovebirds together.
First, here's a little refresher on how Anstead, who was famously married to and then quickly divorced from Christina Hall from HGTV, and "The Thing About Pam" star met. Zellweger was making an appearance on the U.K. native's show, "Celebrity Joyride: IOU" when sparks flew (via People). It seems the rest is history and the stars have been a couple since June of last year.
Now, Anstead is sharing a behind-the-scenes look with fans of the beginning of his relationship with the actress. Over the weekend, the car expert posted a photo of the duo together sitting on a fire truck, both looking extremely happy. It turns out this picture is a throwback from when they met — and as the star dad notes in his social media share, a lot can happen in a year's time.
Ant Anstead can't help but express his excitement about his relationship
Renée Zellweger is famously private about her personal life, and isn't on social media. As she told Harper's Bazaar in a recent interview, "I don't look at my phone sometimes until six o'clock at night." And although Bridget Jones' alter ego has called her chance meeting with her now-boyfriend serendipitous, the actress is mostly mum about their romance.
But Ant Anstead couldn't help but gush about his love on Instagram. "WOW! This just popped up in memories," the 43-year-old wrote as a caption to the photo of him and Zellweger. He then noted that the picture was taken exactly a year ago, adding, "Sat on the back of a fire engine on the final day of filming having handed two amazing men a car as a thank you from Ren."
Indeed, the "Brokeback Mountain" star explained to Harper's Bazaar that she went on "Celebrity Joyride: IOU" after her friend, Hollywood publicist Nanci Ryder, died from ALS and with the help of Anstead, they gifted her nurses with dream rides.
"Amazing what can happen in just one year......." Anstead ended his post. This isn't the first time the proud beau has shared an update on his relationship with Zellweger on Instagram. The star previously posted a gif of the two kissing and has even promoted her TV show, "The Thing About Pam."