Renée Zellweger Shares The Heartwarming Story Behind Meeting Ant Anstead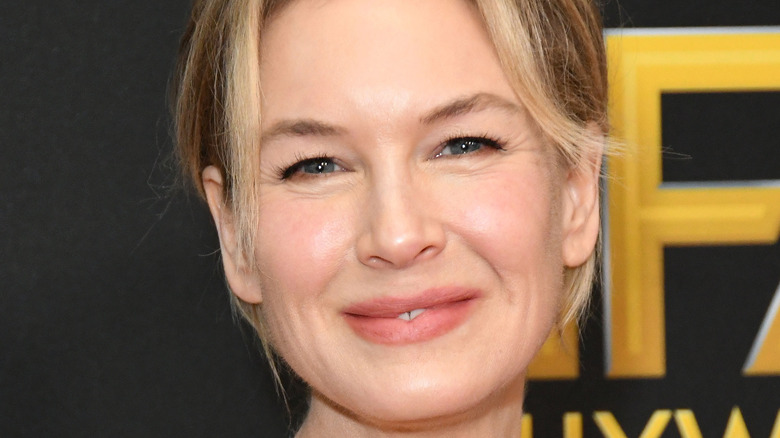 Quinn Jeffrey/Shutterstock
Ant Anstead has made no secret of how heartbroken he was over his divorce from Christina Haack. Which is why fans were delighted to see the reality star dad couple up with someone new. That someone is none other than Renée Zellweger, about whom the car expert has said he is "really happy" with (via People). Anstead also shared a recent gif of himself kissing the actress, captioning the sweet Instagram share, "This lady."
For her part, Zellweger has stayed decidedly more mum about her feelings for her new man. But now, the Oscar winner is opening up about how she met Anstead in a new interview with Harper's Bazaar. And it turns out their meet cute really is, well, pretty cute.
Nanci Ryder, a Hollywood publicist and close friend of Zellweger's who died in 2020 from ALS, was actually the impetus behind the meeting Anstead (via Los Angeles Times). The 52-year-old's dear friend inspired Zellweger to appear on the show "Celebrity IOU: Joyride" to honor the twin nurses who helped Ryder toward the end of her illness by gifting them new cars. Anstead, as fate would have it, hosts the show.
Renée Zellweger shares just a tidbit about her love life
According to the immensely talented Zellweger, she and Anstead credit Ryder with posthumously pairing them off. "Yeah, we do joke about that," Zellweger confessed during her Harper's Bazaar interview. "She's always doing her best. It made me smile. It made me smile to think on this, yeah, the serendipity of it all."
Beyond what the "Bridget Jones" star was willing to share about meeting her British boyfriend, she is famously private about other aspects of their relationship. Dirt reported in January that the A-lister bought a house in Laguna Beach, California to be near her beau, but she is yet to confirm this.
Whether the couple own homes near one another or not, it's worth noting that they definitely aren't rushing their relationship and do not have plans to move in together or say "I do" anytime soon (via TMZ). 
Zellweger declined to share any other updates on her love life with Harper's Bazaar.