Gwyneth Paltrow Opens Up About The Origin Of Her Daughter's Famous Name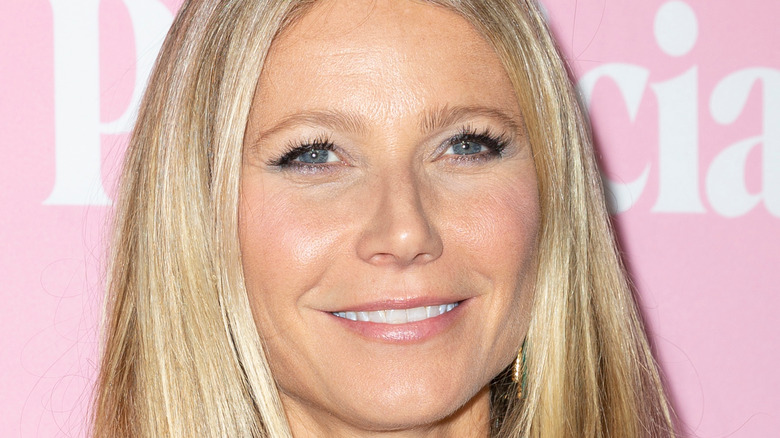 lev radin/Shutterstock
Gwyneth Paltrow is used to stirring up controversy. Since launching her wellness brand Goop in 2008, the Oscar winner has made headlines for everything from unique product launches (remember the jade egg?) to sketchy health advice, such as recommending that women steam their private parts. 
But people were really left scratching their heads back in 2004 when Paltrow and her then-husband, Chris Martin, had their first child and decided to give her a unique name.
Paltrow and Chris got married in 2003 and welcomed their daughter in May 2004, per Hollywood Life. After announcing the arrival of Apple Blythe Alison Martin (her middle names are in honor of both her grandmothers), Paltrow and Chris soon found themselves in the line of fire for giving their child such an unusual moniker. It was a reaction that Paltrow couldn't wrap her head around.
"It sounded so sweet and it conjured such a lovely picture for me — you know, apples are so sweet and they're wholesome and it's biblical — and I just thought it sounded so lovely and ... clean! And I just thought, 'Perfect!'" Paltrow told Oprah Winfrey (per People). 
"And then she was born, and it became an international outrage. Which I found surprising because there are people named Rose or Lily or Ivy or June ... or lots of pretty nouns."
Gwyneth Paltrow revealed that Chris Martin came up with their daughter's name
During an Instagram Q&A, a fan asked Gwyneth Paltrow how she came up with her daughter, Apple Martin's, interesting first name. "Her dad [Coldplay's Chris Martin] came up with the name and I fell in love with it," the Oscar winner responded, per People. "I thought it was original and cool. I can't imagine her being called anything else."
And Paltrow and Chris have a sense of humor about the backlash. After Elon Musk and Grimes welcomed their son and named him X Æ A-12, Paltrow joked that someone had finally beaten them in coming up with the "most controversial baby name."
For the record, Paltrow said in a 2015 interview with Howard Stern that her daughter loves her name. 
Apple seems to have inherited her father's musical genes. She has a writing credit on the song "Let Somebody Go," a collaboration between Coldplay and Selena Gomez featured on the band's latest album, "Music of the Spheres." Apple and her brother, Moses, also sang on the Coldplay tune "Orphans" in 2019.
And, although they split up in 2014, Paltrow and Chris' relationship has evolved so much that he now feels like her brother, she said. "You know, he's my family," Paltrow said on Today. "I love him and I'm so grateful to him for giving me these kids. It worked out well ... You know, it really did, I have to say."