Here's How Cameron Mathison's Wife Landed A General Hospital Appearance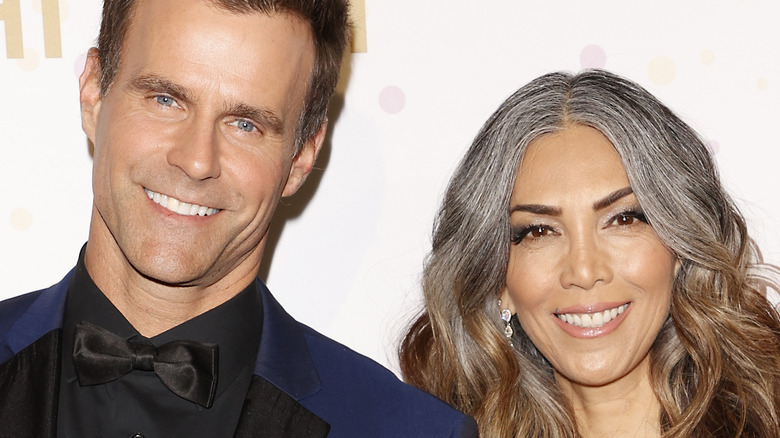 Michael Tran/Getty Images
Drew Cain is at a crossroads in his life on "General Hospital." Drew was held captive for two years while his family and friends in the fictional upstate New York town of Port Charles believed him to be dead. When viewers learned he was alive, he was suddenly played by Hallmark Channel's Cameron Mathison instead of Billy Miller, who originated the role in 2014 (via Soaps In Depth). Miller announced in 2019 that he would be exiting the soap opera, and Mathison was brought on to replace him in 2021 (via Good Housekeeping).
With not much else to do following his return to Port Charles, Drew returned to his business, Aurora Media, which was still thriving. However, he was unsure whether he wanted to continue with the business or move on to something else. Drew contemplated taking Aurora Media in another direction altogether. While thinking this over, he needed advice from someone who knew what they were talking about. Enter a woman named Mia...
When he got that advice in April 2022, Drew suggested to Michael Quartermaine (Chad Duell) that he merge Aurora with the family company, ELQ (via Daytime Confidential); Ned Quartermaine (Wally Kurth) wasn't thrilled by the prospect. While Drew consulting Mia, who works as an executive coach, might have seemed out of left field for some fans, it was a dream come true for the woman who portrayed her.
Vanessa Mathison played Drew Cain's executive coach
When Drew Cain sat down at the Port Charles Grill with a women fans had never seen before, the audience was as intrigued as Britt Westbourne (Kelly Thiebaud). Britt sat at the bar and listened in on the entire conversation, and viewers at home were every bit as captivated (via Soaps.com). Why would Drew have such a prominent scene about business with a brand-new character when he hasn't been talking business as much of late?
Well, it was to give Vanessa Mathison, Cameron Mathison's wife, a treat. The appearance was a gift for her 55th birthday, according to Soaps In Depth. Cameron took to Instagram to thank "General Hospital's" executive producer for making his wife's birthday so special.
"I have to say... Frank Valentini made the character of Drew a reality for me, and now he has made Vanessa's dream come true as well," he wrote next to a series of photos of himself and his wife on the "GH" set. "Vanessa has been a GH fan her whole life! When I met her I was Ryan on All My Children and she had no idea who I was... she only watched GH."
Could Vanessa Mathison return to General Hospital?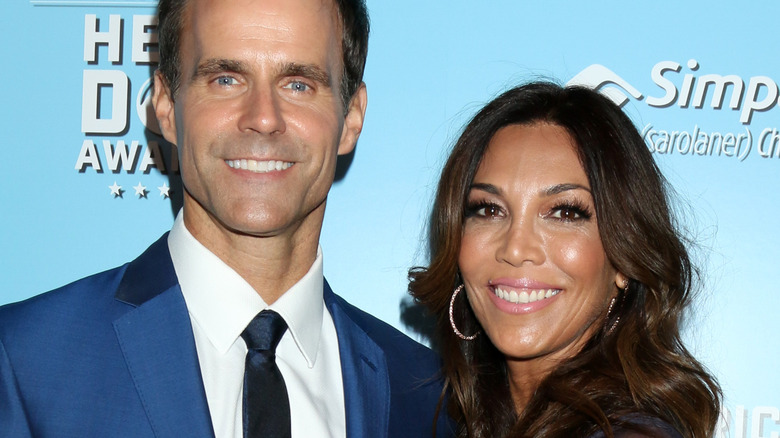 Kathy Hutchins/Shutterstock
Both Cameron and Vanessa Mathison discussed her "General Hospital" appearance with Entertainment Tonight's Matt Cohen. Cohen is no stranger to the show, as he spent from three years playing Griffin Munro on it (via IMDb). Vanessa, who used to work as a model, explained her love for the soap and how happy she was to make an appearance on it.
"I grew up watching 'General Hospital,'" she explained. "I was watching Jack Wagner [ex-Frisco], John Stamos [ex-Blackie]. This was totally a dream come true ... It was like the ultimate role-playing for the two of us."
Cohen also asked the couple if Vanessa might appear again and possibly share love scenes with her husband. After all, Drew is technically unattached at the moment so anything can happen and often does on a soap opera. However, Cameron wasn't so sure about the idea.
"In a way, it's like allowing people to have eyes into our bedroom, and in a way that becomes a little bit more uncomfortable," he said. Vanessa saw things a bit differently. "I think it would be kind of fun," she said. "We would have to run lines and practice a lot."