Selling Sunset Fans Troll Newcomer Chelsea Lazkani Over Her Accent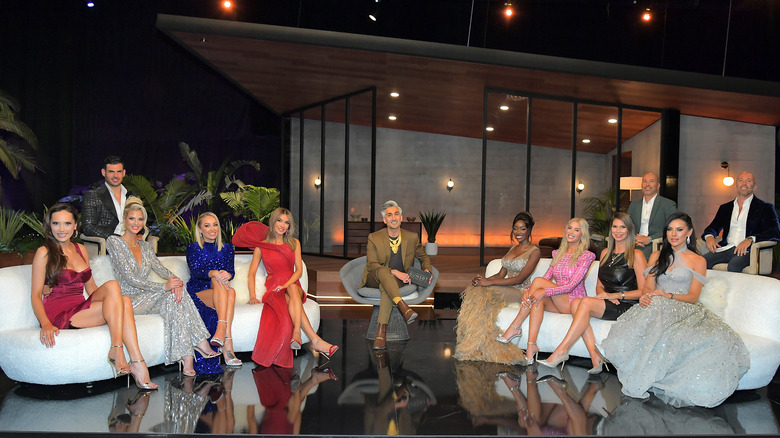 Charley Gallay/Getty Images
We can all agree that "Selling Sunset" needed some fresh blood. After last season's plot largely revolved around Christine Quinn feuding with, well, every agent at The Oppenheim Group, Chelsea Lazakani stepped in for season 5 to offer a new perspective on the drama. She's fabulous, she's a mom of two, she's a fashion goddess. But the U.K. native has stirred up some controversy of her own already and the thing that is not sitting quite right with viewers of the Netflix reality show is Lazkani's accent.
Let's start with some background on the new reality star. As she tells Quinn in the beginning of the season, she came to Los Angeles from London for what was supposed to be a quick trip but ended up staying for five years upon meeting her now-husband. 
But as the Daily Mail reports, hearing Lazkani talk in what seems like an on-again-off-again British accent has left fans of the realty eye candy show with some questions.
"I sounded more British than you and I wasn't born british. Don't know what accent was that," one viewer tweeted. But it turns out no one is more puzzled about the "Selling Sunset" star's accent than Lazkani herself.
Chelsea Lazkani has something to say to her haters
I've lived 3 countries (not 4) in 29 years. Born and raised in United Kingdom. Lived in Switzerland and now United States 😊 pic.twitter.com/cCYYOtE760

— Chelsea Lazkani (@ChelseaLazkani) April 23, 2022
Twitter had a lot to say about the new Netflix star's dialect to be sure. "I will spend the rest of my life trying to figure out chelsea lazkani's accent," commented one confused "Selling Sunset" viewer, while other people accused the star of faking an accent.
Taking to Twitter herself after her seemingly-odd accent started making headlines, Chelsea Lazkani directly answered fans who found themselves scratching their heads over the way she talks. "If you think you're irritated with my accent, Imagine me? I almost fainted listening to myself back. You mean to tell me this is how I sound? WooooooooOOooW," the star tweeted.
The 29-year-old also shared a video explanation in response to being trolled about how she speaks, noting she has lived in the U.K., Switzerland as well as the United States, which may have contributed to her accent sounding unique, a sound which the "London girl at heart" described as a "mish-mash."