Read This Before You See Senior Year
This content was paid for by Netflix and created by The List.
Rebel Wilson is ready to make you laugh out loud once again with "Senior Year." The new comedy film features the fan-favorite funny gal as Stephanie, a 37-year-old woman who wakes up from a coma two decades after a terrible cheerleading accident and doesn't recognize herself or the world around her. Returning from that fateful fall from the top of the pyramid proves to be dizzying in more ways than one, but she's somehow still determined to reclaim her former glory and decides to go back and finish her final year of high school with hopes of fulfilling her lifelong dream of becoming the prom queen.
"Senior Year" is a coming-of-age story like no other, and Wilson is hysterical as a 37-year-old teenager whose mind is still stuck in 2002. As Stephanie struggles to acclimate to all of the advanced technology, massive pop culture changes, and new social norms that suddenly surround her, Wilson seizes upon every single opportunity to leave audiences in stitches with her signature humor. So before "Senior Year" arrives on Netflix on Friday, May 13, let's take a look at what else you should know about this hilarious new comedy.
The cheer captains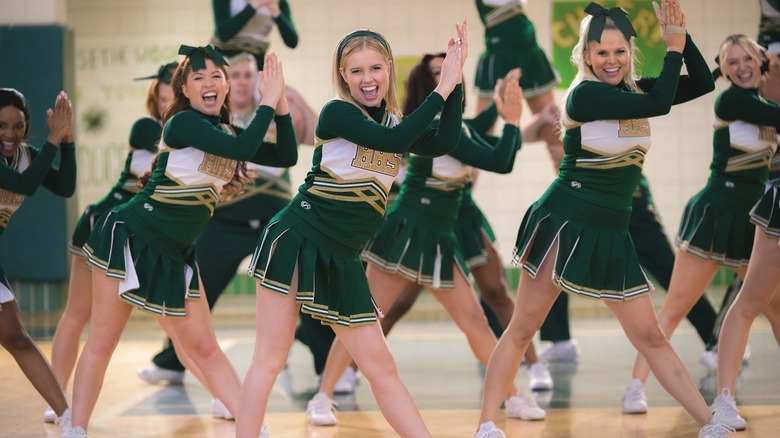 Boris Martin/Netflix
Chances are good that you've already got a running list of your favorite Rebel Wilson performances, and soon, you'll be adding "Senior Year." 
Audiences first came to know and love the Australian actress thanks to her scene-stealing work in ensemble comedies such as "Bridesmaids," "Bachelorette," and "What to Expect When You're Expecting." Wilson really became a household name with her side-splitting performance as Amy in the "Pitch Perfect" trilogy. Since then, she's taken the spotlight in several memorable romantic comedies, including "How to Be Single" and "Isn't It Romantic," and she's also proven to be a standout in fantasy fare like "Night at the Museum: Secret of the Tomb" and buddy action vehicles like "The Hustle." Wilson's ability to deliver truly uproarious lines with a straight face has made her one to watch right from the start of her impressive filmography, and fans can certainly count on more of that with her turn as Stephanie in this new film.
Meanwhile, portraying the teenaged version of Stephanie is another wonder from Down Under, Angourie Rice. Rice is quickly becoming one of the busiest young actors in Hollywood after managing to steal all of her scenes in star-studded films like "The Nice Guys" and "The Beguiled" and earning a key place in the Marvel Cinematic Universe as ambitious student broadcaster Betty Brant in the most recent "Spider-Man" series. Rice has also become a staple of the small screen, thanks to her take-notice turns in celebrated series such as "Black Mirror" and "Mare of Easttown." In "Senior Year," she reveals her rare gift for playing a character who's endlessly confident and determined to achieve her own happy ending.
The all-star squad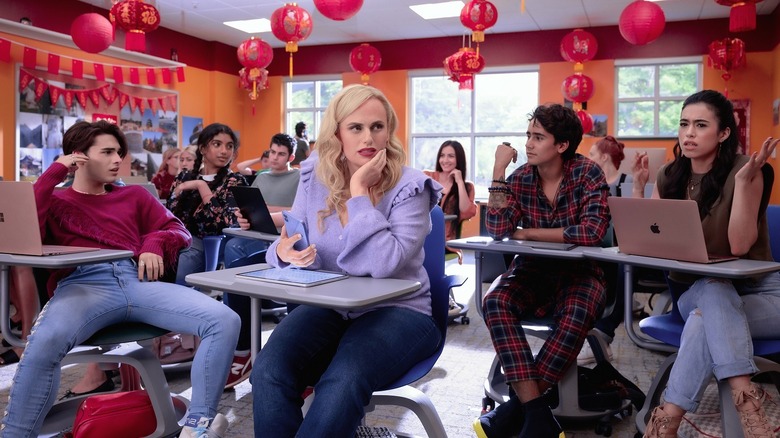 Boris Martin/Netflix
Joining Wilson and Rice on-screen in "Senior Year" are some more fantastic faces, including "Veep" favorite Sam Richardson, "Living with Yourself" and "Love Life" star Zoe Chao, and "This Is Us" heartbreaker Justin Hartley. Plus, audiences will also get to see "The Woman in the House Across the Street from the Girl in the Window" star Mary Holland, "It" standout Jeremy Ray Taylor, "Saturday Night Live" alum Chris Parnell, "Love, Victor" star Michael Cimino, and more. Audiences can also expect to see an appearance from the biggest "it girls" of the '90s, Alicia Silverstone, who became a pop culture legend for her trendsetting role as Cher in "Clueless" and has recently warmed our hearts with her work in "The Baby-Sitters Club."
In addition to this formidable cast, there are also some impressive creatives behind the scenes of "Senior Year" as well. The film is co-written by actor-writer Brandon Scott Jones (who previously worked with Wilson on "Isn't it Romantic"), Andrew Knauer ("The Last Stand," "Castle Falls"), and Arthur Pielli (who also co-wrote "Ghost Team One" with Knauer). Meanwhile, the pic is directed by Alex Hardcastle, who's previously taken the helm of some of the biggest hit series of the small screen, including "Parks and Recreation," "The Office," "New Girl," "The Mindy Project," and "Grace and Frankie," just to name a few. He also previously collaborated with Wilson on the pilot of her ABC comedy series "Super Fun Night."
With all of this on-screen and behind-the-scenes talent tackling such a fun fish-out-of-water story, get ready to laugh 'til it hurts when "Senior Year" arrives on Netflix on Friday, May 13.