Author Explains Why The Future Of The Monarchy Rests On Kate Middleton's Shoulders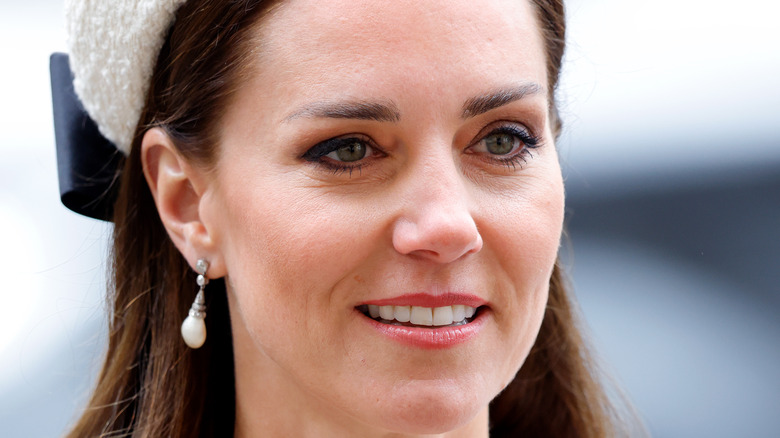 Max Mumby/indigo/Getty Images
If it wasn't for Kate Middleton, there would be no future for the British monarchy. At least that's what many experts believe, especially in light of the year the royal family just had. Between the settlement of Prince Andrew's court case with Virginia Giuffre, whom he has been accused of sexually assaulting, and the rift between Prince Harry, Prince Charles, and Prince William, it appears the men of the House of Mountbatten-Windsor can't be counted on to emulate Queen Elizabeth's stoicism or steadfastness. Instead, you'll need to turn to Catherine, Duchess of Cambridge, who has gone from "being dismissed by the press as 'Waity Kaity'," to becoming "part of the royal-family bedrock," per Vanity Fair.
However, you don't need to look further than the United Kingdom's past to see that queens have served the monarchy far better than kings. "If one pays attention, through the history of this family, women are vital," explains Antonio Caprarica on the royal podcast, "God Save the Queen" (via Marie Claire). "Victoria reigned nearly 70 years, Queen Elizabeth is at nearly 68 years [now 70] of reign. When the Queen is no longer there, it's clear the center of the Royal Family will be Kate."
Tina Brown, the former editor of Vanity Fair and Tatler magazine, has a new book coming out that also points to Kate as being the one who will carry the royal family into its post-Elizabethan era.
If you or anyone you know has been a victim of sexual assault, help is available. Visit the Rape, Abuse & Incest National Network website or contact RAINN's National Helpline at 1-800-656-HOPE (4673).
Royal insiders say Kate Middleton is just what the monarchy needs right now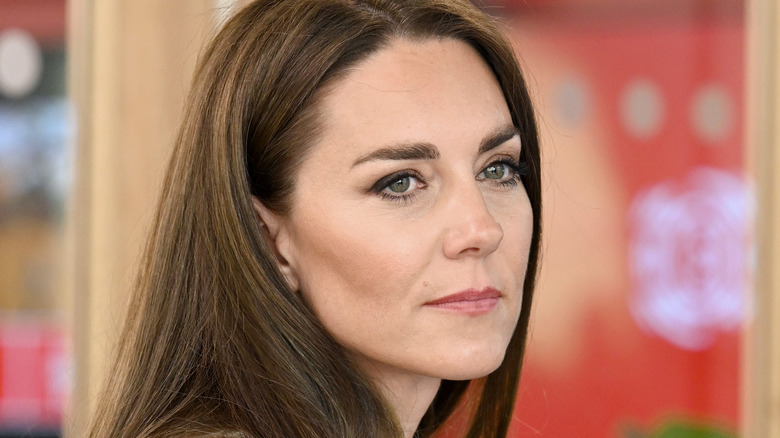 Jeff Spicer/Getty Images
It's clear to those around the Duchess of Cambridge that in the decade she's been a royal, Kate Middleton has put a lot of work into understanding her role and its place in the bigger picture of the monarchy. Rebecca Priestley, Kate's former private secretary, told the Daily Mail that when it came time to decide just what philanthropic direction to go in, Kate had "clearly put a lot of thought in it and made very clear that, for her, it was about listening and learning." These were lifelong commitments she was about to make — something it's clear the future queen doesn't take lightly.
In order to decide and plan out what her role as a royal would be, Priestley says the duchess put the work into understanding the impact she could make. "She wanted to learn," Priestly said. "There were a lot of under-the-radar visits and she saw people privately to help her understand the issues she wanted to put her name to," (via the Daily Mail).
What Kate adds to the family, though, goes beyond her willingness to learn or her commitment to care. Patrick Jephson, Princess Diana's former chief of staff, explained, "As the Prince Andrew scandal shows, the monarchy is in desperate need of reassuringly conventional royal performers." He added, "Catherine is just what these troubled royal times need," per Page Six. Jephson went on to say that "it's no exaggeration that the Windsors' future lies in her hands." 
This is what makes Kate Middleton so essential to the future of the royal family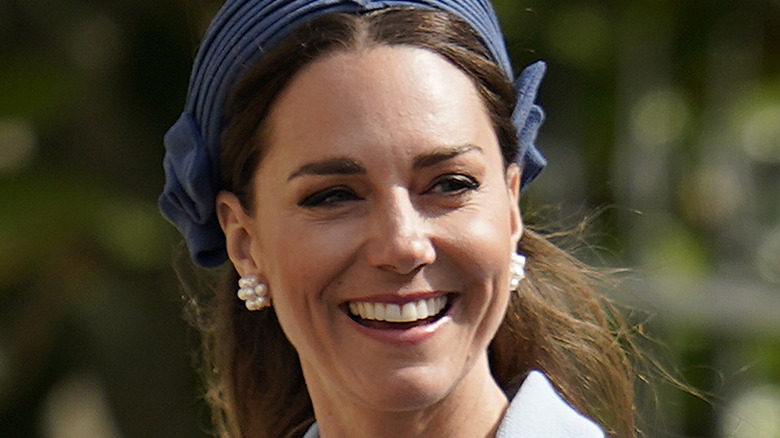 Wpa Pool/Getty Images
Part of what makes Kate Middleton such an asset to the British royal family is how approachable she remains. Jamie Lowther-Pinkerton, who previously worked for Kate and Prince William as their private secretary, told People this is because of her upbringing. Not only does it help balance the couple out, but Kate's helped bring a "pragmatic awareness of what it's like to be from a decent, down-to-earth family."
Another former staffer also told People that Kate's helped find "a point of connection for a different range of subjects that the family hasn't always connected with," like mental health. Tina Brown, author of "The Palace Papers," agrees with other royal experts that Kate is who everyone will see as the real head of the royal family in the future. "If for any reason, she thought like Meghan [Markle], 'I'm out of here, I can do much better,' it would be a disaster," Brown told The Post during a recent interview (via Page Six). 
Brown went on to explain how she believes the monarchy would, "crumble at the moment without [Kate] because she's the only modern, beautiful woman who's well-educated, substantial in herself, who's actually wanting to commit herself to the rigors of this institution." Shade at Meghan aside, Brown brings up a good point: Kate is the only working royal left who has one foot in the real world. She may be indoctrinated into royal life, but it doesn't mean she's forgotten who she is or where she comes from.