Andrew Cuomo's Late-Night Escapade Is Raising Eyebrows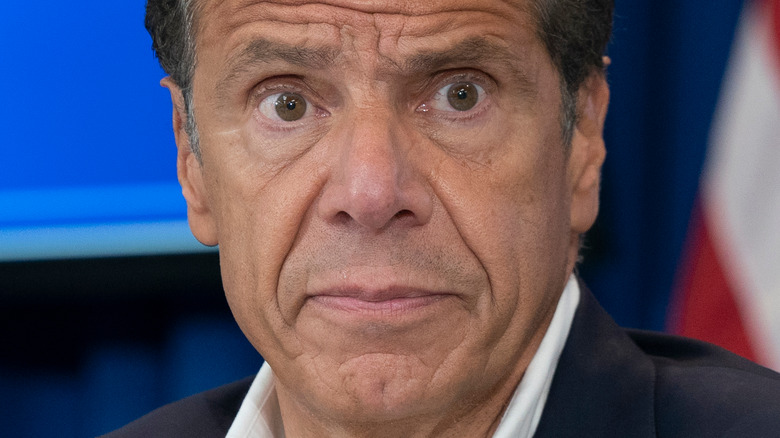 lev radin/Shutterstock
Former New York governor Andrew Cuomo experienced a far fall from grace. During the height of the COVID-19 pandemic, he became a fixture in providing information on the virus not only to his constituents in New York but also to the whole country (via U.S. News & World Report). Many looked to him for words of encouragement and hope during an uncertain time, particularly because New York was the pandemic's U.S. epicenter during its initial peaks in 2020. Therefore, he had firsthand experience to relay to the nation. 
However, Cuomo's public reputation went downhill quickly following a scandal that led to him resigning from his role as governor (via NBC News). After accusations of sexual harassment from several women, the politician bid farewell to a public that once loved him and now viewed him completely differently. Still, Cuomo was not charged with sexual harassment, per The New York Times.
In a news conference, Cuomo said, "Given the circumstances, the best way I can help now is if I step aside and let government get back to government, and therefore that is what I'll do, because I work for you, and doing the right thing, is doing the right thing for you" (via NBC News).
While he's been out of the spotlight for a while now, Cuomo is finding his name back in the headlines as he's been spotted with a mystery woman.
Andrew Cuomo was recently spotted with a new woman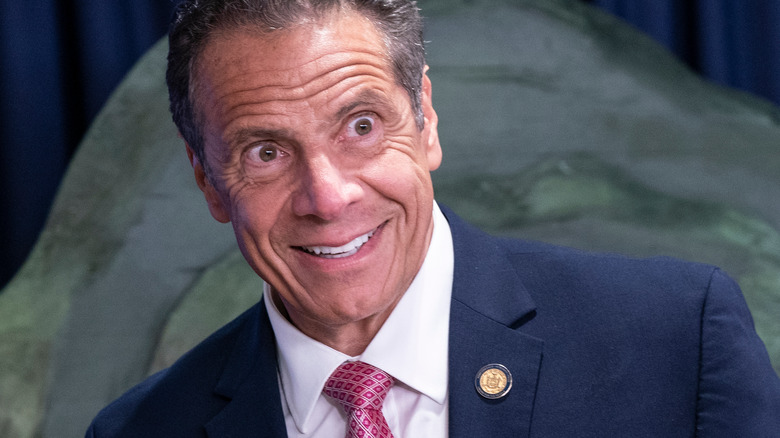 lev radin/Shutterstock
Page Six received exclusive information regarding former New York governor Andrew Cuomo's late-night escapades. According to the outlet, the disgraced politician was seen with a mystery woman with blond hair around 1 a.m. on Saturday. He was seen in the Chelsea area of New York City at the McKittrick Hotel for dinner and eventually made his way to a rooftop bar with her.
The source told the outlet, "Cuomo was with a group of friends and appeared very comfortable in a pair of jeans and navy blazer. He was accompanied by a mystery green-eyed blond in her late 40s, wearing a black dress. He stayed 'til about 1 in the morning." This, of course, follows his split from celebrity cook Sandra Lee, with whom he was together for years (via the New York Post).
On his new mystery woman, another source told Page Six, "After the [magic] show was over, he walked around introducing himself to everyone and shaking hands like he was running for office ... If babies were allowed, he would've kissed them as well. He went up to the rooftop, where he stayed 'til 1 a.m." This, then, corroborates the first source.
According to Town & Country, Cuomo is single, at least by public knowledge. He was once married to Kerry Kennedy, the daughter of Robert Kenndy, until 2005, with whom he shares three daughters. Whoever this mystery woman could be his new girlfriend, though her identity remains unknown at the time of writing.