Royal Author Launches Attack On Palace Aides Following Prince Harry's Latest Visit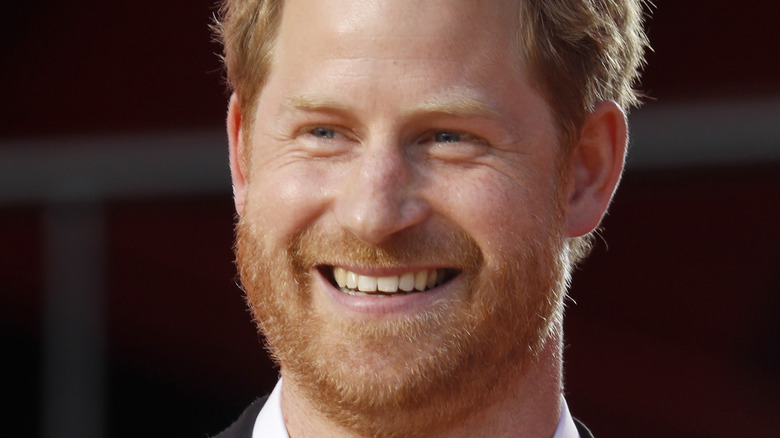 John Lamparski/Getty Images
Prince Harry finally made his long-awaited return to the United Kingdom, for his first in-person meeting with the queen since he and his wife Meghan Markle spectacularly defected from the royal family and moved to California two years ago. Fans had a lot of hard feelings about Harry not attending his grandfather's memorial last month but, as Marie Claire pointed out, the Sussexes are currently battling the British courts for their right to a security detail during visits to the island. Harry admitted he was "unable to return home" until the matter was sorted.
As the prince's team stated, "While his role within the Institution has changed, his profile as a member of the royal family has not. Nor has the threat to him and his family." In America, Meghan and Harry can pay for their own security but, across the pond, they're prevented from doing so by the Home Office. Moreover, police protection isn't offered to them either, since it's funded by taxpayers. Per Fox News, the couple's surprise visit to Windsor Castle marked the first time they'd returned to England together since leaving.
Although Harry has been back a handful of times alone, this particular trip was notable not just because Meghan accompanied him, but due to the duke's comments about his grandmother, which rubbed many royal experts the wrong way.
Prince Harry boasted of a special bond with the queen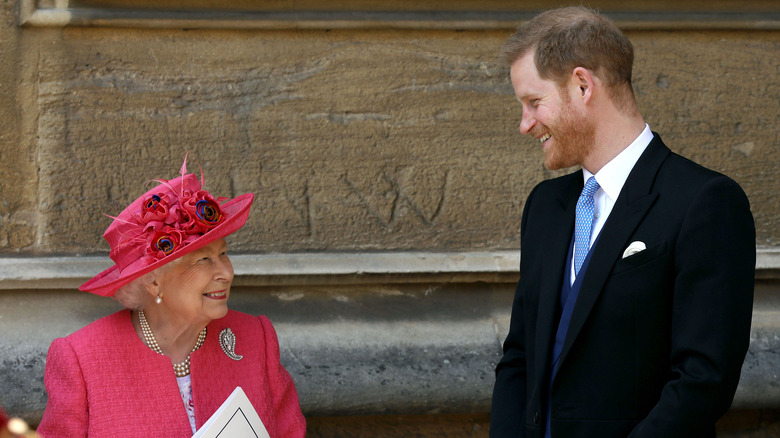 Wpa Pool/Getty Images
In an interview with Today, Prince Harry opened up about his recent whirlwind visit to England, and, in particular, how it felt to reconnect with the queen after so long apart. "Being with her, it was great," Harry enthused. "It was just so nice to see her." The long-reigning monarch battled COVID-19 earlier this year and has been mostly absent from public life, leading to speculation about her waning health. According to Harry, the queen is in fine fettle, with her sense of humor fully intact. 
Harry also reiterated that, despite the physical distance between them, he still supports his grandmother 100%. However, one comment the duke made during the chat caused major controversy. At one point, Harry stated, "I'm just making sure that she's, you know, protected and got the right people around her," acknowledging he and the queen share a close bond. "We have a really special relationship, we talk about things she can't talk about with anyone else," Harry shared, per Insider.
The Daily Mail reports that royal experts were up in arms about his comments, even suggesting the prince is exaggerating their relationship to further his celebrity in the States. Biographer Tom Bower argued Harry is more concerned about his own commercial prospects and doesn't want anybody to interfere with his bottom line. According to Bower, "To enhance his credibility in America and for Netflix he needs to [play up] a special relationship with the Queen."
Omid Scobie says Harry is doing right by his grandmother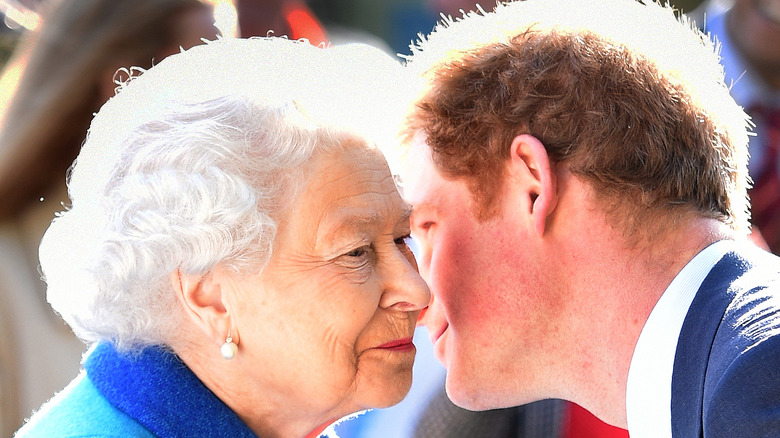 Wpa Pool/Getty Images
Palace staff weren't briefed on Prince Harry and Meghan Markle's visit to the queen over fears they don't all have her "best interests at heart," according to royal author, and friend of the couple, Omid Scobie. Following reports that palace aides believed the duke showed "breath-taking arrogance" by claiming he was trying to protect his grandmother, Scobie launched a scathing attack in a piece for Yahoo. He pointed out, first and foremost, staff purposefully weren't told ahead of time because this "was Harry's first chance in a year to truly speak privately with his grandmother without fear of anyone overhearing or wandering in the background of a video call."
Scobie took aim at the queen's private secretary Edward Young and her dresser and confidante Angela Kelly, both of whom the royal author claimed treated the Sussexes unfairly. As Scobie explained, since Prince Philip's passing, Her Majesty has been living by herself. Despite regular visits from family, she's mostly surrounded by "employees of the royal institution," many of whom, as Scobie argues, were "people that Harry experienced some of his darkest and most distressing moments as a working member of the Firm." It's unsurprising, then, that the duke wants to keep certain things private whenever possible.
Meanwhile, although the queen is probably hoping her grandson might return home someday, a famous editor recently claimed Markle will never return to the UK.