Resurfaced Clip Shows Dakota Johnson Noticing A Suspicious Detail About Johnny Depp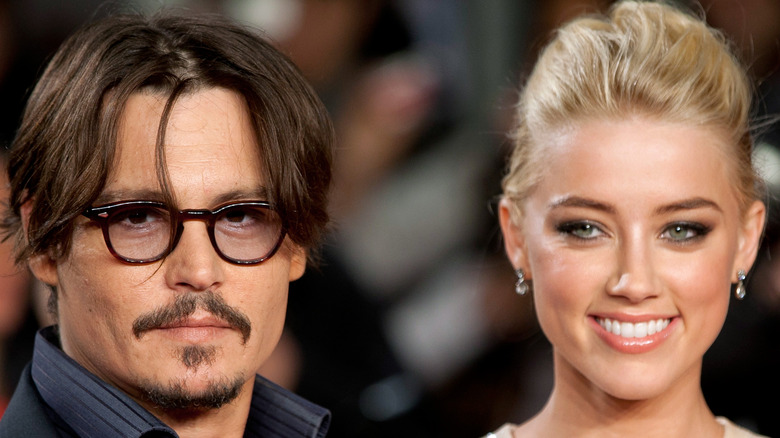 John Phillips/Getty Images
Amber Heard and Johnny Depp's court battle just got a whole lot more complicated, with each new revelation somehow crazier than the last. 
One of the biggest talking points, naturally, is the actor's infamous severed finger. As People reported, Depp shared gruesome details about a fight between him and his then-wife that occurred while they were in Australia, during which she allegedly threw a vodka bottle, severely injuring his right middle finger. 
"Blood was pouring out," the star explained. "I think I went into some sort of ... I don't know what a nervous breakdown feels like, but that's probably the closest that I've ever been. Nothing made sense." Soon, Depp was scrawling on the walls with his blood and hiding in the bathroom, calling his doctor for help. 
Dr. David Kipper later acknowledged that the actor claimed he'd cut his own finger, which was what an ER doctor was told at the time, too. As Insider notes, Heard previously claimed he severed the finger himself after slamming a phone into the wall during an explosive argument. 
Depp is suing his former wife for defamation after she wrote an op-ed in the Washington Post about being a victim of domestic abuse. Although the actor wasn't named in the piece, Depp claims his work suffered irrevocably as a result of the media furor surrounding it. 
As the finger continues to be a point of contention, an old clip has resurfaced featuring Dakota Johnson and the digit in question. 
If you or someone you know is dealing with domestic abuse, you can call the National Domestic Violence Hotline at 1−800−799−7233. You can also find more information, resources, and support at their website.
Did Dakota Johnson know something was up with Johnny Depp's finger?
A resurfaced clip is doing the rounds on TikTok, which shows actor Dakota Johnson, who appeared with Johnny Depp in "Black Mass," noticing his injured finger during an interview at Venice Film Festival. In the footage, Depp gestures while giving a response to a question; Johnson looks down at her colleague's finger and looks concerned about it.
Notably, the clip is accompanied by "She Knows," a song by J. Cole, suggesting Johnson had some indication that all was not well with Depp. The video could be seen as part of a concerted effort to discredit Depp's ex-wife, Amber Heard, whom many fans believe lied to hide her own abusive behavior. 
In fact, per Sky News, Depp concluded his lengthy testimony by confirming once and for all that he was a "victim of domestic violence." 
Although social media is mostly focused on exonerating the "Pirates of the Caribbean" star, Howard Stern had harsh words for Depp amid the Heard trial, arguing the actor was giving the performance of his career.