Hilaria Baldwin Opens Up About One Of Her Children Experiencing A Scary Injury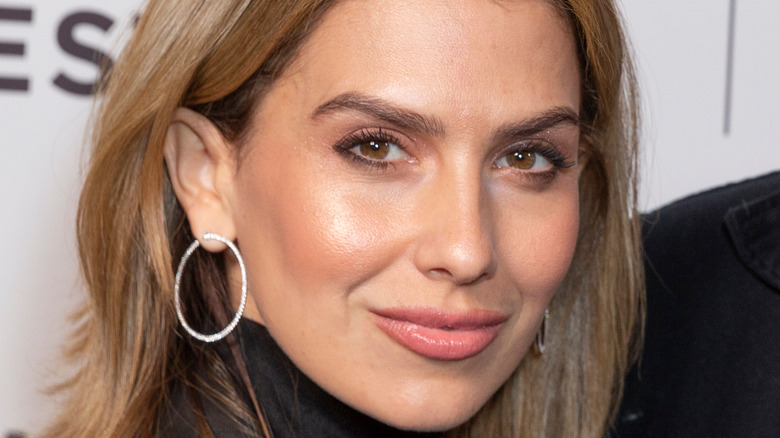 lev radin/Shutterstock
Hilaria Baldwin has had enough excitement and crises in the last few months. Of course, she and husband Alec Baldwin are still coping with the grief, stress, and legal matters surrounding the fatal shooting on the set of Alec's film "Rust." But they're also excited about their major pregnancy update: Hilaria is expecting their seventh child this fall. Their other children range in age from 8-year-old Carmen to 1-year-olds Eduardo and Lucia (per USA Today).
"So much of motherhood is waiting and realizing that there is so much beyond our control," Hilaria remarked shortly after her pregnancy announcement. Little did she know that her words were about to come true in a way she never expected. On April 27, 2022, their 6-year-old son Rafael ("Rafa") was badly injured during what should have been a routine trip to a park near their Manhattan home. (No details have been released about who was watching Rafa at the time, or how the accident happened.)
"Rafa broke his arm really badly yesterday, playing at the park. You will see him with a cast for quite a while now, so I wanted to give you a heads up," Hilaria wrote on a long Instagram post. "This is a part of being a parent that is so heartbreaking. We were with the babies when it happened and to get that call makes your heart sink. His little voice on the phone 'I want my mommy' ... knowing even the 20 min to get to him is 20 min too long."
Rafael Baldwin is in good spirits after his accident
Hearing the news of their son's accident, Hilaria and Alec Baldwin rushed to Lenox Hill Hospital in Manhattan, where they comforted young Rafa as doctors set his broken arm in a full-length cast. They finally went home late that night, and set up a makeshift bed on the floor of their bedroom for fear their "wild sleeper" would roll off his own bed and re-injure his arm. Still, Hilaria didn't get much sleep: "How many times he called out for me, I do not know," she said.
More than 40,000 friends and fans of the Baldwins offered likes and support. Among the well-wishers was their good friend Leslie Jordan of "Call Me Kat," who wrote, "Wishing sweet Rafa a quick recovery and sending my love. Never doubt that you're two of the best parents on this planet."
Happily, Rafa seems to be in good spirits despite his scare. The day after the accident, Hilaria posted several items about him on her Instagram Stories. In two of them, he's seen learning how to draw with his left hand. "He's actually pretty good with his left hand," Hilaria commented, adding that she's ambidextrous too. Another is a video of Rafael thanking a friend who sent him a get-well message. He says he's "feeling good ... 'cause I broke my arm, which pretty hurts a lot ... but anyway, I get to sleep with you — so that's a good thing — for three more days." 
Now that's what you call making the best of a bad situation.