Hilaria Baldwin Shares A Major Pregnancy Update
lev radin/Shutterstock
Hilaria Baldwin told People at the end of March, "One of the most beautiful things my children have experienced with a big family is how the heart can grow with every new sibling." It looks like Hilaria and Alec Baldwin's six kids are going to get the chance for their hearts to grow once again now that the Baldwins are expecting a seventh baby this fall. Their kids' ages currently range from 8-years to 13-months-old. Even Alec once joked on "The Ellen DeGeneres Show" that his wife collects children the way other people might collect art or cars, per ET Online. 
In the Instagram post announcing there was another Baldwin baby on the way, Hilaria wrote, "We were pretty sure our family was complete, and we're beyond happy with this surprise." In 2021, Hilaria opened up a devastating loss when she revealed she had two miscarriages in 2019, per People. In April 2021, Hilaria revealed in her Instagram Story that she is always thinking of her late daughter who died in November 2019 and that it is astonishing that she can feel both sadness over the pregnancies she lost while also filled with joy and love at her newest little ones.
While Hilaria has shared her pregnancy news through social media updates, she's also used social media to explain why she's not going to immediately share if she's having a boy or a girl — even though people have asked.
Hilaria Baldwin wants to help the world be more gender inclusive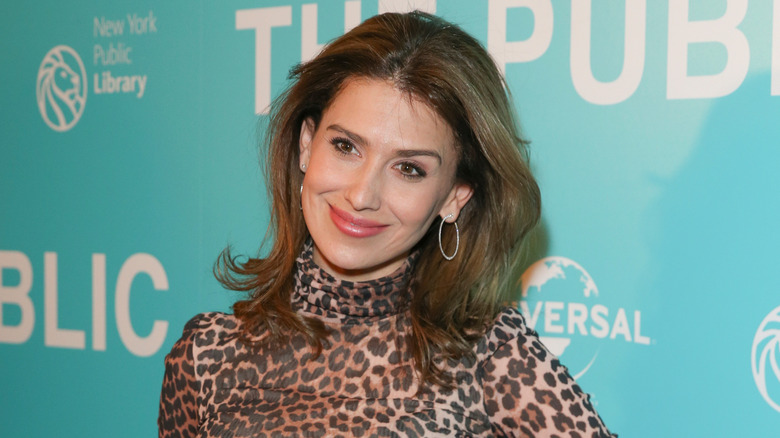 lev radin/Shutterstock
In her Instagram Story, Hilaria Baldwin acknowledged that she knew the sex of the baby she's carrying, but there's two reasons she's not going to tell the world (via People). The first reason tied back to the miscarriage she had at four months in 2019, saying she would wait until after that time in her current pregnancy before potentially revealing the sex. However, considering her second reason for not revealing the baby's sex, it sounds like this could be something she won't share at all.
Hilaria wrote about her connection to the LGBTQIA+ community and that before she did any announcing, she would be making sure it was gender inclusive. "I am talking with a few close confidants on how I can be thoughtful and inclusive on helping to curate a more gender inclusive world," Hilaria wrote. 
For their fifth baby, the Baldwins did a gender reveal on Instagram, per Us Weekly. Some consider a gender reveal party to be problematic in that it reinforces the belief that your assigned sex at birth is the same as your gender, and that there are only two genders that are best represented by blue for boys and pink for girls (via VeryWellFamily). Fans of Hilaria will just have to wait and see if she reveals anything.