The Utica Queen Connection You Missed In Willow Pill's Finale Look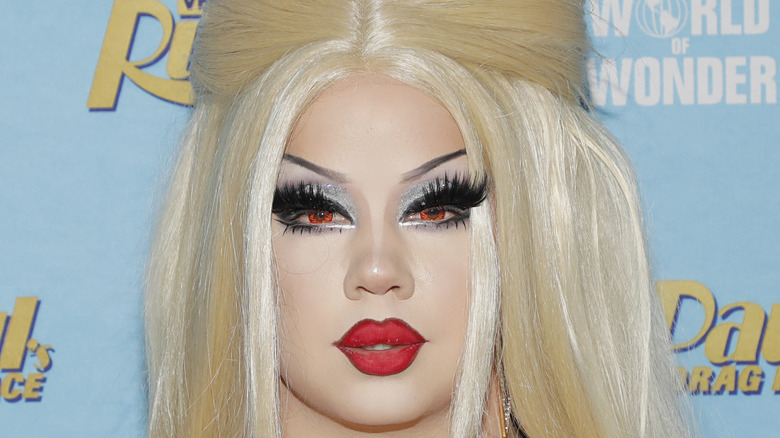 Astrid Stawiarz/Getty Images
Season 14 of "RuPaul's Drag Race" came to a triumphant close with the crowning of fan-favorite queen Willow Pill. As Deadline notes, the final five — the first in the show's herstory — came down to Willow, Angeria Paris VanMicheals, Bosco, Daya Betty, and Lady Camden. Lady Camden ultimately came in second, nabbing the coveted $50,000 runner-up prize. The sorely missed Kornbread, who notably got a tattoo of Willow Pill, was crowned Miss Congeniality. 
The big finale was shot in Las Vegas and featured solo performances from all five finalists, as well as a group number by the current stars of the "Drag Race" live show. Host RuPaul Charles, meanwhile, was gifted the key to the city by long-time squirrel-friend Michelle Visage. Fans online were thrilled with Willow's victory, with one gushing, "I knew from the beginning that she would win!!! Thank you for being a voice for those with disabilities!" 
Yvie Oddly's drag daughter was the favorite from the very beginning, thanks to her kooky style, acid tongue, and demonstrable talent. However, there was a major connection to a "Drag Race" alum in Willow's finale performance that probably went over your head. 
Willow Pill was the favorite to win Drag Race from the start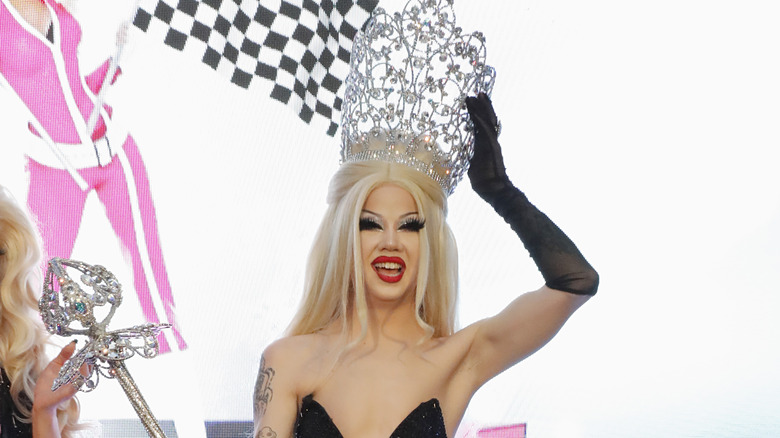 Astrid Stawiarz/Getty Images
From the very beginning, "Drag Race" star Willow Pill was open about the illness she has, which endeared her to millions of fans watching at home. "It's a frickin' ravenous and thorough disease," she admitted to People, acknowledging everything in her life is impacted by dealing with cystinosis, which understandably means doing drag sadly can't be a lifelong pursuit for Willow either.
"It's amazing to hear from people how much my drag means to them," Willow told Entertainment Weekly shortly after being crowned the winner of Season 14. "But also, I think I need a big ego check." Although Willow is thrilled with her victory, she's concerned about letting it all go to her head. Still, following in the footsteps of her drag mother, and Season 11 winner, Yvie Oddly, is "a huge notification from the world that I'm going in the right direction in my life." 
Willow's increasingly wild looks delighted fans throughout Season 14, and her finale ensembles didn't disappoint, including an oversized jacket which she stripped off to "ru-veal" a giant pair of pants underneath. 
Utica Queen was instrumental in creating Willow's jaw-dropping finale look
Willow Pill also donned a bizarre creation featuring miniature versions of her own head during the finale (via Instagram). Even more surprisingly, a fellow "Drag Race" star had a hand in bringing it to life. Utica Queen, who competed in Season 13 of the hit show, shared a video on Instagram detailing how the incredibly intricate costume came to fruition. "An amazing experience for an equally amazing soul!" Utica enthused. Meanwhile, in her own post, Willow shouted out Utica for doing such a good job.  
The look featured three molds of the winner's head, one of which was revealed on her crotch towards the end of the performance (via YouTube). Willow hilariously referred to them as "Carson [Kressley], Ross [Mathews] and Michelle [Visage]" after the three "Drag Race" judges. It was a showstopper through and through, and an outfit fit for a winner, which Willow obviously turned out to be. 
On what we can expect from her next, the Season 14 star told Nylon, "I'm excited to just explore some other opportunities." She continued that, beyond performing live, "I also am excited to try a little bit of music, a little bit of modeling, and a little bit of acting. Yeah, I just want to explore some new things and see where the evolution of Willow goes."