What Are Duochrome Eyeshadows?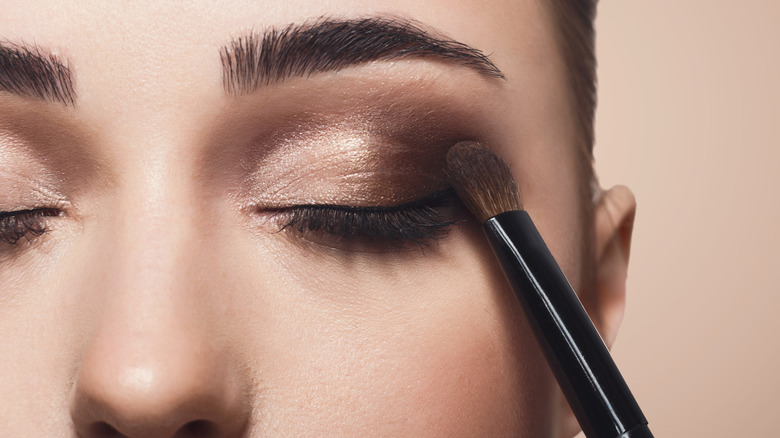 Prostock-studio/Shutterstock
When it comes to eyeshadow colors, the sky is the limit. Plus, now you can almost find all the colors in various finishes like matte, shimmer, satin, metallic, glitter, or frost (via Thea Makeup Artistry). Whether you like more au naturale or dramatic colors, you can find the perfect eyeshadow that your heart desires. You can get individual eyeshadow in singles or a palette with a multitude of colors, and you can do more with eyeshadows than you think. 
In fact, celebrity makeup artist Neil Scibelli told Byrdie, "When you look at a palette with an open mind, the possibilities can be endless. You can use the darker colors as a liner, you can use the lighter colors as a brow bone highlighter." You can even blend multiple colors together to personalize your look.
You can also use colors together to accentuate your natural eye color. Celebrity makeup artist Alana Wright told the New York Post, "Color theory is helpful to make eye color pop in their own unique way," and recommends shades of navy and teal for brown eyes. Similarly, you can add colors like orange and gold for your blue eyes. Combining colors together is a fun way to experiment with various looks, and duochrome shadows may just be one of the best makeup looks for blue eyes.
If you love playing with eye makeup, you may have come across duochrome eyeshadows, which have a magical power of their own.
Duochrome eyeshadows change color based on lighting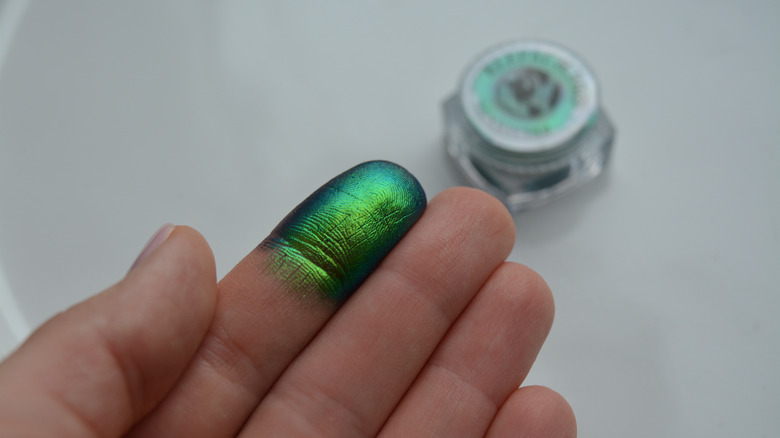 valentyno4ka/Shutterstock
Iconic makeup brand Pat McGrath makes beautiful eyeshadow palettes that include duochrome shadows. As the name suggests, duochrome eyeshadows are made with pigments that make one eye shadow appear like two different colors based on how light reflects on it (via The Mascara Wand). Imagine one eyeshadow that changes from blue to green depending on how the light hits the colors. The color change is known as "reflects, flashes, or flips." Isn't that fascinating? You get two for the price of one. 
Bustle calls duochrome eyeshadows "total scene-stealers" because you just need one to create a multitude of dimensions; just make sure to blend them well. They look beautiful on every eye color and may even look like you put way more effort into doing your makeup than you actually did. Others might think you are a pro when all you need is a little swipe of one gorgeous eyeshadow. 
Duochrome and multichrome eyeshadows are similar but not the same because multichrome eyeshadows shift between more than two colors (via Ipsy). It's that simple. Whether you want to jazz up your look or are getting ready for a festival, duochrome eyeshadows are an excellent investment because you can let your eyes do all the talking.
Best duochrome eyeshadows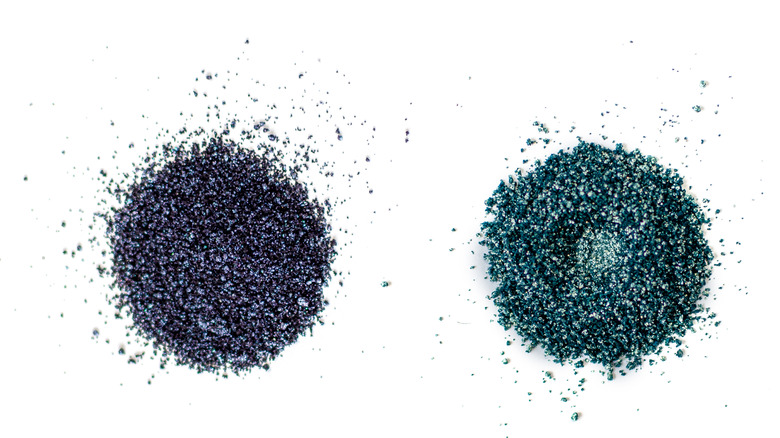 Iris_art/Shutterstock
Duochrome eyeshadows are getting more popular every day because they allow you to experiment with colors and are super flattering on all eye colors and skin tones. With tons of duochrome eyeshadows to choose from, here are some of the best. The Mascara Wand is a fan of ColourPop's Glass Bull, which beautifully shifts between lavender and icy blue depending on how you look at it. As noted on ColourPop Cosmetics' website, this pressed powder shadow is richly pigmented, super easy to blend, and very affordable.
Stylecraze loves Stila Glitter & Glow Liquid Eyeshadow, and when you see them, you are bound to fall in love with these sparkly eyeshadows. Every color is super glittery, easy to use, and lasts all day. Ipsy considers Pat McGrath Labs Eyedols Eye Shadow the best duochrome singles because they are richly pigmented with "pearlescent shimmers." It comes in 17 gorgeous shades, so there is one for everyone — and just one swipe is enough.
Next time you add a little duochrome on your lids, everyone will be curious about the extra twinkle in your eyes, and it may become one of your favorite eyeshadows and beauty products in general.