Kate And William's Silence On Their Wedding Anniversary Is Raising Eyebrows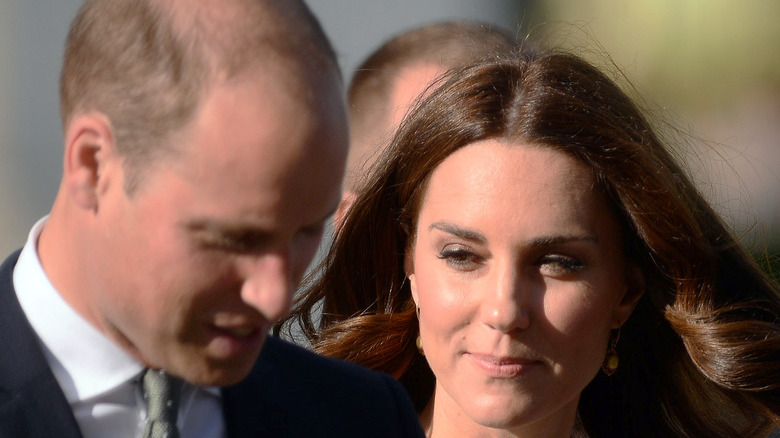 Isaaack/Shutterstock
Everyone knows that the British royal family has had a rough few years, what with "Megxit," Prince Andrew's sexual assault case, the death of Prince Philip, and Queen Elizabeth's declining health. A lot of the pressure has fallen squarely on the shoulders of Prince William, who is second in line to the throne and is actively preparing to become king someday. He's raising three young children and attending to his royal duties, which have surely increased since Prince Harry and Meghan Markle's departure from the royal family.
It's understandable that he's less keen than his father, Prince Charles, to mend fences with Harry amid their years-long feud. For example, the Prince of Wales has made it very clear that he is "open" to the idea of the Duke and Duchess of Sussex having a place in the royal family when he's king (via Us Weekly). Whereas, for William, the distance between himself and his brother is much deeper than the ocean between them. It is definitely sad considering how much the brothers have in common now with both of them being married with children. This should really be a time that is shared and celebrated together. 
Given the tumultuous time that the royal family is going through, William has understandably been a little preoccupied — perhaps too preoccupied. It seems that William has been so embroiled in family drama that he didn't see fit to publicly celebrate a milestone with his wife, Kate Middleton, the Duchess of Cambridge.
Kate Middleton and Prince William kept their 11th wedding anniversary quiet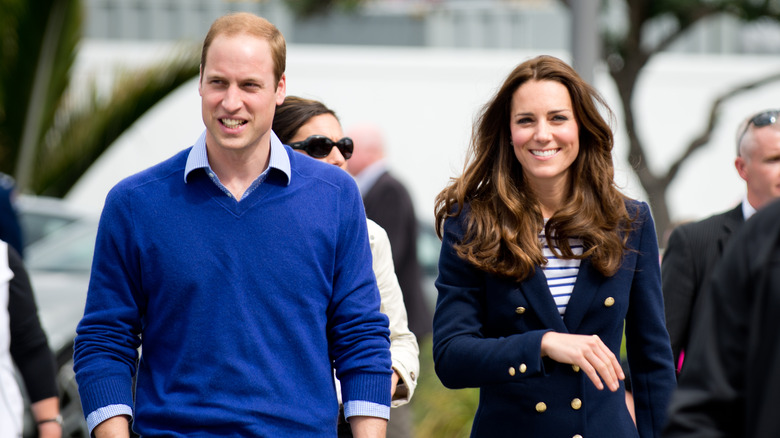 Shaun Jeffers/Shutterstock
Although Prince William and Kate Middleton's 11th wedding anniversary was on April 29, 2022, they didn't draw much attention to the event. Perhaps the two are so overwhelmed by recent events that they chose to keep things low-key.
Indeed, People reports that the Duke of Cambridge was working that day, taking video calls focusing on floods in Australia. In fact, on the day of their wedding anniversary there was a tweet from the Duke and Duchess of Cambridge Twitter account addressing the floods with a photo of William during a meeting that read, "The sheer magnitude and long term impacts the floods in Australia have had on those affected is devastating. The speed of the destruction has resulted in thousands left without homes, businesses and income."
However, the royal family did acknowledge the 11th wedding anniversary with the Westminster Abbey Twitter account sharing a sweet photo from the Duke and Duchess's wedding day as they walked hand in hand beaming. The tweet read, "Wishing The Duke and Duchess of Cambridge a very happy wedding anniversary today! Their Royal Highnesses were married in the Abbey #onthisday in 2011." 
With fans of the royal couple also sending their happy wishes. One Twitter user shared photos of their own celebration from the royal couple's wedding day and shared, "Congratulations and thank you from us all for your service, and the amazing street party we had in your honour xxx."
This wasn't the case last year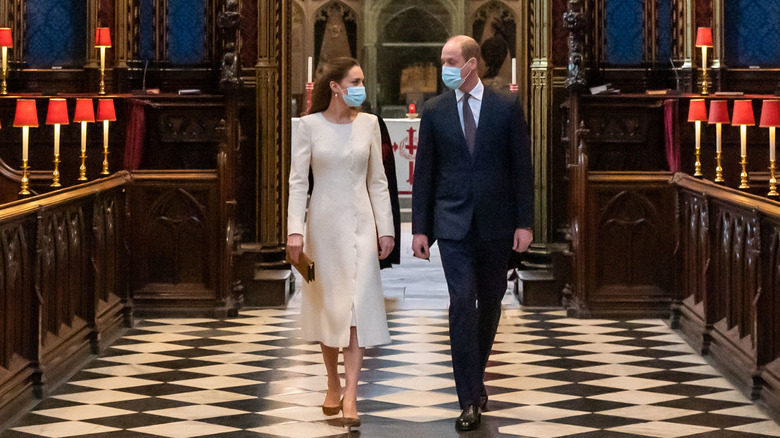 Wpa Pool/Getty Images
Prince William and Kate Middleton's relationship has always been a fan favorite. Viewers were captivated by them ever since their wedding aired on TV, as everyone celebrated the culmination of their relationship that the world watched bloom ever since they met at university, per Glamour. People love catching snippets of romantic moments between the couple, from loving embraces to rare moments of public displays of affection, per Hello! Magazine. So, the people were understandably disappointed that the couple were too preoccupied to celebrate their anniversary — especially considering how they shared it with the world last year. 
For their 10th wedding anniversary, William and Kate celebrated a decade of being together by organizing a touching photo and video shoot capturing their life at home with their growing family of Louis, Charlotte, and George, per People. People also noted that the photo shoot was reminiscent of pictures taken back in 2011 for the couple's engagement. Except now, the two were surrounded by the family they've built together as a touching way of capturing the past decade. 
The couple even planned a visit to the scene of their wedding prior to the 10th anniversary, with Kate dressed in a tasteful white dress, per Today. Of course, Westminster Abbey had then been transformed into a COVID-19 vaccine site, but it still had an ounce of romance to it. 
Granted, 10th anniversaries are understandably more cause for big celebration, but their actions this year are telling. We hope that the Duke and Duchess of Cambridge had time to celebrate their anniversary in private.