Bill Gates Reveals Whether He Regrets Marrying Melinda
Frederic Legrand - COMEO/Shutterstock
Many were shocked when Bill and Melinda Gates announced they were divorcing after nearly three decades of marriage. The couple dated for seven years before tying the knot in 1994, and went on to have three children: daughters Jennifer and Phoebe, and son Rory, per Page Six.
Bill and Melinda explained in a statement on Twitter that they "no longer believe we can grow together as a couple in this next phase of our lives." Yet sources revealed that the split had been in the works for awhile, and that the timing of the announcement was directly tied to their youngest child graduating high school and turning 18.  "They limped through until their kids were out of school like a lot of people," a source told People.
In fact, by the time Melinda filed for divorce, there was already a separation agreement in place. That doesn't mean the split was easy for either of them. Melinda opened up to Gayle King on CBS Mornings that she has shed many tears over the demise of her marriage. "I mean days where I'm literally lying on the floor on the carpet ... thinking, 'How can this be? How can I get up? How am I going to move forward?" she explained. 
And while it hasn't been easy for Bill either, he told London's Sunday Times that he would do it all again if he had the chance.
Bill Gates has no regrets over his marriage to Melinda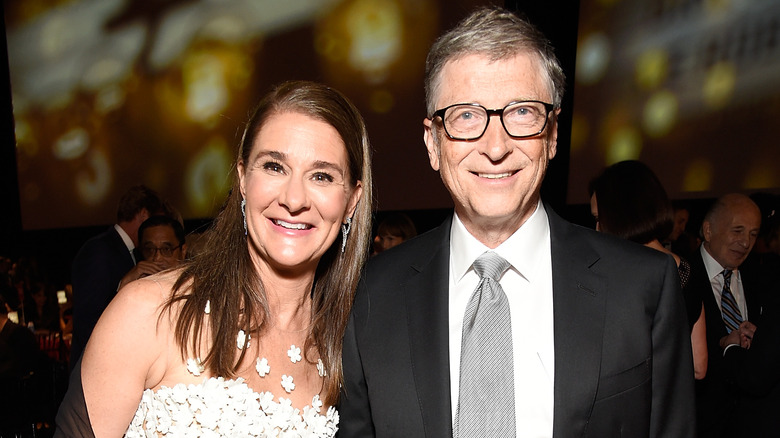 Kevin Mazur/Getty Images
While Bill Gates is mourning the end of his marriage, he has absolutely no regrets about his relationship with Melinda Gates. "Every marriage as the kids leave the house will go through a transition. Mine sadly went through this transition called divorce," he told London's Sunday Times. "But from my point of view it was a great marriage. I wouldn't have changed it. You know, I wouldn't choose to marry someone else."
As for walking down the aisle again, Bill explained, "In terms of my future, I don't have any plans, but I highly recommend marriage."
The couple, who wed without a prenuptial agreement, finalized their divorce in April 2021. The details of their settlement were not made public. When they announced their split, Bill and Melinda had vowed that they would continue to work together on the Bill and Melinda Gates Foundation. However, Melinda revealed in late 2021 that she was no longer promising to give away the bulk of her wealth through the foundation. Instead, she will focus her charitable endeavors through other philanthropies. "I commit my time, energy, and efforts to the work of fighting poverty and advancing equality — for women and girls and other marginalized groups — in the United States and around the world," she wrote in a letter. "My giving will continue to focus on the people for whom the barriers to equality are highest."