How Did Hilary Die On The Young And The Restless?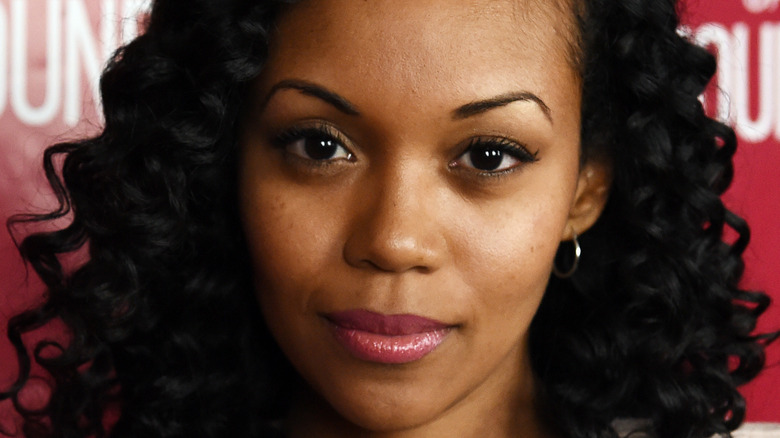 Amanda Edwards/Getty Images
After five years wreaking havoc, spilling all the tea on her local gossip web series GC Buzz, and falling in love with both a father and his grown son, Hilary Curtis (Mishael Morgan) tragically died on "The Young and the Restless." When she first arrived on the Genoa City scene, she had it out for Neil Winters (Kristoff St. John), who she believed caused her mother's death. While Neil was with her mother while they were both drunk the night she passed, he was not the one who caused Rose to die and Hilary eventually came to terms with this and fell in love with Neil, per Soaps.com.
After Neil and Hilary married, she started to grow close to his adult adopted son Devon Hamilton (Bryton James), and they began seeing one another behind Neil's back. When Neil discovered the truth, he and Hilary divorced and she married Devon. However, a jealous Neil followed the pair on their honeymoon and after he confronted Hilary on a cliff, she fell and ended up in a coma. However, that is not how she died. Hilary woke up and lived to spread more gossip before another accident took her life, per Soaps In Depth.
Hilary finally got everything she wanted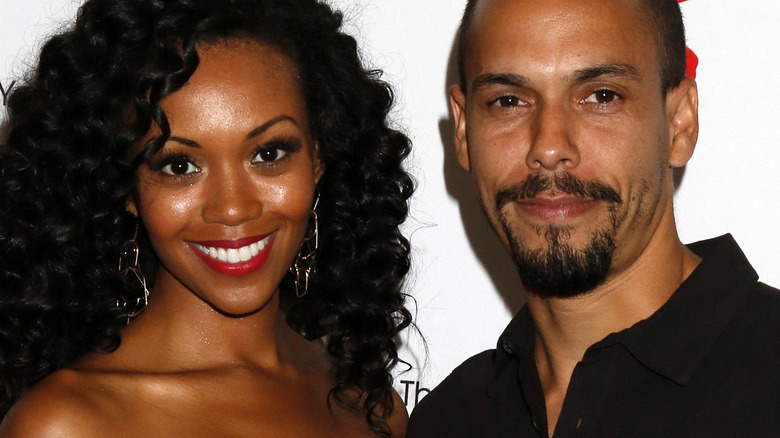 Kathy Hutchins/Shutterstock
After divorcing Devon Hamilton, a series of failed romances and taking in a homeless teen as a foster child, Hilary Curtis decided it didn't matter that she was single. She wanted to be a mother. Devon even volunteered to be the father so they both went to the sperm bank, but she lost that baby. Later, they decided to do things the old-fashioned way and were thrilled when Hilary became pregnant and it looked like they would reconcile for good and finally be together, per Soaps.com.
However, Devon's sister, Lily Winters (Christel Khalil), had some problems with Hilary. She never liked her with Neil and thought she was all wrong for Devon. When Hilary's foster daughter, Shauna (Camryn Hamm), was found in a compromising position with Lily's son, Charlie (Noah Alexander Gerry), Lily was horrified and let Hilary know it while Lily drove and Hilary was in the passenger seat. Lily's fury caused her to take her eye off the road and that's when a terrible crash happened, per Soaps In Depth.
Hilary died with Devon by her side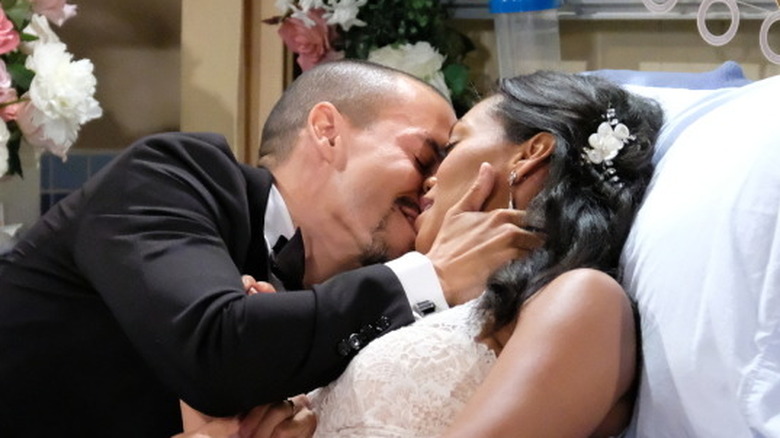 Johnny Vy/CBS
Although Lily Winters came through the accident physically fine, Hilary Curtis was another matter. She lost the baby and was bleeding internally. Dr. Nate Hastings (then played by Brooks Darnell) told Devon Hamilton that Hilary wouldn't make it, so he made her fondest wish come true and married her on her deathbed, per Michael Fairman TV. Shortly after, Hilary passed away as Mishael Morgan had opted to leave the soap before returning again as Hilary's twin, Amanda Sinclair, nearly two years later.
After her "The Young and the Restless" comeback, Morgan explained why it was time to put playing Hilary to rest, but how she was happy that she wasn't replaced. "If they had recast the role, it would have meant that she had left such a mark in Genoa City, that they didn't want to lose her," Morgan told TV Insider in 2020. "If they killed her off, it spoke to how they may have felt that nobody else could have played the part. I was open to whatever they were considering doing. The door was closing for Hilary, but I was going through a lot of changes. At the time, I'd been with 'Y&R' for five years. I definitely didn't think I'd be back."
Of course, she did come back and as of this writing, Morgan is still going strong as Hilary's sister, Amanda, in 2022.