Hillary Clinton's Presence At The Met Gala Has Twitter Absolutely Divided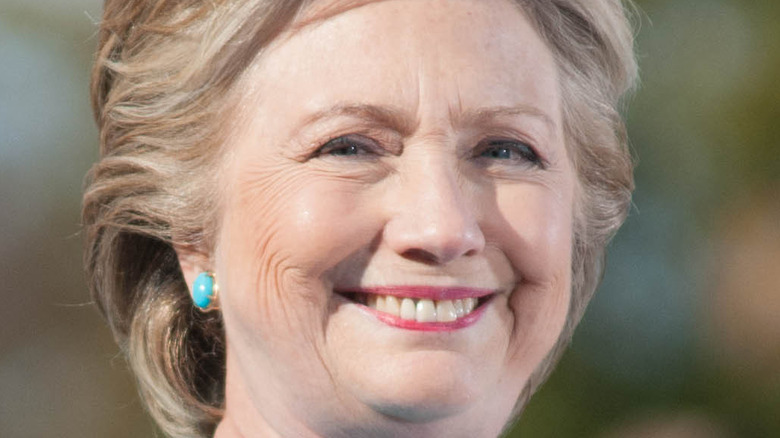 Andrew Cline/Shutterstock
The Met Gala is to fundraisers as Halloween is to holidays: It's all about the costuming and the more dazzling or outrageous, the better. The annual bash benefits New York's Metropolitan Museum of Art Costume Institute, but it has come to be known as Anna Wintour's party. The formidable Vogue editor is the one who does most of the signing-off on both the guest list and their attire, according to The New York Times. Even if we commoners were invited, the $25,000 per ticket price tag would be a deal breaker, so we content ourselves with watching the coverage of A-listers and their haute couture.
Wintour has openly declared her loathing for the overplayed "strapless fishtail sequin dress that we've seen 5,000 times," per Page Six, so don't expect to see that particular style in any given year. The 2022 theme is "In America: An Anthology of Fashion," per TMZ. Among the stunners this year were Blake Lively's Versace gown that actually changed colors; Janelle Monáe's Art Deco-inspired black and silver design; and Jared Leto's out-of-this-world costume, featuring silver porcupine-like quills.
But one unexpected guest is getting lots of attention on social media. Hillary Rodham Clinton made an appearance at the Met Gala for the first time in two decades. She joked in a red carpet interview, "I told Anna I would come every 20 years." The former first lady/secretary of state/presidential candidate chose a very personal design for her gown — one that has social media abuzz.
Hillary Clinton's gown contained the names of inspiring women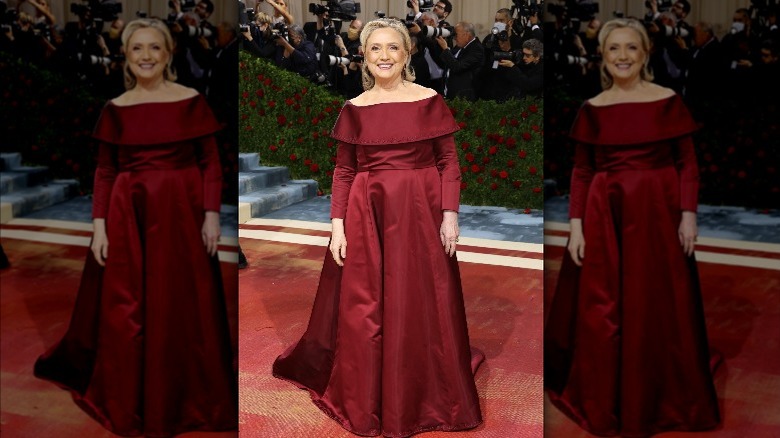 Hillary Clinton helped steal the Met Gala spotlight even before the first cocktails had been served, making a splendid entrance in a deep wine-colored off-the-shoulder gown with long sleeves. But it was the detail that was particularly meaningful to her: Designer Joseph Altuzarra suggested embroidering impactful words into the dress, and Clinton responded, "What about American women in the past who have inspired me," per YouTube. So a close look at the former U.S. Secretary of State's dress reveals the names of 60 powerful figures, including Harriet Tubman, Sacagawea, Rosa Parks, Madeleine Albright, Shirley Chisholm, Abigail Adams, and Clinton's own mother, Dorothy Rodham.
The gown and its significance wowed many in the Twitterverse. "Lovely gown. She should have been our President," said one fan. Other comments included "Beautiful!" "Stunning!" "Gorgeous!" "Lovely" and this one: "OK, are you kidding? I couldn't love her any more. She looks gorgeous in that dress, that color, but the inspiration???" 
Not everyone was sold on the look or the woman wearing it, however. "Little Red Riding Hood," sniffed one dissenter. Another joked, "She looks good even if she is wearing a table cloth." One commenter was totally unimpressed: "i really just opened the met gala livestream to f***ing hillary clinton being there and looking a drab raggedy mess." And conservative author Brigitte Gabriel simply yawned, "I could not care less about what dress Hillary Clinton is wearing to the Met Gala."