Twitter Decided Who Stole The Met Gala Arrivals Before The Event Began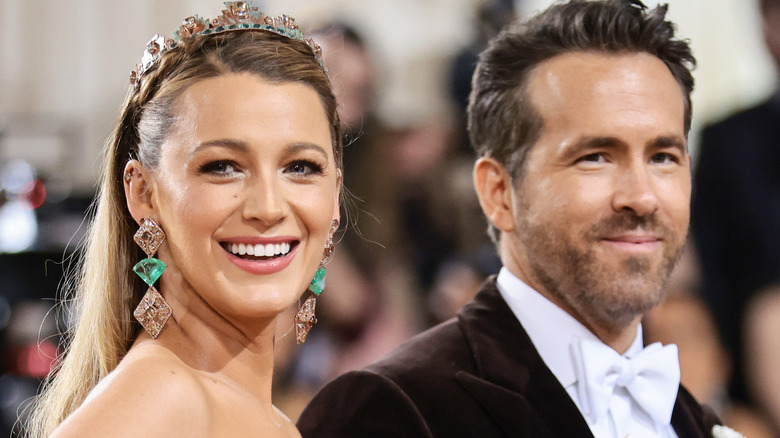 Jamie Mccarthy/Getty Images
The first Monday in May is here. Every year, the world watches as celebrities hit The Metropolitan Museum of Art for the Met Gala to raise some money and show off their seriously stunning looks. Last year you might remember Kim Kardashian stealing the show with her head-to-toe all-black outfit. This year, the theme is a little less avant-garde and more royal. It turns out that you didn't have to wait long to see a stunning transformation, either. One of the first people there might have just won the Met Gala once and for all. 
Every year, there's a new Met Gala theme, and this year, with Blake Lively, Ryan Reynolds and Regina King hosting, the theme is Gilded Age. Spanning from 1870 to 1890, the time period was all about "prosperity, industrialization and growth," according to Page Six. Think about it, all your favorite celebrities in outfits even fancier than Bridgerton, which came decades before. So it only makes sense that people seriously dressed for the occasion.
People can't stop talking about one of the first people to arrive on the Met Gala red carpet. When you see the stunning transformation, you'll know why.
Blake Lively wore two dresses to the Met Gala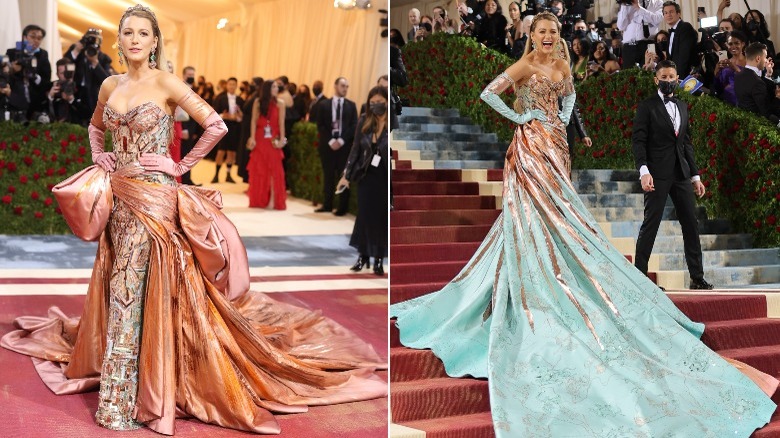 John Shearer & Mike Coppola/Getty
If you're wondering what the Gilded Ages theme means, just take one look at Blake Lively's dress. Or should we say dresses. As one of the hosts of the Met Gala, Lively arrived in a gown that had more than one look. In fact, Ryan Reynolds himself was absolutely stunned. Lively arrived wearing a stunning blush pink embellished gown but walked up the stairs in a gorgeous aqua-colored look. 
At first glance, the dress designed by Atelier Versace appeared as a form-fitting blush pink gown with a giant bow on the side. But not soon after she arrived, men started literally unraveling the dress and it turned into a flowing aqua look instead. Her gloves were also transformed to match the look, and the bright blue pop of color in her earrings started to make a whole lot of sense.
So if you're wondering what the Gilded Ages were all about, it's exactly this. From the colors to the design, this piece was prosperous and royal in every possible way. As the host of the Met Gala, Lively definitely did her homework.