Kendall Jenner Gets Dragged For Her Eyebrows At The Met Gala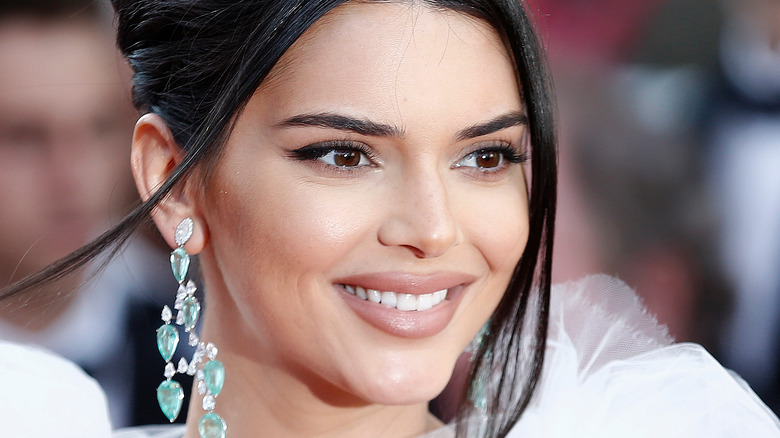 Andrea Raffin/Shutterstock
The Kardashians and Jenners sure made a splash at the 2022 Met Gala. The headline was of course that Kim wore Marylin Monroe's dress to the event. Kylie had fans scratching their heads over her choice of donning a bridal gown with a baseball cap — in fact, the mogul made our list of the celebs who didn't quite get the assignment for the night unfortunately.
In other news, Kendall's fashion was on point, with the model opting to wear a huge, black ruffled skirt paired with a see-through tank top (via Elle).
Fans who weren't buzzing about the reality star's sheer top were busy commenting about her eyebrows, or lack thereof, for the evening (via Page Six). Apparently, Jenner bleached her brows, a choice some people over on Twitter couldn't quite get behind.
Some Twitter users were outright mean about the brow switchup, with one person commenting, "Okay, this is applaudable. She's willing to look ugly, despite her family's emphasis on superficial beauty."
But most fans just had a little fun with the new look.
Does someone owe an apology over Kendall Jenner's eyebrows?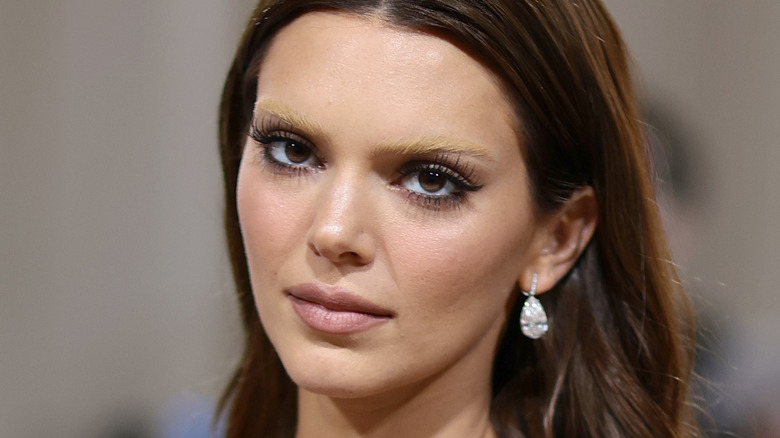 Dimitrios Kambouris/Getty Images
When Kendall Jenner walked the red carpet of the Met Gala, fans couldn't help but notice it seemed she'd forgotten something — her eyebrows. Nope, there they were, just bleached blonde so they were hard to see. The look was especially stark given that Jenner opted to wear an all-black ensemble.
Twitter, not surprisingly, decided to have a bit of fun with the model's eyebrows. One person felt there should be consequences for the seemingly-odd choice, tweeting, "Whoever told Kendall Jenner to bleach her eyebrows needs to be fired." Another fan opined that the star did herself proud for the Met Gala, despite having no brows. And yet another fan of the reality TV star said what many of us were thinking, noting that a ball gown and bleached eyebrows was a combo no one saw coming — but why not, right?
We can't all be so accepting of the eyebrow switchup, apparently, since someone else on Twitter felt an apology was in order after Jenner left them behind for the night. And finally, this Twitter user was of the opinion that it was the event's organizers who owed Jenner an apology: "Okkay it's very rude of met gala people for not inviting Kendall Jenner's eyebrows."