All The 2022 Met Gala Looks That Missed The Mark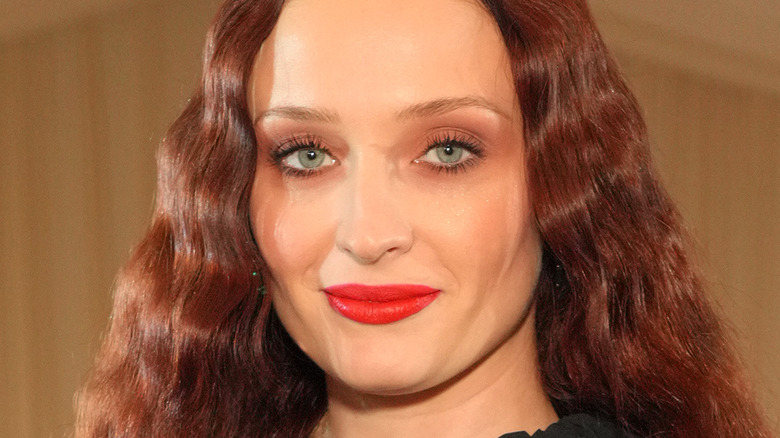 Kevin Mazur/mg22/Getty Images
The Met Gala is the fashion highlight of the year — although, the 2022 event marks the second time in eight months we have celebrated the occasion helmed by Vogue's Anna Wintour. Each ball has a theme and this time, it was "In America: An Anthology of Fashion" (via Page Six). 
Vogue notes that attendees, who ranged from Blake Lively to Gemma Chan to Kieran Culkin, were to adhere to "gilded glamor and white-tie" attire. The fashion was to be all about The Gilded Age, which spanned from 1870 to 1890, and saw an industrial boom and unparalleled wealth. 
While many stars took the assignment seriously and did the fashion event proud, others looked like they were headed to any old red carpet, if that. Kris Jenner, we are talking to you. And, Sophie Turner, we know you are expecting, but, meh. But which celebrities left us wondering if they even deserve an invitation to the elite Met Gala next year?
Amy Schumer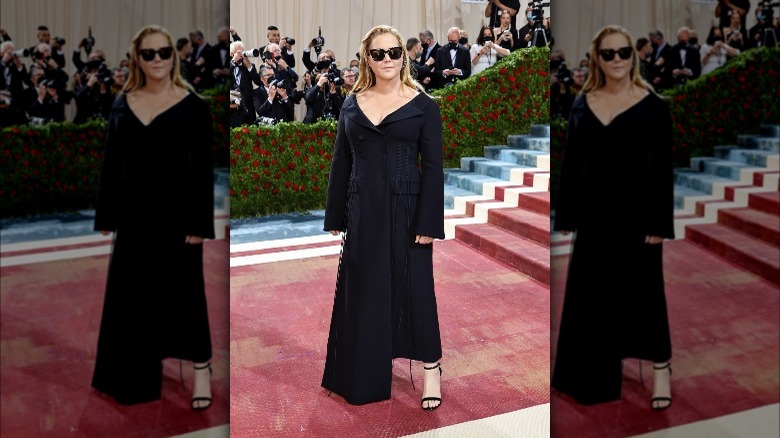 Jamie Mccarthy/Getty Images
As much as it kills us to say it, Amy Schumer's Met Gala look was just underwhelming. The most interesting element of the black dress was its asymmetric hemline. And those black sunglasses were cool. But other than that, the comedian didn't seem to understand the assignment that the night was about taking fashion risks and adhering to a theme. 
Good thing Schumer is better known for her comic chops than her fashion. 
Chlöe Grace Moretz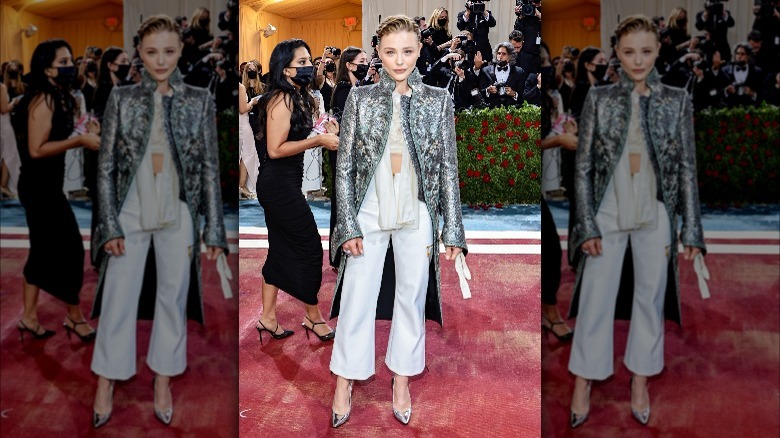 Jamie Mccarthy/Getty Images
We are so sorry Chlöe Grace Moretz, but pants? To the Met Ball? Of course, in the past, stars like Janelle Monáe and Kristen Wiig have pulled off pants for the same occasion (via Vogue Australia). 
Maybe it just didn't work here, with the ensemble just falling flat for us. The actress looked like she'd dressed for a dinner out in New York City and not the most glamorous event in fashion. Amazing hair, though Chlöe — and we obviously love you. Just not in this outfit.
Emma Stone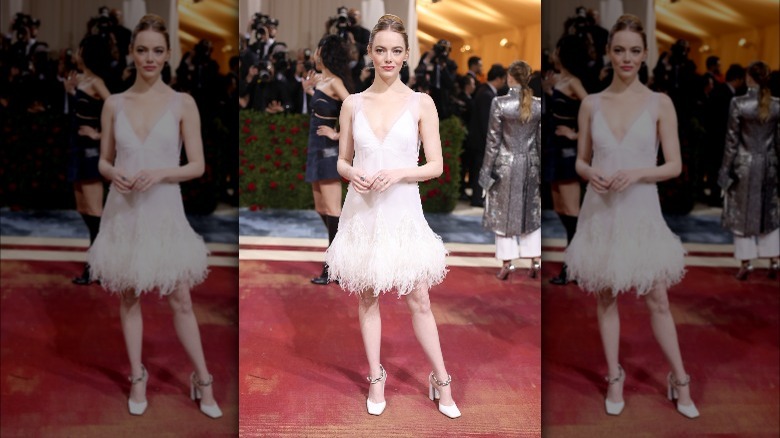 John Shearer/Getty Images
Okay, on the one hand, Emma Stone just had a baby. So bravo for getting all dressed up and attending a red carpet event. But on the other hand, she looked like she was wearing a 1920s flapper costume. There's no doubt the actress is beautiful and an amazing talent — just on this particular occasion, especially when you put her next to someone like Blake Lively who knocked the fashion moment out of the park, it didn't work. 
Our apologies, Emma. Cute shoes, though.
Hillary Clinton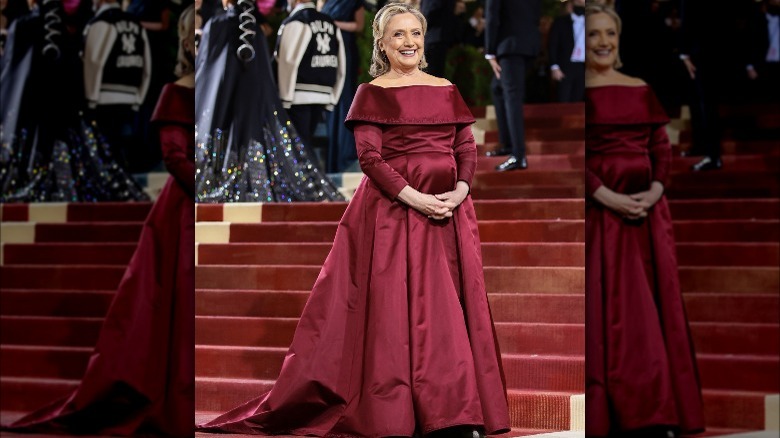 Jamie Mccarthy/Getty Images
No Hillary, this was not an inaugural ball. While Clinton looked like she was having a great time at the Met Gala, her gown was a miss. Not only was the look unflattering but the color seemed off for a spring affair. And overall, the former presidential candidate just ended up looking matronly, not regal as she may have been aiming for. 
But hey, the consolation prize is that the politician was in good company on the worst-dressed list, with the likes of Emma Stone and Amy Schumer. 
Huma Abedin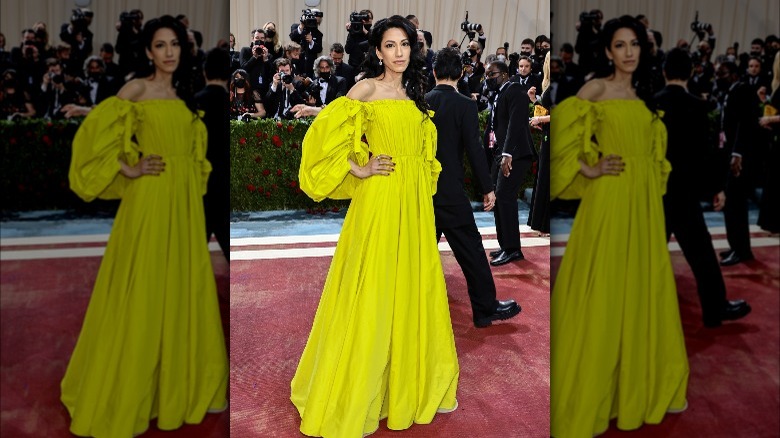 Jamie Mccarthy/Getty Images
Not to be outdone by her former boss Hillary Clinton, Huma Abedin just didn't pull off her look for the 2022 Met Gala. The color of her gown was best described as putrid and the fit was far from flattering when it came to this baggy, confused dress. 
Interestingly, Abedin seems to favor lime green, as she wore a dress in the hue but with a floral motif at the 2018 Met Gala (via Vogue). At least then, she paired the dress with a bold red lip. This year, her makeup was minimal but not in a good way as the former wife of Andrew Weiner just looked washed out and tired.
Billie Eilish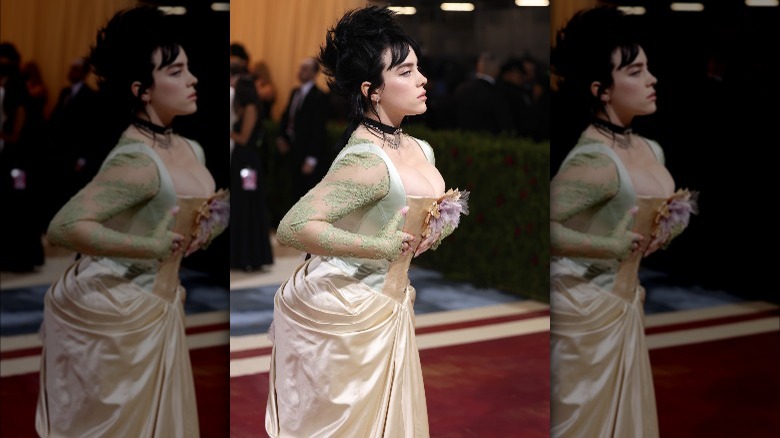 John Shearer/Getty Images
While we loved seeing Billie Eilish in a color other than black, this look just didn't do the singer any favors. She was definitely on theme, giving us major "Bridgerton" vibes. But the outfit Eilish chose just ended up appearing costumey. Her red carpet antics served to highlight this reality. 
We award the star high marks for effort but the execution was simply too literal. Sorry, Billie. We still adore you. Don't be mad at us!
Nicola Coughlan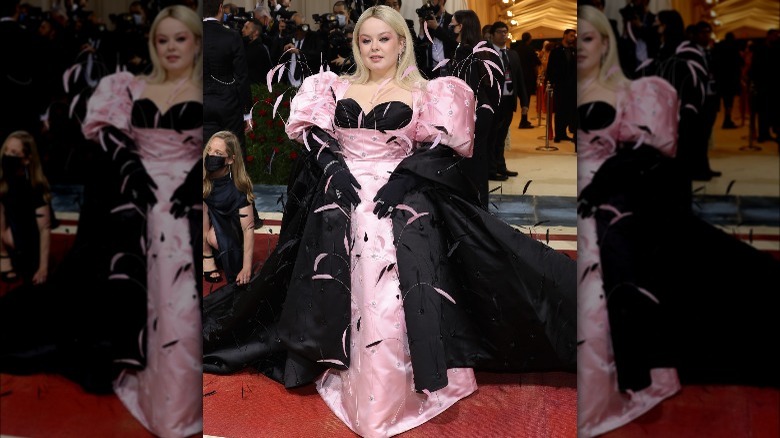 Mike Coppola/Getty Images
If anyone should have nailed the assignment of The Gilded Age, it's "Bridgerton" star Nicola Coughlan. And yet, the actress' attire for the Met Gala looked silly and off. Maybe it was the prom-like pink color or the weird cattail-like growths on the gown. 
No matter the misstep, this look simply didn't do Coughlan any favors. Any dress from her wardrobe from the show would have been a far better option.
Claire Danes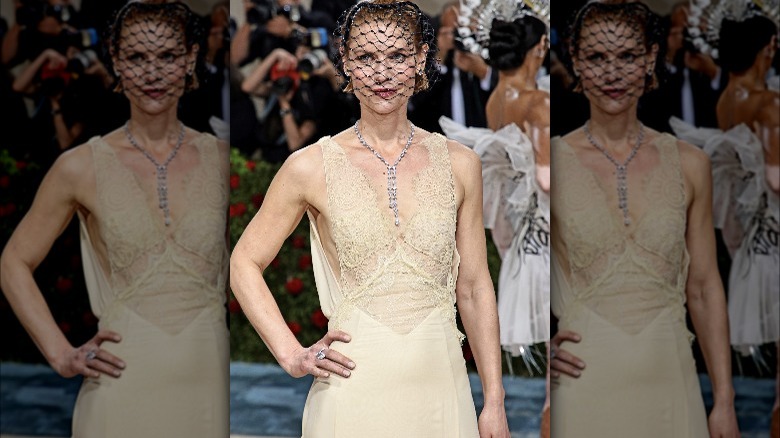 Dimitrios Kambouris/Getty Images
Although it pains us to say so, because we are devoted to this actress, we found Claire Danes' Met Gala look super confusing. It seemed scary on top and dainty on the bottom and overall, just looked like a mess. It's as if each of the individual elements would have worked beautifully, but put together, felt like a miss. 
No hard feelings, Claire. You are still beyond lovely and talented!
Dakota Johnson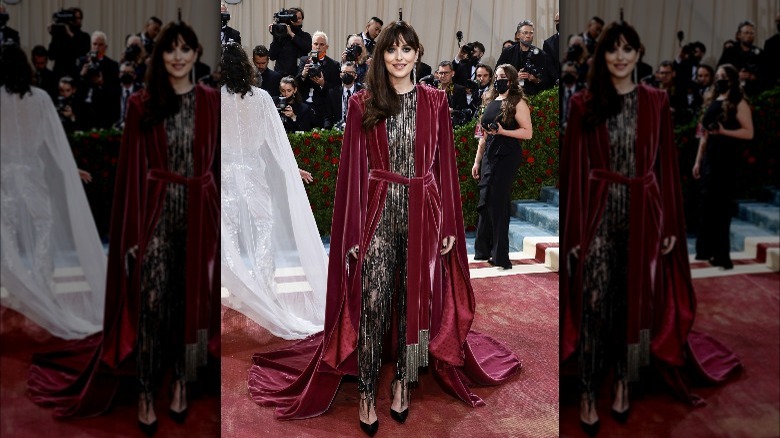 Jamie Mccarthy/Getty Images
No, Dakota, no! Why did you wear your bathrobe to the Met Gala? This is another star who makes us sad to add her to the worst dressed list, especially since Johnson often looks so on point and we were so rooting for her to wow us at this event. But tonight's look was, just, no. 
Like Claire Danes, the pieces felt mismatched and the overall effect was off-putting. Better luck next year, Dakota. 
Kylie Jenner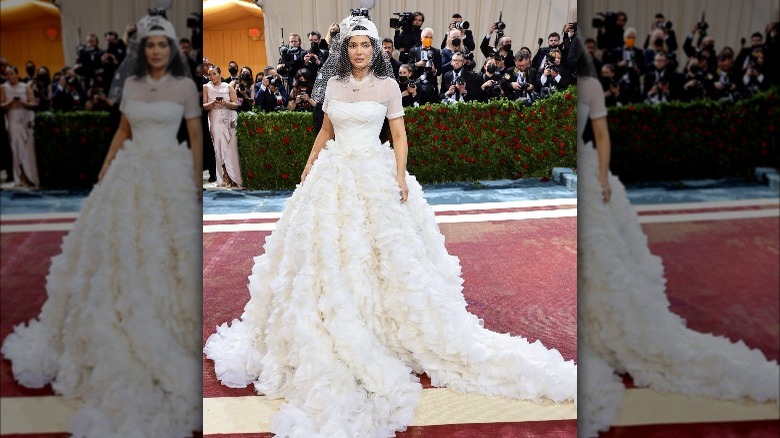 Jamie Mccarthy/Getty Images
But, why? That's all we can think after seeing Kylie Jenner's highly-anticipated Met Gala look, which appeared to be something one would wear to get married in Las Vegas. Was the star trying to tell us something? Is she saying "I do" to the father of her children, Travis Scott? Or is the mogul trying to ensure she never gets an invite to the Met Gala again? Either way, if Jenner wanted to get fans talking, mission accomplished!
Kourtney Kardashian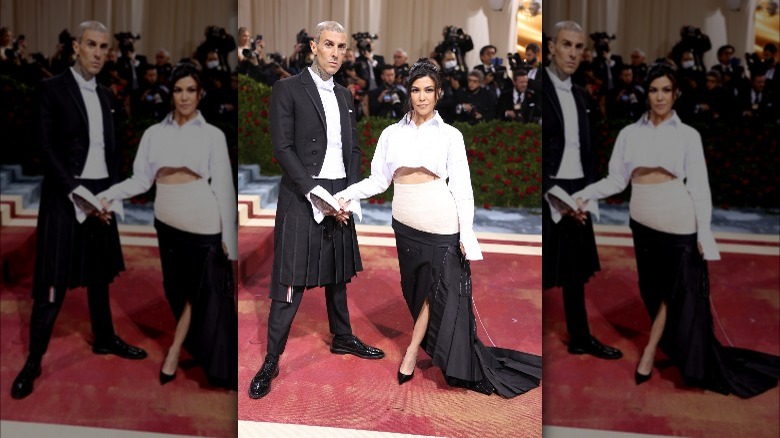 John Shearer/Getty Images
The Kardashians' appearance at the Met Gala was so highly anticipated and yet, Kylie Jenner missed the mark, Kris Jenner's look was uninspired and Kourtney Kardashian's attire just left fans scratching their heads. What was this two-piece tuxedo-inspired ensemble? "Worst Met debut ever!" declared one fan on Twitter. 
Many on Twitter noticed she and Travis Barker seemed to have coordinated their looks. But was this a good idea? You be the judge. And, inevitably given the voluminous nature of Kardashian's, um, dress, pregnancy rumors started up again.