Why Pearl Manicures Are Trending In 2022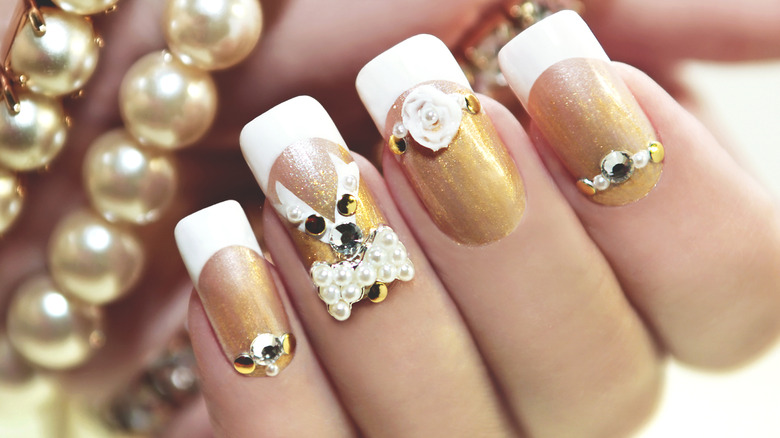 marigo20/Shutterstock
We may receive a commission on purchases made from links.
We can't get enough of the nail art trends everyone is asking for in 2022! Elle rounded up some of their favorite manicure trends, such as playful candy-inspired manicures, traditional French tips, eye-catching bright hues, the futuristic chrome look, and artsy manicures that involve negative space. We're obsessed with these different nail art trends, and we can't wait to pair them with our cutesy, wild, and edgy outfits, depending on our moods.
According to Refinery29, people are experimenting with pearl nail art as a trend, too, as a classy and sophisticated spin on 3D manicure details. While the idea of wearing pearl designs on your fingernails may seem a bit outlandish when you first hear the concept, we love this beautiful nail trend. Rocking a pearl-inspired manicure is like wearing a timeless accessory on your nails, and this nail design has been a long time coming. We don't expect this girly trend to go away any time soon!
Pearlcore is everywhere
So, how did pearl manicures become a trend? Believe it or not, this nail art trend didn't just pop up out of nowhere, as "pearlcore" is a significant fashion and beauty trend in 2022. PureWow explained that the trending pearlcore aesthetic takes inspiration from looks from the 1920s and 1930s, and people who enjoy this trend are adding pearls to their wardrobes in every way possible. We adore how fashion-savvy people of various age groups have been experimenting with pearls, whether they're middle-aged moms or college students in their early 20s. Pearls hold such a prominent place in the accessory world that you might even want a pearl engagement ring.
If you're looking for some inspiration regarding pearl manicures, you'll be able to find a plethora of beautiful examples on Instagram. For example, glossy nails with a single pearl detail toward the bottom of the nail are a great way to explore this trend without being too over-the-top. If you're looking for a pearly twist on a traditional French manicure, putting some pearl embellishments on your nail tips is a gorgeous look. And for a super girly look, we adore pink nails with pearls all over them, creating a polka dot effect.
How to rock a pearl manicure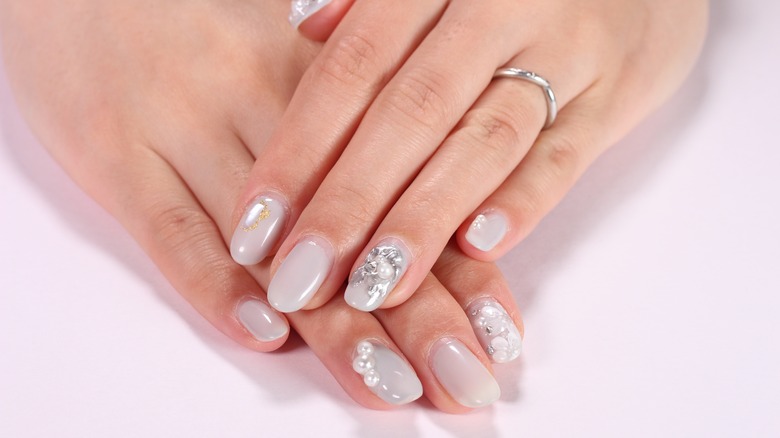 riphoto3/Shutterstock
Anyone considering trying pearl manicures should start investing in some nail art pearls. If you want to buy some embellishments to nail this trend (pun intended!) but don't want to break the bank by buying real pearls, Shein is selling their Faux Pearl Nail Art Decoration box for a price of only $1. We can't think of a better deal, and this product has a rating of over 4 out of 5 stars. Furthermore, you can purchase Sorrento Crafts' Mixed Size DIY Half Pearl Bead Flat Back Plastic Craft Box with over 5,000 pieces for just under $10 on Amazon.
If you like French manicures and pearlcore, you should check out the "Easy French Manicure With Pearls Tutorial" by Simple Nail Designs, as this tutorial will help you get the best of both looks. According to this YouTube video, you should start by applying a base coat and another polish if you'd like. Next, carefully use a thin nail art brush to paint on a white French tip. Then, add another base coat or a coat of nail glue. Lastly, put on a few petite pearls wherever you want them to go on your nail. We can't wait to give this a try!