Here's What Susan Seaforth Hayes Had To Say About Days Of Our Lives Co-Star Frances Reid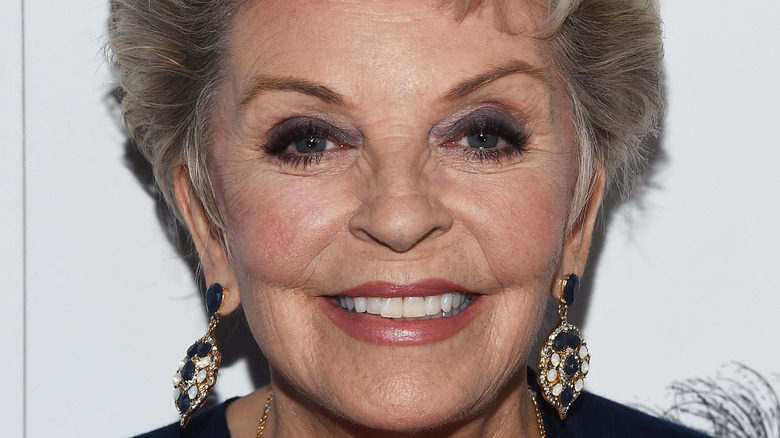 Amanda Edwards/Getty Images
Susan Seaforth Hayes is the longest-running actress in "Days of Our Lives" history, having first made her debut in 1968 as Julie Olson — the granddaughter of Tom and Alice Horton, played by the late Macdonald Carey and Frances Reid (via Soaps In Depth). Hayes' character was originally known as just Susan Seaforth when she began her Salem tenure, later becoming Susan Seaforth Hayes in 1974 when she married Bill Hayes, who played Julie's love, Doug Williams, according to Soap Hub.
As of 2022, Doug and Julie are the matriarch and patriarch of the soap as Tom and Alice were in the beginning back in the 1960s, with Doug and Julie even living in Tom and Alice's old house. While Hayes has come and gone from "Days of Our Lives" over the years, as she once played Joanna Manning on "The Young and the Restless," Reid remained with the soap consistently from the day it premiered on November 8, 1965, until she was too unwell to work in 2007 (via Soap Central). But Reid and Hayes worked together from Hayes' first day on the set and she has lots of stories about her late co-star.
Susan Seaforth Hayes and Suzanne Rogers reminisced about days gone by
Suzanne Rogers has also been on "Days of Our Lives" for decades, having originated the role of Maggie Simmons Horton Kiriakis back in 1973 (via IMDb). Julie and Maggie have been through all of life's ups and downs together and the actresses who play them, Hayes and Rogers, have also been through a lot. For Women's History Month, the two iconic soap stars discussed their time on the show in special YouTube videos produced by the soap opera. 
One thing they remembered was a dangerous time on the set when Julie was caught in a grease fire in Maggie's kitchen, a time when Hayes was grateful to have a stunt double, but still said the scene was perilous. "If she's in that situation for more than thirty seconds," Hayes said of her double "the fire penetrates through the fire retardant and can kill her. Can cook her like a custard. Everybody was screaming their head off."
During the Youtube clip, the two women also recalled who was really in charge of "Days of Our Lives" at one time.
Susan Seaforth Hayes and Suzanne Rogers remembered Frances Reid
When it came time to talk about women they have worked with during their many years on "Days of Our Lives," Frances Reid was the first one to come to mind as Susan Seaforth Hayes and Suzanne Rogers remembered days gone by during their more than 40 years on the NBC soap. 
Hayes recalled her early days working with the show's grand dame, who liked to think of herself as being in charge of some of the younger actors. "Okay, Frances, I understand that you're the boss," Hayes said in the reflective Youtube video, describing her thoughts when working with the woman who played her grandmother. "Frances took being the boss very seriously with a lot of us," she said. "She was an example of how to do it right the first time through."
Reid sadly passed away on February 5th, 2010, according to The New York Times, and Alice Horton died off-screen on "DOOL" in the summer of that same year (via Soap Central).