Kylie Jenner's Met Gala After Party Dress Has Everyone Saying The Same Thing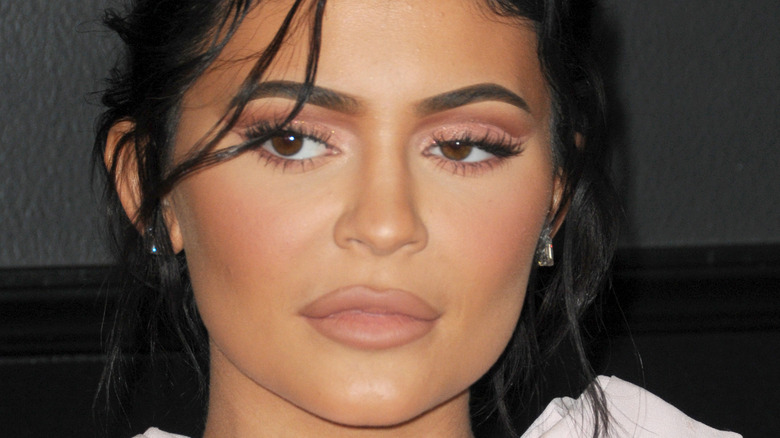 Kathy Hutchins/Shutterstock
Raise your hand if you weren't the biggest fan of Kylie Jenner's 2022 Met Gala look. We thought so. In case you were too busy marveling over how Kim Kardashian managed to pull off snagging Marilyn Monroe's dress for the event to notice, the makeup mogul donned an odd combination of a wedding dress and a baseball cap with a veil for fashion's biggest night. The choice seemed especially off given that the theme for this year's ball was gilded-glamor (via Elle).
To be fair, Jenner later took to Instagram to explain that her gown, created by Off-White designer Virgil Abloh, who died in 2021, was meant to be an homage to her dear friend (via BBC). But fans still brutally dragged the mom of two for the ensemble, with one characteristic tweet reading, "I literally cannot get over how bad kylie jenner's met gala outfit is like u have allll that money and u went for an off theme wedding dress and BACKWARDS CAP."
Someone else wondered how "The Kardashians" star kept a straight face walking the red carpet wearing the ensemble. Fans grew even more confused about Jenner's outfit selection once they saw what the star chose to wear to Met Gala after parties.
Kylie Jenner fans are in love with her second Met Gala look
Taking to her Instagram again, Kylie Jenner posted photos of another look that she chose for the Met Gala after parties. And this one was very well-received by fans — so much so that many questioned why the new mom wouldn't wear the sleek, satin corseted gown for the ball itself (via Daily Mail).
About the far-more-refined and seemingly appropriate-for-the-occasion second dress, also designed by Off-White, one fan commented on her post, "You should've worn this to the actual Gala." Seconded another like-minded follower, "This one looks so much better on u [than] the one on the gala."
More commenters weighed in to advise their idol that she should have rocked this one look for the entire evening. In fact, scrolling through the comments section of Jenner's Instagram posts there is one common sentiment among all of her fans: This was the look, not the other one, which no matter how sweet the reason for her choosing it, only ended up landing her on lists of stars who missed the mark when it came to their Met Gala looks.