Marilyn Monroe's Estate Reveals What They Really Think About Kim Kardashian's Met Gala Look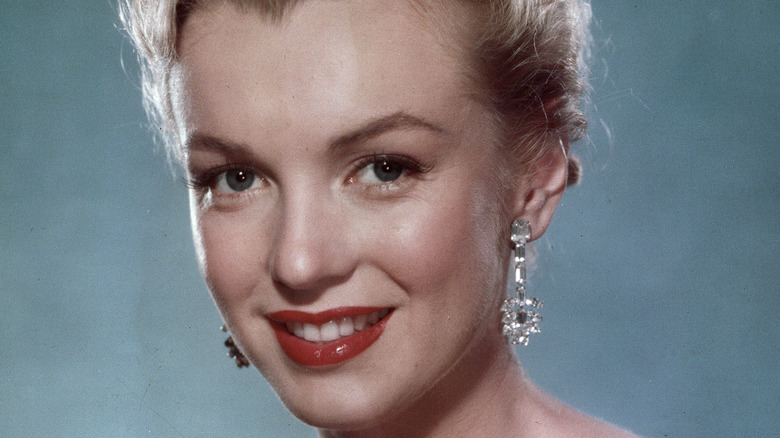 Michael Ochs Archives/Getty Images
Kim Kardashian recently shocked the fashion world by dressing as the Met Gala's Marilyn Monroe. The influencer and reality TV star expressed her excitement to be wearing one of Monroe's most famous dresses in an Instagram post. Kardashian captioned the snap of herself in the gown, "I am so honored to be wearing the iconic dress that Marilyn Monroe wore in 1962 to sing 'Happy Birthday' to President John F. Kennedy. It is a stunning skintight gown adorned with more than 6,000 hand-sewn crystals by costumier Jean Louis."
Kardashian continued to share how appreciative she was in her caption, as she made sure to thank the Ripley's Believe it or Not! Museum for allowing her to be the first person to publicly wear the dress since the late Monroe donned the gown herself in the '60s. Unfortunately for the reality TV personality, though, fashion historians are seeing red over Kardashian's Met Gala dress. 
People noted that credible experts were unhappy with her decision to wear such a beloved, historic, custom-made dress. Considering this negative feedback, many were left wondering how Monroe's actual estate felt about Kardashian's look.
Marilyn Monroe's estate enjoyed the look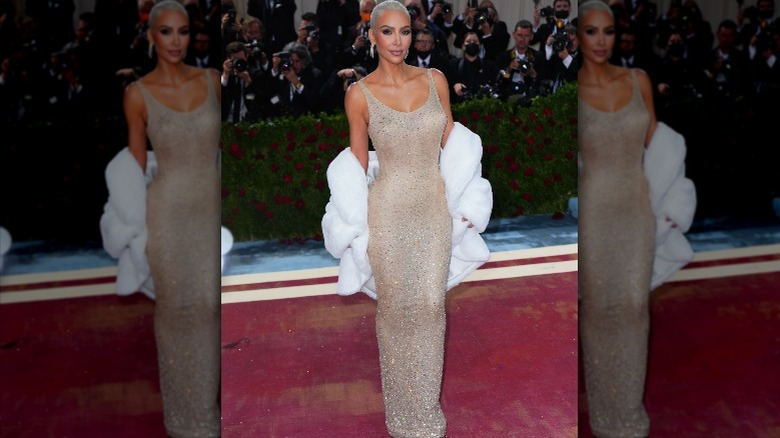 Gotham/Getty Images
Although Kim Kardashian's Met Gala look was controversial, Marilyn Monroe's estate approves of Kardashian's use of the infamous gown. Nick Woodhouse, who serves as the President and CMO of Authentic Brands Group, spoke with TMZ about the move. Woodhouse and Authentic Brands Group run Monroe's estate. According to TMZ, " ... he and his partners believe Marilyn would've been thrilled to have seen KK rocking her legendary gown to the Met Gala."
Woodhouse went on to explain that he thinks Kardashian was worthy of wearing the dress since, like Monroe, the influencer is a powerful woman who enjoys being filmed and photographed. Being compared to Monroe is an honor — we can only imagine how Kardashian herself must be feeling after hearing that touching comparison from Woodhouse.
Luckily for the TV personality, despite the disapproving feedback from some experts, Monroe's estate made it clear they were happy with Kardashian's decision to wear the dress. Kardashian also received some positive feedback regarding the look on her Instagram post. Loving comments like "YOU WON THE MET," "You are stunning ... Just like Marilyn!," and "STUNNING," were left by her devoted fans.