Fans Take Kylie Jenner To Task After New Video Of Her Son Is Posted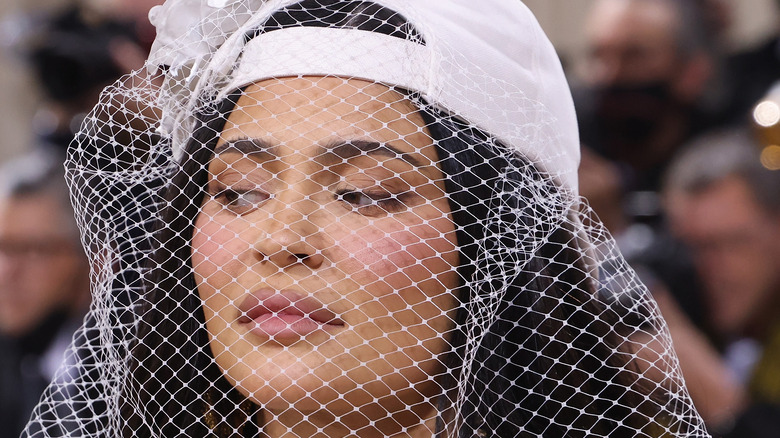 Taylor Hill/Getty Images
Stormi Webster was born in February of 2018 — and the same day Kylie Jenner gave birth, fans got to see a photo of her, or at least of her hand (via Harper's Bazaar). One month later, we were blessed with a full picture of Stormi and her mom. Flash forward to the birth of Jenner's second child, a son, whom the mogul and her boyfriend Travis Scott welcomed in February of 2022. Three months have gone by and we don't even know the little guy's name, nor have we seen a photo of him.
Sure, Jenner announced they were naming baby number two Wolf, but promptly shared she'd changed her mind via her Instagram Story, telling fans he would no longer go by this unique moniker (via People). The reality star is yet to bequeath upon her adoring public the new name of the tot.
Meanwhile, Jenner has so far only posted an image of her son's hand and his feet. And fans aren't having the lack of information any longer.
Fans want more than a video of Kylie Jenner's son's feet
In a new Instagram post shared on Dashkids, we see what is reported to be Kylie Jenner's son's feet in rather expensive sneakers. And yes, that's all fans get to see. Some aren't holding back their disappointment and frustration, with one person commenting simply, "Name????????????" "I can't wait to see his face!" someone else declared.
Similar sentiments from fans who just wanted to know what the baby looks like or even what his name is flooded the comments section of the Instagram post, with someone else wondering why this baby's identity was being kept a secret when all the other Kardashian kids are splashed all over social media — including Stormi.
Finally, a fan who had just had it implored Jenner to stop hiding her son. "Fans deserve to see this child," the person opined, adding some will "quit caring" and even "following" her if she doesn't stop teasing them with seeing just the baby's feet. Somehow, we doubt that!