Howard Stern Proves He's Still Not Over Will Smith's Slap
Michael Loccisano/Getty Images
In May, footage of comedian Dave Chappelle being attacked midway through a stand-up show made the rounds on social media. The Independent reported that Chappelle was performing at the "Netflix Is A Joke" festival when a man charged the stage and "lunged" at him, per footage shared on TikTok. Security quickly intervened and detained the unidentified assailant, dragging him away. Chris Rock, who was involved in his own shocking onstage incident at the Oscars, came to his pal's aid and hilariously quipped, "was that Will Smith?" in reference to what had happened previously.
The Guardian confirms Chappelle's attacker has since been charged by the LAPD. A police spokesperson stated, "The suspect produced a replica handgun and pointed the item at the victim. He was taken into custody and was arrested for assault with a deadly weapon." Chappelle recovered well, returning to the stage to wrap things up — he was in the middle of closing the show when the incident occurred — and joking that the assailant "was a trans man." Chappelle has been accused of making transphobic jokes in his comedy routines, leading to backlash from the LGBTQ+ community. 
Ever since the Oscars incident, comedians have reportedly been concerned about being attacked onstage. However, according to Howard Stern, they should be more worried about the differing responses to these two incidents.
Howard Stern railed against Hollywood's double standards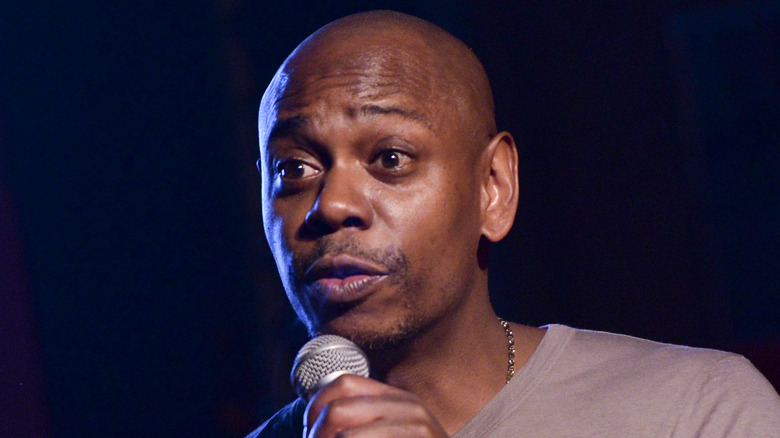 Vivien Killilea/Getty Images
Howard Stern's take on the Will Smith smack raised eyebrows back when it originally happened, and now the radio host is wading into the discourse once more. According to Mediaite, during a recent episode of "The Howard Stern Show," the shock jock railed against the wildly different reactions to Chris Rock being assaulted onstage and the same thing happening to fellow comedian Dave Chappelle earlier this week. "This guy jumped up on stage and attacked Dave Chappelle," Stern recounted. "As soon as that happened, did they let him go back to his seat and laugh and sit next to his wife and then give them an award? No! They took him backstage, they broke his arms and hands so bad."
Funnily enough, Rock himself intervened when Chappelle was attacked. Fellow A-lister Jamie Foxx also came to his aid, unlike at the Academy Awards when, according to Stern, everybody was more focused on consoling Smith "because it was live television and Hollywood didn't know what to do." It's worth noting several celebrity friends consoled Rock after the incident with Smith, but the reactions to both incidents were starkly different.
Moreover, as Stern asserted, the "King Richard" star later received a best actor Oscar for his performance and was given a standing ovation to boot. Smith apologized for his behavior on Instagram, acknowledging that violence is never the answer. He was also banned from all Academy events for the next 10 years, per People.