The Kiss In Along For The Ride We'll Watch Again And Again
This content was paid for by Netflix and created by The List.

When it comes to movie kisses, "Along for the Ride" gives a new definition to the notion of a tasty little liplock. 
The film follows Auden (Emma Pasarow) as she spends her last summer before college living with her estranged father, Robert (Dermot Mulroney), in the quiet surfside town of Colby. As she makes new relationships with her young stepmother (Kate Bosworth), infant sister, and a trio of lovable young ladies by day, she spends her nights sipping on coffee and taking in the scenery solo due to her insomnia. But she's not the only one who's still up while the rest of the town sleeps. She soon meets a fellow night owl named Eli (Belmont Cameli), and the two embark on a nightly quest to let her experience all of the youthful fun she missed while living with her mother, Victoria (Andie MacDowell).
Though both Auden and Eli tend to keep others at bay due to some hardships they've experienced in their pasts, they develop a bond with one another that results in a truly delicious screen smooch. Here's a look at the kiss in "Along for the Ride" that we'll be watching again and again.
The nocturnes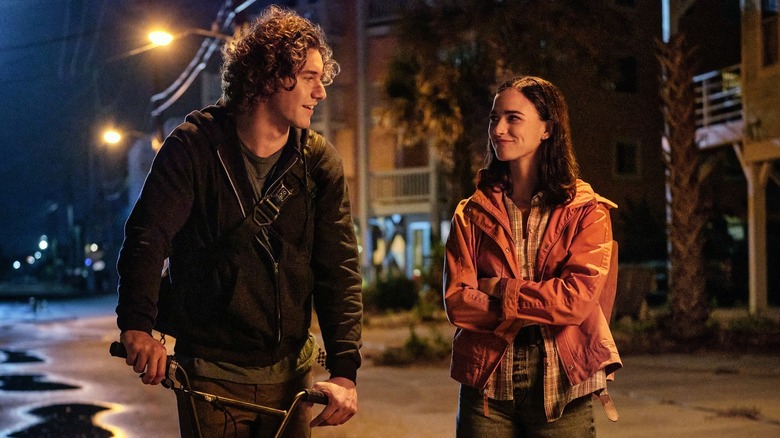 Emily V. Aragones/Netflix
When Auden first arrives in Colby, she doesn't quite fit into the social scene. It doesn't help, of course, that her father is wrapped up in his writing while her stepmom is completely overwhelmed with taking care of their baby. But things get off to a spectacularly bad start when she attends a local party and accidentally kisses the wrong guy in the haughty playboy Jake (Ricardo Hurtado). This puts her at odds with his ex-girlfriend, who she just so happens to be working in close quarters with. Pretty soon, Auden finds herself isolated in this already-small town.
Luckily, she manages to make nice with the other local teens over time, but the person who's really there for her all the while is Eli. After multiple nights of crossing paths during their separate nocturnal wanderings, they eventually become friends. Eli then takes her to see some of his favorite hangout spots throughout town, from a cool coffee spot tucked in the back of a laundromat to the top of a lighthouse to a drive-in theater that plays vintage film favorites. His quest is to show her all of the late-night fun Colby has to offer, but there's still one thing he won't do — even for her.
The confessions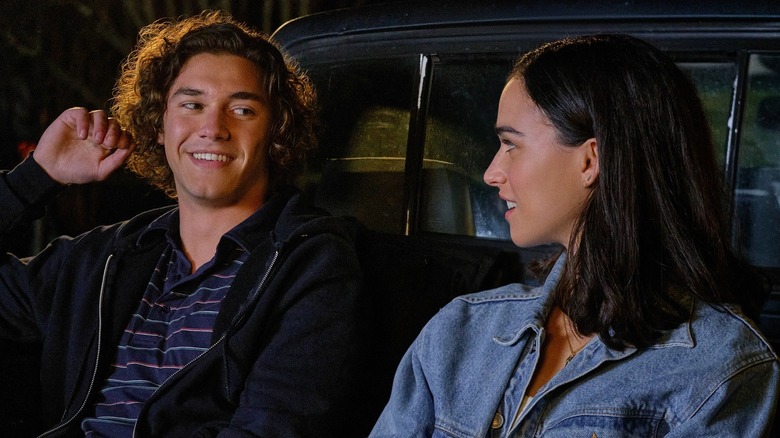 Emily V. Aragones/Netflix
As Auden and Eli grow closer in their friendship — and it seems that it might just blossom into romance — Auden learns from a friend that, unlike the other kids in town, Eli isn't much of a partygoer and for good reason: He lost his best friend in a collision with a drunk driver long before he met Auden. Knowing what hardships Eli has overcome, she becomes even more impressed with his kindness and even shares her own dark secrets and the reason she's unable to sleep at night. However, Eli doesn't open up to her about his own heartbreaking past until Auden makes it completely clear that she already knows, and at that point, he literally closes the door on her and retreats into his safe haven.
So it's something of a grand gesture when, for the first time in a long time, Eli quietly shows up to the annual Fourth of July "hot dog party" just to see Auden, surprising her and all of their friends in equal measure. To dispel the awkwardness of his unexpected arrival, Auden acts fast to do something that might not exactly seem romantic to others but totally works to cut through any tension ... she slathers his face with potato salad, and in return, he drenches her head with baked beans, igniting a party-wide food fight that makes absolutely everyone smile. It's clear in this moment that Eli is ready to put aside his anguish — and his hurt feelings about Auden bringing his dark past up to him — and give his heart a chance to heal with her.
The fireworks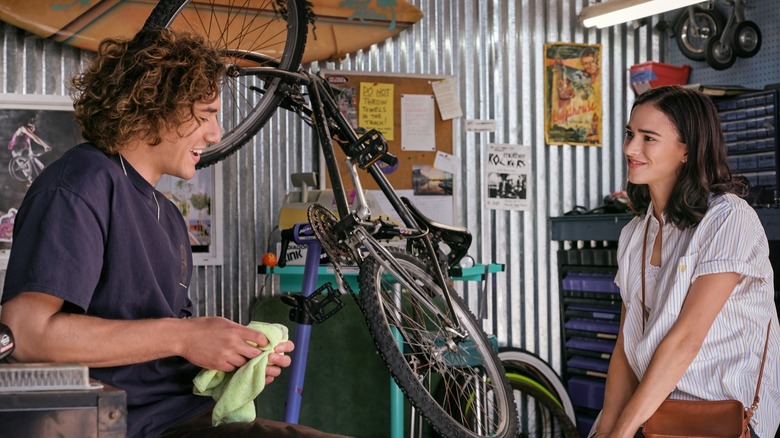 Emily V. Aragones/Netflix
The situation becomes even more salivating when the group decides to move the party into the water to rinse out the morsels they've got matted in their hair. Night swimming was something Eli wanted to include in their quest anyway, so this is a perfect opportunity for them to pick up right where they left off before their misunderstanding.
While everyone else is splishing and splashing without abandon, Auden and Eli steal away into the water, and the playfulness of the moment gives way to something a little sweeter as they begin to touch and eventually lean in for a long-awaited kiss beneath the stars. The moment is completely magical, and even when the crowd catches sight of their smooching and wildly cheers them on, our lovebirds are all smiles — totally happy to share another kiss for their cheering audience. Not only have they both put aside any reservations they each might've had about being at the party, but they've finally given into the undeniable chemistry they've developed throughout their many nighttime adventures together. And if the moment wasn't already perfect enough, they're then treated to a fireworks show and join in on a wonderful cuddle pile to watch the sky light up with colors.
Put simply, the kiss is truly special because it's one that's shared between two people who formed an unlikely friendship when everyone else was fast asleep — two people who then fully committed to being open with each other and others, giving into the notion of finding happiness once again. And, of course, it doesn't hurt that both of these young actors, Emma Pasarow and Belmont Cameli, are both beautiful and completely convincing as a pair of considerate and contemplative young lovers.