The Best Kisses Of 2021 On Netflix
This content was paid for by Netflix and created by The List.
Love was in the air in 2021 — well, at least it was when we're talking about Netflix's movie characters. Throughout the year's slate of pictures, there were a lot of film favorites who decided to lock lips at the exact right moment, leaving us with tons of adorable scenes to swoon over for many moons still to come.
From the emotional climaxes of romantic film series favorites to stirring period stories with characters who took our breath away to a couple of clever comedies that had just the right amount of romance sprinkled into the hilarious mix, there were a lot of Netflix films that brought us the goods this year. So, as we think back over a year's worth of magical, romantic moments, let's take a look at all the best kisses on Netflix in 2021.
Best Historical Kiss: The Dig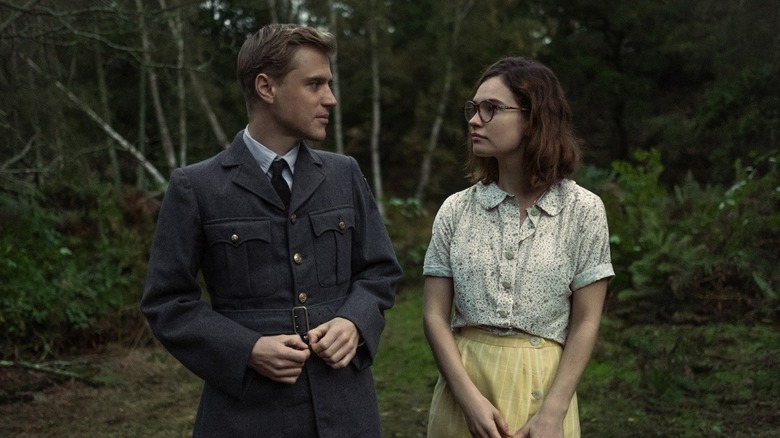 Larry Horricks/Netflix
Who knew digging up a field full of priceless antiquities could get someone mining their own feelings and coming up with gold? 
In "The Dig," a drama about the historic excavation of the real-life Sutton Hoo site, we see that there are some very powerful emotional experiences that coincide with the discovery of an ancient Anglo-Saxon burial site in Britain. For the property's dutiful owner, Edith Pretty (Carey Mulligan), she's dealing with her own failing health and what her mortality might mean for her young son. For self-taught excavator Basil Brown (Ralph Fiennes), the dig becomes a deeply personal passion project. And for Peggy Piggott (Lily James), just as she's helping to unearth some true treasures, her own marriage to her husband, Stuart (Ben Chaplin), is going underground fast.
But it's not all bad news for Peggy, oh no. After a series of round rejections by her spouse, Peggy finds comfort in the arms of the very dashing Rory Lomax (Johnny Flynn), who's more than happy to shower her with the affection she desires. Not only are their kisses intensely romantic, but they're also backdropped by some true wonders of the world.
Best Nature Kiss: The Last Letter from Your Lover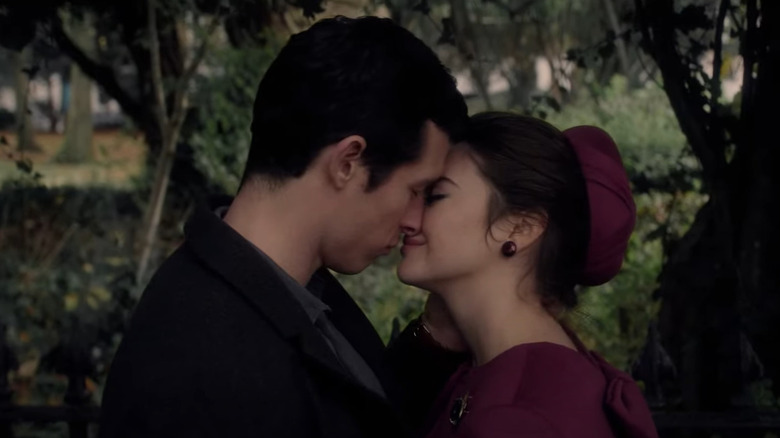 Netflix
Speaking of heart-stopping romance that blossoms in the doldrums, "The Last Letter from Your Lover" brings the heat to not one but two different timelines, as a modern-day journalist named Ellie Haworth (Felicity Jones) works with an archivist named Rory McCallan (Nabhaan Rizwan) to track down a treasure trove of love letters from a couple who affectionately call themselves "J" and "Boot."
Not only do we get to see Ellie and Rory develop a deep bond over their search, but we also get to witness the intense love affair that forms in the 1960s between "J" and "Boot" themselves — Jennifer Stirling (Shailene Woodley) and writer Anthony O'Hare (Callum Turner), respectively. Jennifer meets Anthony while he's profiling her stern and hurtful but highly successful husband, Laurence (Joe Alwyn). Their sudden and sweeping romance makes for many moments of emotional resonance as they steal away to savor their love in secret and scenic locales throughout the film.
Best Heist Kiss: Army of Thieves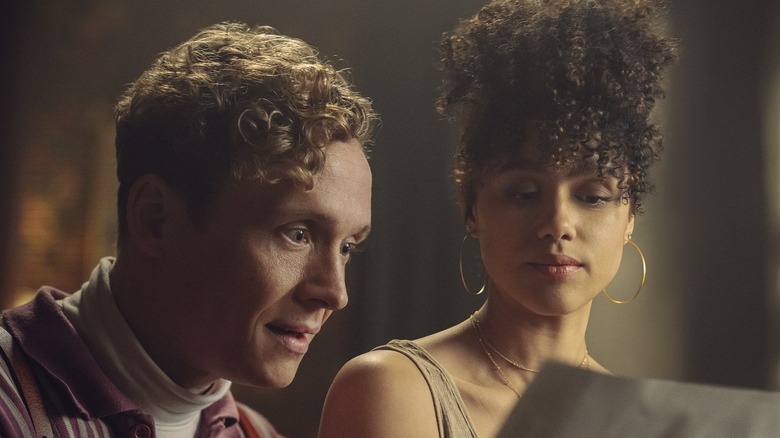 Stanislav Honzik/Netflix
"Army of the Dead" fans get to take a deep dive into the storied history of quirky safecracker extraordinaire Ludwig Dieter (Matthias Schweighöfer) in "Army of Thieves." Only this time, he's going by his given name of Sebastian, and he's being recruited into an international ring of thieves who want to break into all of the Hans Wagner safes hidden throughout Europe, long before the Las Vegas location of the Gotterdammerung has been revealed.
Though his talents for breaking into impossible vaults haven't been tested just yet, the group's ringleader, Gwendoline (Nathalie Emmanuel), sees some promise in Sebastian and brings him into the tight-knit group. And even though she's already in a relationship with their criminal colleague, Brad Cage (Stuart Martin), Sebastian and Gwen grow ever closer as they trot around the continent on their mission. 
After some meaningfully personal conversations, the two form a bond over their shared enthusiasm for the hunt, as opposed to the money they steal. Then, after Sebastian pulls off a particularly impressive heist, the two almost give into the chemistry that's forming between them before being interrupted, and when they finally do share a well-earned smooch, it's clear they're both handing over the keys to their own hearts.
Best On-the-Job Kiss: The Kissing Booth 3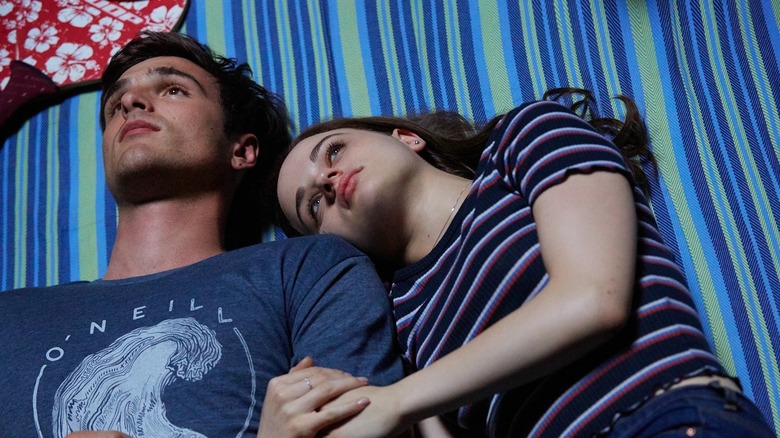 Marcos Cruz/Netflix
Elle Evans (Joey King) and Noah Flynn (Jacob Elordi) experience some major highs and lows in the third and final chapter of their love story, "The Kissing Booth 3." On the one hand, they get to spend the summer together in his family's lush beach house, filling out bucket lists with Lee (Joel Courtney) and having some serious fun in the sun. On the other hand, Elle has to overextend herself to meet all of her obligations to work and family, and she has a major decision to make about her future ... and how that might affect her relationship with Noah.
After a moment of conflict that leaves Elle questioning what their relationship is really made of — and even growing close to Marco Peña (Taylor Zakhar Perez) again — Noah pulls off another of his grand gestures by showing up to the diner she works at and asking her for a romantic dance. The incredible kiss that ensues assures them both that what they have is real and worth fighting for, and, of course, it gives audiences yet another reason to melt over this adorable screen couple.
Best Make-up Kiss: To All the Boys: Always and Forever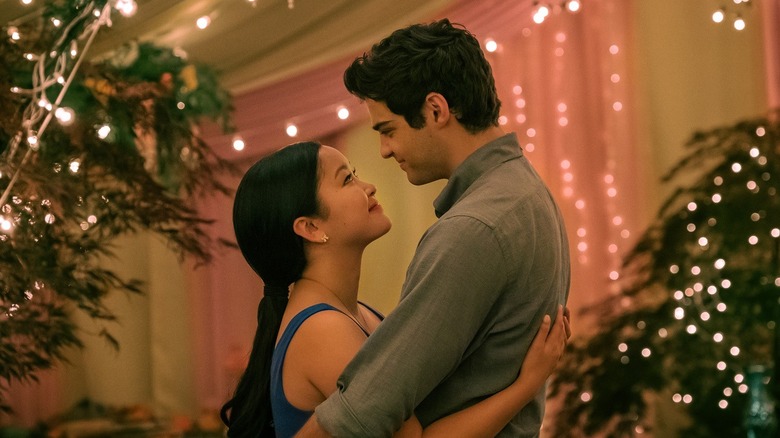 Katie Yu/Netflix
The final installment of the "To All the Boys I've Loved Before" trilogy, "Always and Forever" offers a bittersweet conclusion to the saga of Lara Jean Song Covey (Lana Condor) and Peter Kavinsky (Noah Centineo). After being wait-listed at Stanford, where Peter is planning to go, Lara Jean accidentally gets his hopes up about her potential to join him at the school, and she also falls in love with the idea of living in New York during a class trip.
Lara Jean's new ambitions put a major strain on her relationship with Peter, and he decides to end things to avoid the heartbreak of a long-distance relationship with her failing. However, in perhaps the greatest of his signature grand gestures, Peter surprises Lara Jean at her father's wedding by presenting her with a letter detailing how much he admired her from the first time he saw her six years before and offering to make a new agreement about how they'll make their love last. 
Of course, no contract like this would be complete without sealing it with a kiss, so after reading his lovely letter, Lara Jean turns to find the handsome Peter behind her, ready to begin their new adventure with some lip-locking action.
Best Dark Room Kiss: He's All That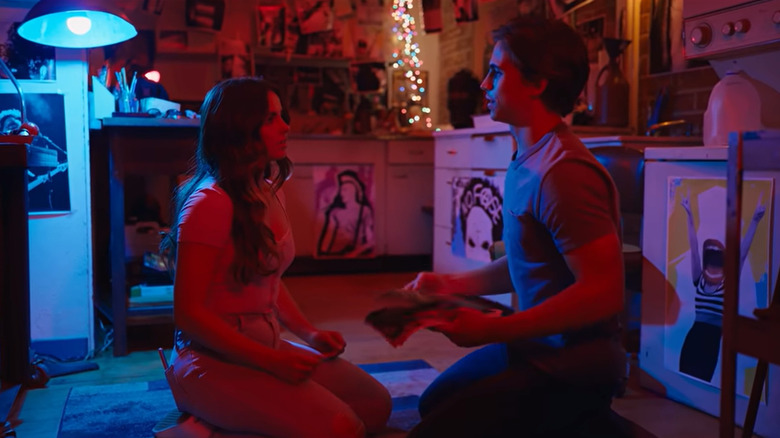 Netflix/YouTube
In "He's All That," a modern reimagination of the 1999 teen classic "She's All That," it doesn't take long for sparks to fly between Padgett Sawyer (Addison Rae) and Cameron Kweller (Tanner Buchanan), even though their relationship begins because of a bet. After an embarrassing breakup video of her has gone viral, Padgett takes a wager to turn her high school's biggest outcast into the prom king in an effort to restore her image as the queen bee. However, this effort unexpectedly results in her developing some very real feelings for Cameron. After all, he's handsome, kind to animals, and has a very soulful personality beneath that moody exterior.
After Padgett spends some quality time with Cameron doing his favorite things — riding horses and people-watching at a transit station — he decides to let her in on his biggest passion project: photography. Cameron has been very protective of his dark room, so it's something of a grand gesture that he lifts the proverbial curtain on his portrait collection and lets Padgett check out his work. Even though she initially has ulterior motives for paying so much attention to Cameron, she's truly charmed by the person she's come to know along the way and shows her genuine affection for him by kissing him in this super romantic setting. It's not the only swoony smooch these two will share, of course, but it's certainly an unforgettable one.
Best Pretend Kiss: Night Teeth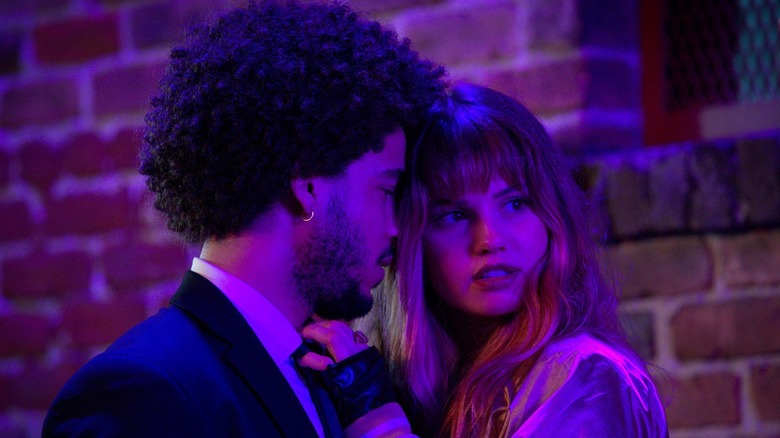 Kat Marcinowski/Netflix
In "Night Teeth," Benny (Jorge Lendeborge Jr.) and Blair (Debby Ryan) are from two very different worlds. Benny is a simple college student who substitutes as a chauffeur for his brother's business, while Blair is one of the two ravishing vampires Benny is driving from party to party throughout town. When Benny realizes exactly why his customers are so hellbent on the nightlife, he's initially quite afraid of them. But soon, he realizes that there's much more to Blair than a pair of fangs.
Blair proves to him that there's a real beating heart beneath her undead exterior when Benny is confronted by some cruel classmates in front of a nightclub, and she decides to step in and help him silence his haters for good. She locks lips with an unsuspecting Benny with some dramatic flair, and although the gesture is meant to put on something of a show, it's clear from both of their immediate reactions that this won't be the last time they plant one on one another.
Best Beachside Kiss: Resort to Love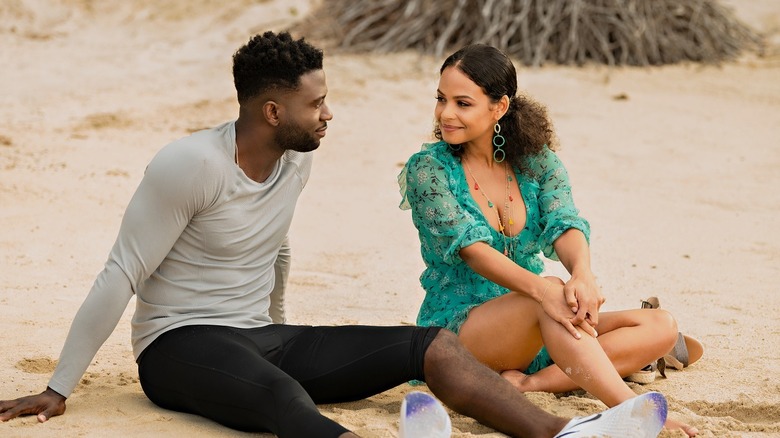 David Bloomer/Netflix
It'd be very easy to fall into a pit of despair upon finding out that you've accidentally been hired to perform at your ex-fiancé's wedding to another woman, an event that just so happens to be taking place where you were supposed to marry the groom. But for Erica Wilson (Christina Milian) in "Resort to Love," the situation is actually kind of a blessing in disguise. 
Sure, it's still completely upsetting to come face to face with the man who left her out in the cold. It's even worse she has to pretend nothing ever happened between them for the sake of his new bride. But as it turns out, Erica's ex, Jason (Jay Pharoah), has a dashing brother named Caleb (Sinqua Walls), who ensures that she's not going through all of this emotional turmoil alone.
In fact, their time spent together in the sunny getaway brings ashore some thrilling feelings between them, and soon, Erica has a new reason to sing. The scenes of these two lovers smooching are all splendid, but the shots of them soaking in the sea, sun, and each other are almost too perfect.
Best Camera-Ready Kiss: Squared Love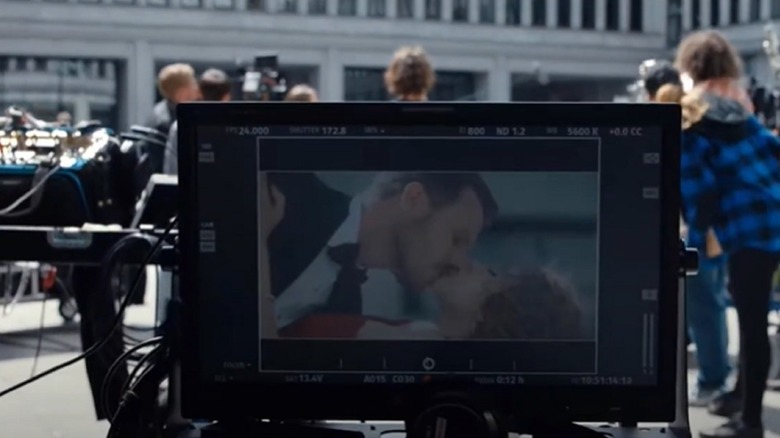 Netflix
It may not always be a good idea to strike up a romance with someone while in disguise, but for Monika (Adrianna Chlebicka), a teacher who moonlights as a model named Klaudia to help pay off her father's debts, having a double life leads her to discover both sides of herself — and introduce them both to Mr. Right.
In the Polish romantic comedy "Squared Love," we meet her as a bespectacled school teacher who's beloved by the children in her care, but when she suits up to become Klaudia, she sports tight tendrils and an even tighter wardrobe to achieve a fashionable vixen look. During a commercial shoot with the womanizing Enzo (Mateusz Banasiuk), the two are initially like oil and water — much like Monika's own personalities — but they begin to connect with one another well beyond the professional level. 
If there's any question about whether they can find real romance with so much artifice in the mix, look no further than the passionate kisses that these two exchange, both in front of and away from the cameras.
Best Salty Kiss: Caught by a Wave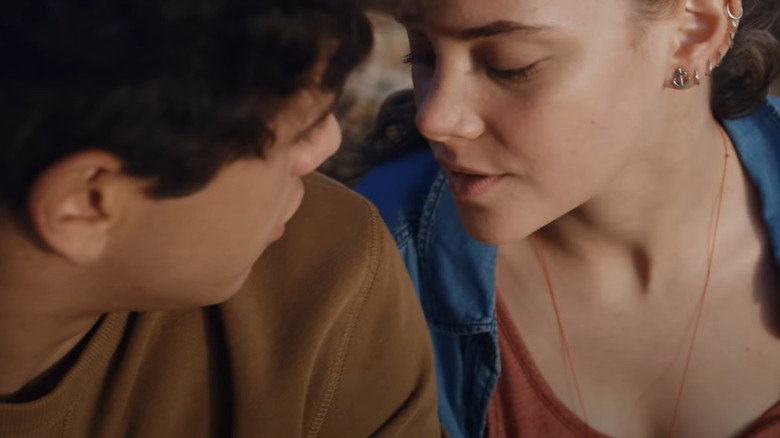 Netflix
Love crashes over the young couple Sara (Elvira Camarrone) and Lorenzo (Roberto Christian) during a summer camp full of feelings in the Italian romantic drama "Caught By a Wave." As swept up in their summer love as they are, Sara still doesn't trust her beau enough to tell him about the degenerative disease that affects her mobility until her condition becomes too hard to conceal.
But despite the secrecy, what Sara and Lorenzo have together is too precious to let the tide wash it all away, and the two work together to keep their love afloat, no matter what. Audiences will note that all of their kisses are sweet and meaningful, but the one that truly makes all the hearts swell is when they're reunited in the sea during a sailing mishap, and their first reaction to being swept into the water is to express their love with their lips and a pair of giant smiles.
Best Neighbors Kiss: Afterlife of the Party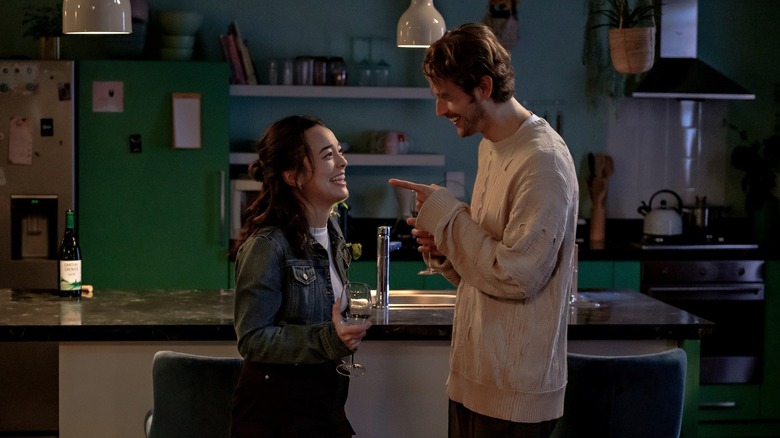 Graham Bartholomew/Netflix
New love gets a major boost from the beyond in "Afterlife of the Party." The romantic comedy centers on a social butterfly named Cassie (Victoria Justice), who dies during her birthday week but gets a chance to return to Earth for five days to try and right some wrongs with the people she left behind, thereby earning her place in the VIP room in the sky.
One of the people on her list is her best friend, Lisa (Midori Francis), who'd been by her side since childhood but grew tired of her hard-partying lifestyle right before her untimely demise. Cassie and Lisa have some serious healing to do, but it doesn't hurt that Lisa has met a certain someone who might just be a dream come true in her kind neighbor, Max (Timothy Renouf). And when the time finally comes for the two to confess their very alive feelings for one another, the two bring a little piece of heaven to the living world with their sumptuous smooches.
Best First Kiss: A Week Away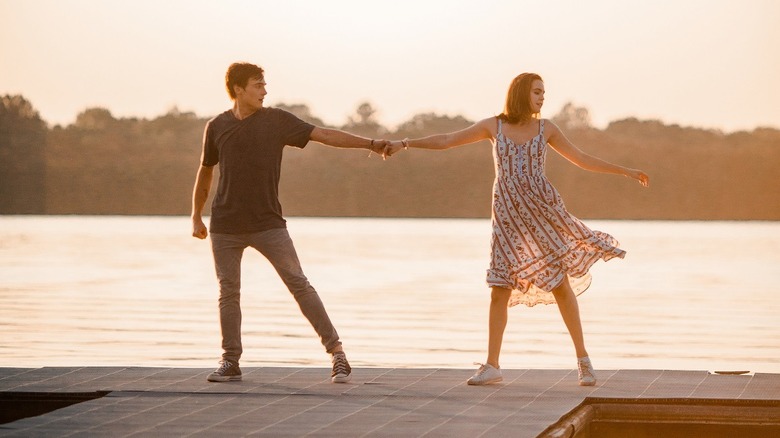 Richard Peterson/Netflix
Some people say that you can't love anyone else until you love yourself, and that certainly seems to be the case with Will Hawkins (Kevin Quinn) in "A Week Away." After attending a religious summer camp as a bit of penance for a juvenile crime, Will finds that he likes the place and, more importantly, the people there a lot more than he expected.
However, when his troubled past comes to light, his first instinct is to run away. And sadly, the girl he makes such beautiful music with, Avery (Bailee Madison), can't convince him to come back. But when he finally does decide to return, and to bring along a newfound sense of belonging and spirit, Will and Avery are finally able to share a kiss in front of all of their friends as Will embraces being cared about — and caring for himself — at last.
Best Long-Overdue Kiss: The Princess Switch 3: Romancing the Star
Mark Mainz/Netflix
After all of the terrible things she did to Stacy (Vanessa Hudgens) and Margaret (Hudgens) in "The Princess Switch: Switched Again," it's something of a Christmas miracle that the third movie in the "Princess Switch" series, "Romancing the Star," turns the troublesome vixen Fiona (also Hudgens) into someone we can quite like. In fact, the film reveals her gutting backstory and shows that she only became such a reckless renegade as a means of protecting herself from ever being heartbroken again after being all but abandoned by her jet-setting mother as a child. As it turns out, Margaret — or "Maggie Moo," as "Fifi" tends to call her — was right to show her some royal mercy!
The film also introduces us to Fiona's childhood confidant, Peter Maxwell (Remy Hii), and reveals that he was also left lonely by neglectful parents and ultimately turned to a life of crime as an adult too. So when a priceless Vatican artifact is stolen from Maragaret, Fiona turns to Peter for help in retrieving it. Along the way, their past comes back into play and they both drop their guards and realize how much they care for each other. 
However, when Peter pulls his own sort of switcheroo during the heist, it's unclear whether their budding romance can survive ... until Fiona discovers his true intentions for deceiving her are pretty pure. And in a heart-swelling moment of holiday joy, the two join in on the kissing parade started by her regal cousins and finally make their feelings official, culminating a lifetime of close friendship with a much-deserved happy ending.
Best Time-Sensitive Kiss: Tick, Tick... Boom!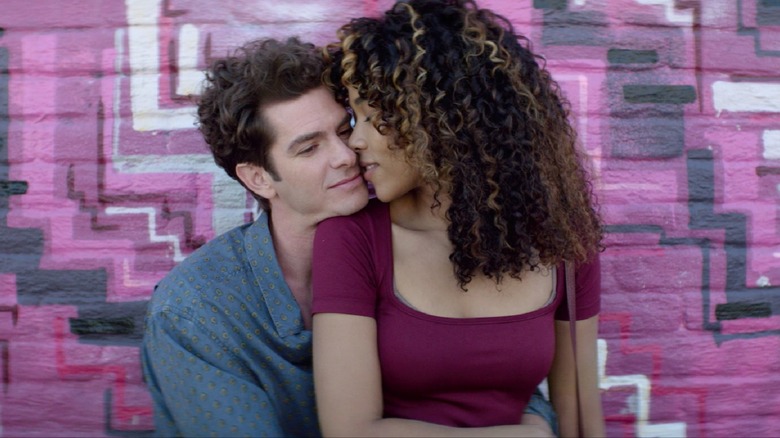 Netflix
Jonathan Larson's autobiographical musical "Tick, Tick... Boom!" gets a very moving movie treatment in Lin-Manuel Miranda's celebrated film of the same name. The sing-along smash is uplifting and devastating in equal measure and features outstanding performances by its cast, led by Andrew Garfield as the genius young scribe who's desperate and determined to succeed in the difficult musical theater industry.
Garfield's portrayal of Larson's ceaseless sense of urgency and constant creativity is completely compelling, but he also shows audiences just how much compassion and care the late, great writer had for the people in his life — particularly, his girlfriend, former dancer Susan (Alexandra Shipp). Though there are many questions looming between the duo from the very start of the story, especially when it comes to their careers and future together, the level of devotion and respect they each have for one another is never doubtful in the story. 
So, it's a tender moment indeed when the two steal away for a snuggle session and decide to put aside their many concerns and just enjoy each other for one very swoony kiss on the rooftop. Larson knows that his time is fleeting, so the two must savor the good times when they come, and the affection they feel for each other is positively radiant in this beautiful little moment.
Best Last Kiss: Love and Monsters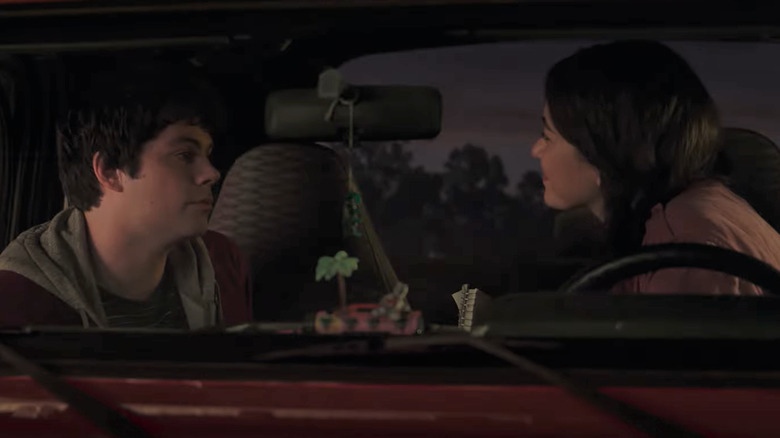 Netflix
"Love and Monsters" is a heart-stopping action-adventure story set in a deeply disturbing end-of-times situation, but there's still some serious romance to be seen in the film. The movie centers on Joel (Dylan O'Brian), a young man who finds the love of his life in Aimee (Jessica Henwick) ... right before a catastrophe strikes the world and turns all the cold-blooded creatures into giants.
Turns out, nuking a planet-killing comet can have some unexpectedly radioactive consequences, so those who do manage to survive the initial scourge of oversized, murderous pests are forced to retreat into underground bunkers. But before this game-changing blight first strikes, Joel and Aimee have some crucial one-on-one time in a car that changes everything about their trajectory. During a sweet drive-in date, the two lock lips and declare their time together to have been the best summer ever ... just before the warning flares start raging. There's a reason Joel spends the next seven years dreaming of Aimee; their connection in the before times is absolutely undeniable here.
Best Parents Kiss: Yes Day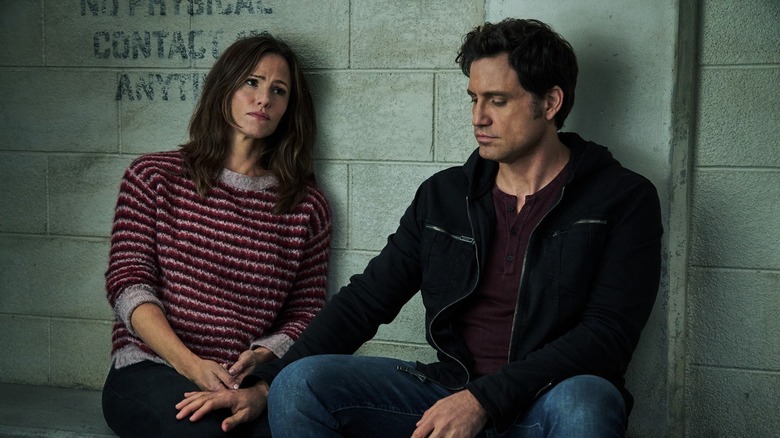 Matt Kennedy/Netflix
In "Yes Day," Allison (Jennifer Garner) and Carlos Torres (Edgar Ramirez) don't just decide to give their kids a day of no "no"s because it'll strengthen their relationship with their growing brood of three — they also need to prove to themselves that they're still the fun, hip folks that first fell in love with each other over fearless activities like playing hooky, rock climbing, and skydiving. Allison in particular needs to feel like she's not just the pesky house disciplinarian, and after hearing how her children regard her as their live-in dictator, she's particularly annoyed at the fact that she's the bad guy while Carlos gets to be the fun parent of the two.
As they both give into their children's wildest dreams for the day, Carlos gains some serious sympathy for how much flak his wife has been getting to keep their house in order. When the two are taken into custody together after a carnival game-gone-wrong, Carlos seizes the opportunity to admit that he's let Allison handle the harder parts of parenting all this time, and he vows to step up and be her true partner from here on out. That promise is exactly what Allison needs to hear in the moment, and the two seal it with some lovely words and, of course, a meaningful kiss.
Best BFF Kiss: Single All the Way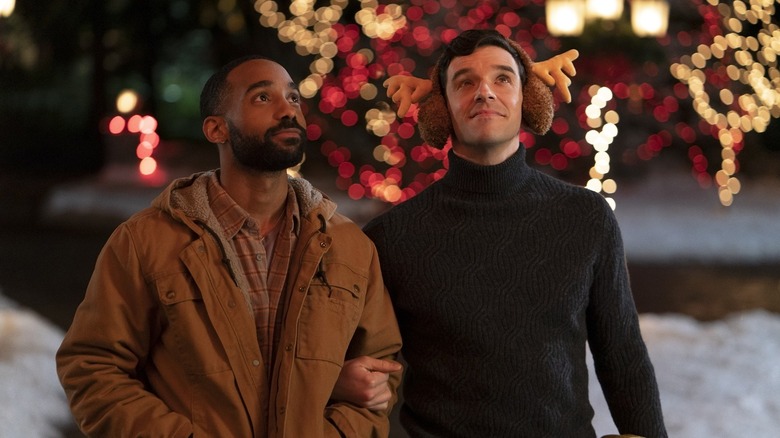 Phillippe Bosse/Netflix
"Single All the Way" gives an all-new definition to the concept of being in the friend zone. The film centers on Peter (Michael Urie) as he invites his best friend and roommate, Nick (Philmeon Chambers), to join him on a trip back home to New Hampshire to visit his family for the holidays.
Peter and Nick might just be close pals when they first make the trek out to the Granite State, but once Peter's mother sets him up with a surprisingly promising blind date, others in the family begin conspiring to push him and Nick to realize their hidden feelings for one another once and for all. This epic game of familial matchmaking finally comes to a head when Nick confesses his true love for Peter, and even after his affections aren't immediately returned, he makes a grand gesture of helping Peter to pursue his dreams of returning home by renting a retail space for him. And it's in this moment that Peter finally returns the favor and decides to show his own feelings for Nick once and for all.
Best Catfish Kiss: Love Hard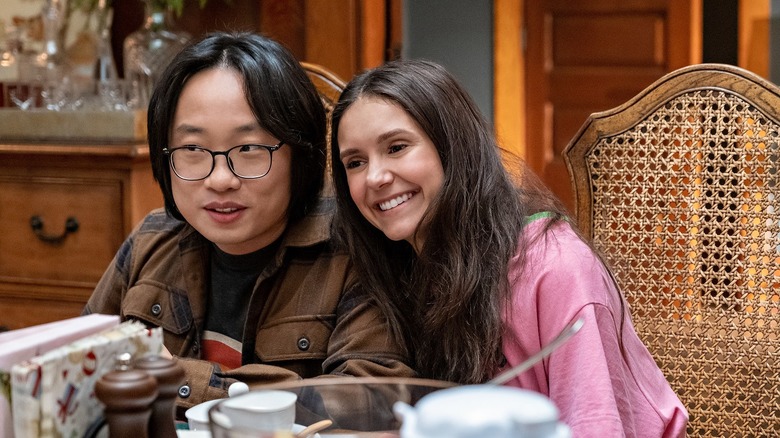 Bettina Strauss/Netflix
Almost no couple has a picture-perfect origin story, but in "Love Hard," there's a lot of confusion to conquer between Natalie Bauer (Nina Dobrev) and Josh Lin (Jimmy O. Yang). Josh first links up with Natalie, a writer, under false pretenses, as he creates a fake online profile and pretends to be a former friend of his named Tag (Darren Barnet). Smitten with "Tag," Natalie decides to make a surprise trip to see him for the holidays.
After learning that she's been fooled, Natalie decides to stick around in hopes of getting to know the real Tag, all while pretending to be Josh's love interest to keep his intrusive family at bay. However, the two slowly find that the real reason they connected over so many conversations had nothing to do with an alias or feigned profile picture — they actually have a lot in common.
Once Natalie is able to realize that her truest feelings are for Josh, she puts their shared love of iconic movies to good use by replicating the iconic moment from "Love Actually" to invite him to create a real, no-nonsense relationship with her. And he responds by citing an iconic line from their very favorite Christmas movie — "Die Hard" — before the two share a kiss that seals the deal, providing this particular catfish story with a very happy ending.