Bloopers That Make Us Love Along For The Ride Even More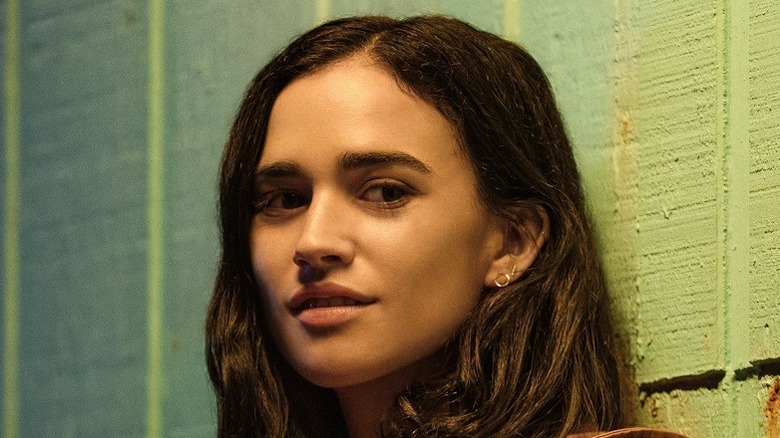 Emily V. Aragones/Netflix
This content was paid for by Netflix and created by The List.
"Along for the Ride" is an emotionally satisfying film about friendship, family, and love. The new adaptation of Sarah Dessen's beloved novel of the same name follows college-bound, nocturnal teenager Auden West (Emma Pasarow) as she spends the summer in her estranged father's quiet beachside community of Colby and befriends an intriguing fellow insomniac named Eli (Belmont Cameli).
Thanks to her newfound bond with Eli, Auden gets a chance to see the town like few others ever will, engaging in a "quest" to enjoy a summer full of nighttime adventures while the rest of the townspeople sleep. But as the moonlight brings them closer together, both Auden and Eli experience a bit of a wakeup call about their own lives and choices. The tender, touching screen story is bound to make you smile and weep all at once, but after the credits roll, you can also enjoy a few hearty laughs as you take in these amazing bloopers from the film.
A tasty tongue twister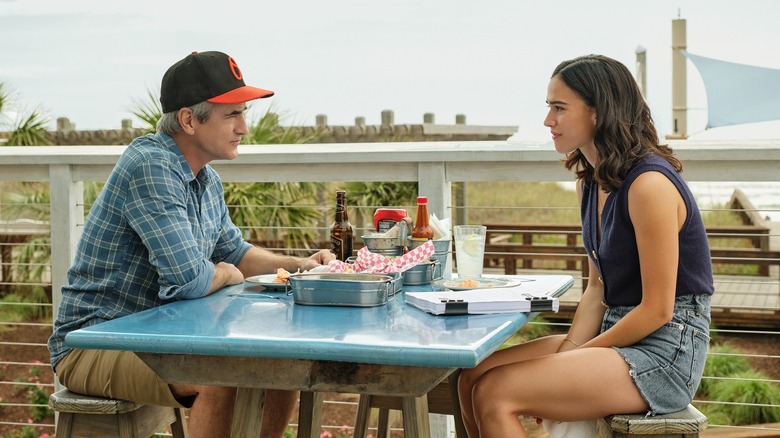 Emily V. Aragones/Netflix
One thing that Auden comes to know about her father during her stay in Colby is that he's quite neglectful when it comes to his relationships, often dismissing his second wife and newborn child's needs while furiously working on his writing. Dermot Mulroney portrays Robert as well-meaning but completely clueless about the effect of his behaviors, and there are plenty of times throughout the story when you can't help but get mad at Robert for his selfish words and deeds.
For example, take the scene where he has a one-on-one lunch with Auden and asks her to read and review his book for him, which proves once again that his novel is all he can think or care about. While the scene itself is serious and meaningful, if you watch the outtakes from this moment, you might think it's more of a comedy, as Mulroney simply could not keep a straight face whenever he had to talk about shrimp. Yes, apparently, the subject of shrimp is something the actor simply cannot be serious about, as the very mention of this seafood treat left him in stitches on multiple hilarious occasions.
An improv stream
Emily V. Aragones/Netflix
Another actor in "Along for the Ride" who gets to have a lot of fun making people mad is Ricardo Hurtado. In the film, the actor portrays the haughty playboy Jake, one of the first people Auden meets when she moves into town. And it's an interaction that proves to be rather regrettable for her, as it causes instant friction with some of the other locals.
Hurtado clearly had a lot of fun playing the cringe-inducing character, as this behind-the-scenes reel proves. In the bonus footage, we can see that Jake would've been even more of a dirtbag than he already was if any of these moments had made it into the final cut. Between going all-in on some embarrassingly lyrical catcalls and giving a lot of gusto to some very terrible pickup lines, Hurtado doesn't flinch in this footage, even when he's saying the most ridiculous things imaginable.
The unsayable university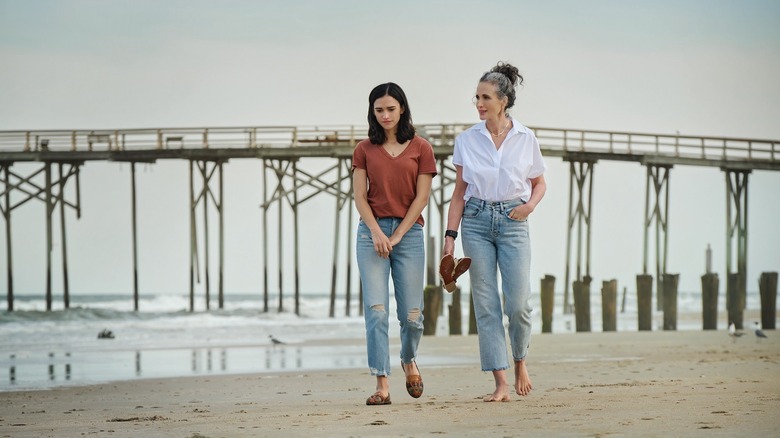 Emily V. Aragones/Netflix
Andie MacDowell is quickly becoming the queen of quirky screen moms. In "Along for the Ride," she portrays Victoria, the scholarly mother of Auden who's always treated her like an adult instead of letting her live a care-free adolescent existence like others her age. For reasons that become obvious throughout the film, Victoria has some serious reservations about her daughter spending the summer with her ex-husband, but she doesn't stand in the way of her trek to Colby.
As serious as Victoria tends to be, MacDowell is much more low-key in real life, as evidenced by this hysterical behind-the-scenes look at her filming a key dinner scene. As it turns out, MacDowell has a hard time pronouncing the name of Auden's future school, Defriese University. Defriese is a fiction of Sarah Dessen's novel universe, also appearing in "What Happened to Goodbye." But for MacDowell, it's nothing more than a point of frustration, as she repeatedly struggles to get past that single word without losing focus during her dialogue, resulting in a whole lot of unscripted four-letter words from the seasoned actress.
The turning tide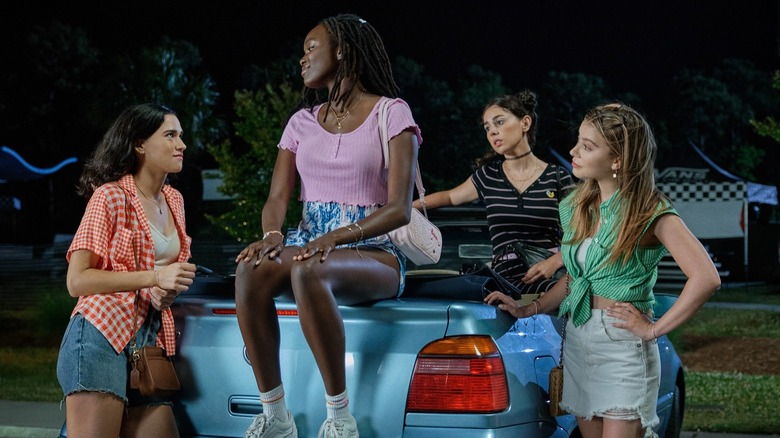 Emily V. Aragones/Netflix
One of the most heartwarming scenes in "Along for the Ride" comes when all of the teens in town gather for a beachside celebration to make up for all the fun times Auden lost in her very studious youth. The moment marks a major celebration between Auden and her newfound friends, including taking her relationship with Eli to the next level with a surfside smooch to remember.
As Eli, Belmont Cameli is usually as casual as they come, fashion-wise, but for this scene, he tries some formalwear on for size. And in a charming little outtake, he takes the words out of our mouths when he jokes, "Hubba, hubba." Of course, things get even more fun once the kids leap into the water while still gussied up and find out the hard way that there's no choreographing with the water, as the waves crash into them and cause a few unexpected but hilarious little slips during the shoot.