How The Royal Family Celebrated Archie's Birthday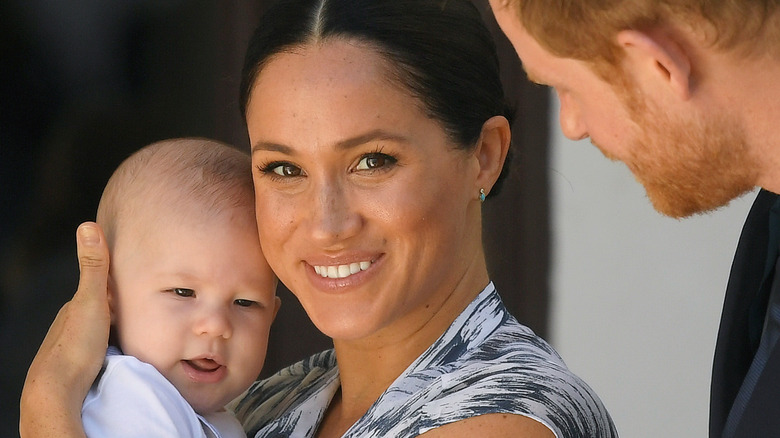 Pool/Getty Images
On May 6, 2022, Archie Harrison, Prince Harry and Meghan Markle's son, is celebrating his third birthday. At home in California, Harry and Meghan strive to give their eldest and his little sister Lilibet as normal a life as possible. For example, Harry is following in Princess Diana's footsteps as a parent by taking Archie to and from school (via Mirror).
As Archie grows up, his proud dad shares glimpses of his widening world. During the Invictus Games, he spoke about Archie's possible future career. "Some days it's an astronaut, other days it's a pilot — a helicopter pilot, obviously — or Kwazii from Octonauts," Harry said in his speech, per Marie Claire.
Archie's also an animal enthusiast. During Harry and Meghan's big interview with Oprah Winfrey, Meghan talked about "Archie's Chick Inn," a home for rescued factory hens (via Daily Mail). When the duchess appeared on Ellen DeGeneres' show in November 2021, Ellen commented, "He's so sweet with the chickens, too. Archie is just such a gentle soul," per People. Ellen has spent time with the family since she is one of their neighbors.
While Archie's royal family is much farther away, Harry and Meghan have helped Archie get to know Queen Elizabeth and other family members via video calls, per the Daily Mail. On Archie's special day, his family in the U.K. are demonstrating that they're thinking of him.
The royal family sent birthday greetings via social media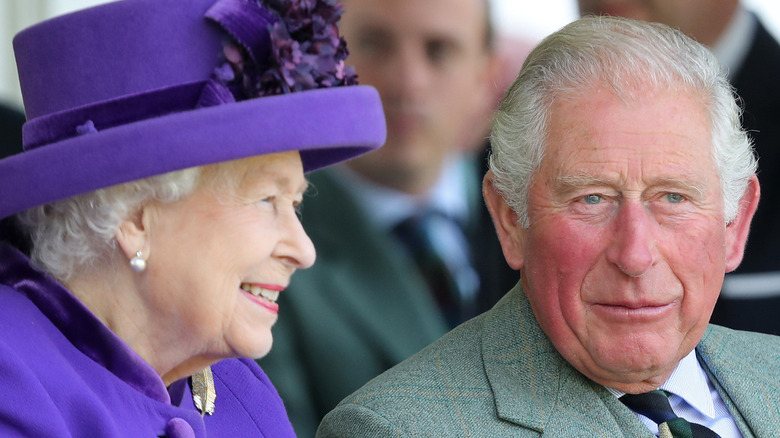 Chris Jackson/Getty Images
Since Prince Harry, Meghan Markle, and their two children live in California, Archie won't be celebrating his birthday in person with all of his royal relatives. Due to distance and travel difficulties during the COVID-19 pandemic, Archie hasn't spent time in the U.K. since he was a baby, per the Daily Mail.
To commemorate Archie's special day, Prince William and Kate tweeted, "Wishing Archie a very happy 3rd Birthday today." They included a family photo from Archie's 2019 christening. Taken in the Green Drawing Room at Windsor Castle, the photo features Harry and Meghan with Archie on his mother's lap. The Duke and Duchess of Sussex are surrounded by Camilla Parker-Bowles, Prince Charles, Doria Ragland (Meghan's mother), Lady Sarah McCorquodale and Lady Jane Fellowes (Princess Diana's sisters), William, and Kate (via Hello!).
Archie's great-grandmother, Queen Elizabeth, also posted birthday greetings on Twitter. The queen shared a 2019 photo marking the first time she met Archie. Charles wished his grandson happy birthday by retweeting the queen's post along with the message, "Happy Birthday Archie" and a red balloon.
Although the royals won't be able to see Archie today, it is possible Lilibet will celebrate her first birthday in the U.K. According to a spokesperson, "Prince Harry and Meghan, The Duke and Duchess of Sussex are excited and honored to attend The Queen's Platinum Jubilee celebrations this June with their children," per People.
There might be reasons for the royals used older photos of Archie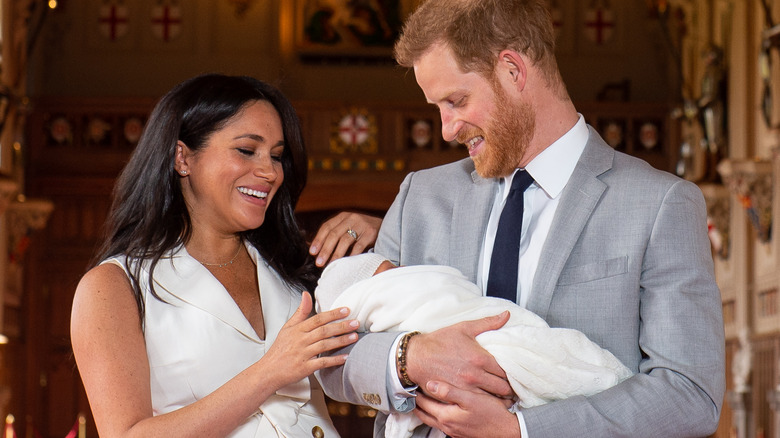 Wpa Pool/Getty Images
Even though he's now three, the senior royals all shared photos of Archie as an infant. They may have chosen the photos because they are some of the few available snapshots of Archie and his royal family members, per Marie Claire.
In addition, now that Prince Harry and Meghan Markle aren't working royals, they have emphasized protecting their children's privacy and limiting the amount of photos released. The Duke and Duchess of Sussex's most recent photo of their children was a family picture taken in summer 2021 that they shared as a Christmas card (via My London).
While fans eagerly await a more recent photo to honor Archie's birthday, it is likely there will be a charitable connection. Last year, Harry and Meghan posted a sepia-toned photo of Archie holding a big bunch of balloons with his back to the camera. The duke and the duchess asked well-wishers to support COVID-19 vaccine equity. Archewell, Harry and Meghan's foundation, raised over $3 million for this cause.
When Archie turned one, the duke and duchess shared a video of Meghan reading "Duck! Rabbit!" to Archie. In the video, Meghan reads with an animated style and turns the book so the audience can see also — no easy task with a wiggly baby on her lap. Posted on Instagram, the video supported "Save with Stories" to provide food security and educational supplies to children during school closures amid the COVID-19 pandemic.