What We Know About Simone Biles' New Clothing Line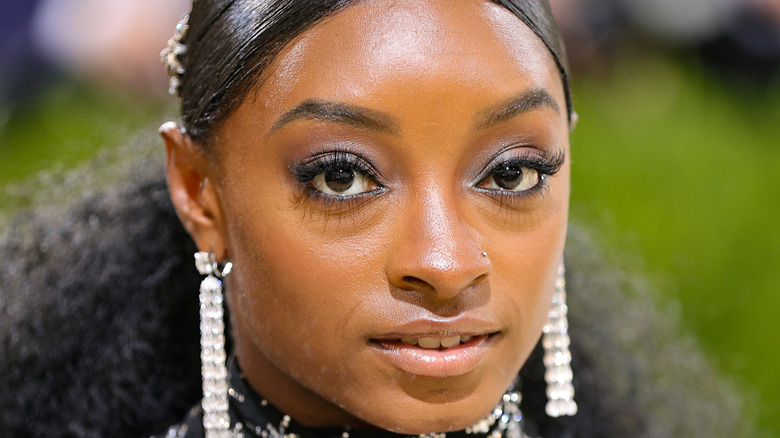 Theo Wargo/Getty Images
Seven-time Olympic medalist Simone Biles has had a transformative year. The most-decorated gymnast of all time made headlines after announcing her decision to withdraw from the 2021 Tokyo Olympics to focus on her physical and mental health. USA Gymnastics confirmed the decision in a statement on Twitter during the games.
In September 2021 Biles spoke to the Senate about the FBI's investigation of the disgraced former United States women's gymnastics team doctor, Larry Nassar (via BBC). Just days later, an article by The Cut was published in which Biles spoke on the importance of taking out time for herself during difficult times. "At the end of the day, you can't have it all," she said. "And if you take care of your mental well-being first, the rest will fall into place."
She wasn't wrong. In February 2022, Biles and her partner Jonathan Owens shared some happy relationship news. The gymnast announced on Instagram that the couple of nearly two years was engaged. The athlete is also staying busy with new initiatives to empower others; specifically, and most recently, young women. 
Simone Biles is empowering young girls with her new clothing line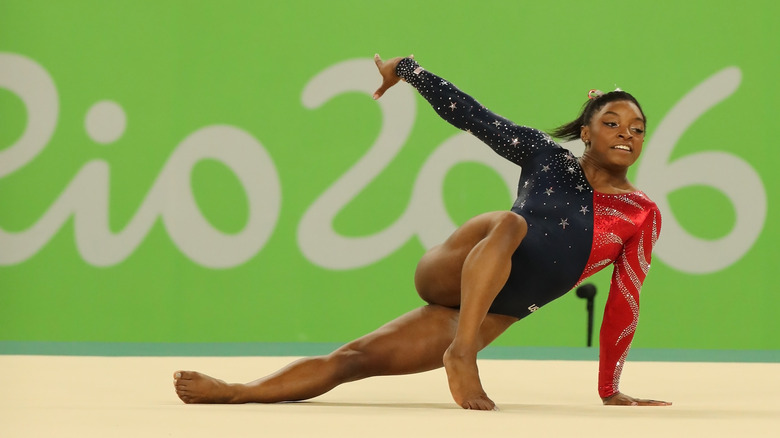 Leonard Zhukovsky/Shutterstock
Off the mat, Simone Biles is using her knowledge and athleticism in a fresh, new way. This time, she has style and confidence in mind. In an exclusive interview with People, Biles spilled all the details about a limited-edition activewear line for Athleta Girl. The collection is intended for young girls aged 6 through 12. 
With the line taking over a year to create and produce, the gymnast didn't shy away from letting fans know that she's proud of her first-time collection. "I feel like [Athleta and I] both have this same intent to make change and to kind of inspire the younger generation and the girls, and that's why I partnered with them," she told the publication. "But I've been a longtime fan before that, so it was really exciting for me to have some of the things that we believe in align."
With the reveal of the vibrant colors and eye-catching designs, young girls definitely have something to be excited about.
Simone Biles' clothing line for young girls is a perfect 10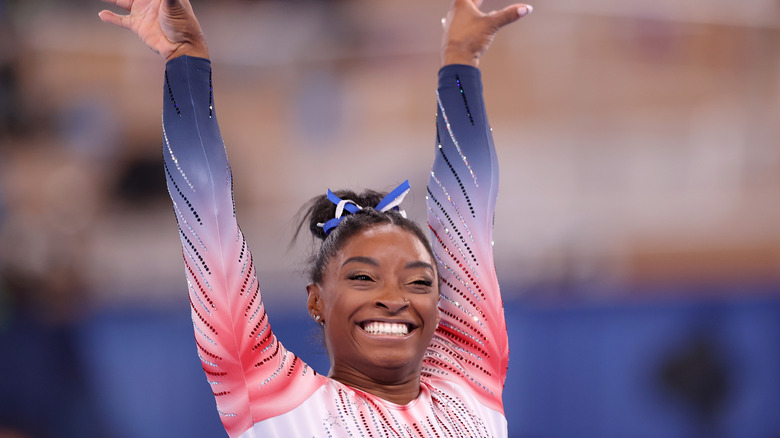 Laurence Griffiths/Getty Images
Just in time for spring and summer, Simone Biles is giving young girls that look up to her something to smile about. In addition to the striking designs, Biles and Athleta made sure to capture the star's positive, unapologetic spirit in the line's tops, bottoms, outwear, and accessories. In a post on Instagram, Biles showcased some of the designs, which include graphic tees that sport encouraging mantras like "The floor is yours" and "No dream is too big."
Athleta also released an advertisement via Instagram which features Biles and girls moving in the new collection. The Olympic-winning gymnast narrated the video. "I can't limit myself. I can't keep quiet. I have to try. I have the power to make anything happen. And I will, because I can," she says.
Biles reflected on what it means to be a role model in an interview with People. "But it truly is an honor, because whenever I was in their shoes, I know who some of my favorites were to look up to," she said. "So I'm so happy they have their person to look up to and that they've chosen me."
This isn't her only fashionable collaboration, either. On Instagram Biles also revealed that she has a collaboration with GK Gymnastics offering exclusive leotards available online at Target.