If You're A Virgo, This Nail Art Trend Is A Must For You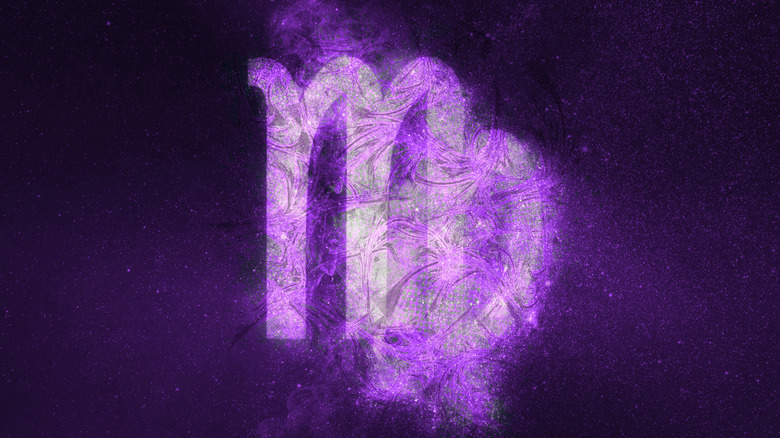 Allexxandar/Shutterstock
We may receive a commission on purchases made from links.
Born between August 23 and September 22, Virgos are one of the most reliable Earth signs of the zodiac, known for their intelligent minds and realistic outlooks on life (via Allure). Not only are they dependable in the workplace, but their down-to-earth demeanor and dedication make them perfect friends and companions. But when an overworked Virgo finally makes it to the nail salon, what color or nail art trend should they go for?
We're obsessed with the nail art trends everyone is asking for in 2022, and we can't wait to try them all. Byrdie rounded up some of the most prominent nail art trends, such as striking gold and artistic gradient effects. Swirly details, adorable florals, and unique checkered looks are also beautiful trends. We love all these nail options and how they fit such a wide variety of personalities and styles, but we wouldn't want to see a perfectionist Virgo unhappy with their new manicure if it doesn't meet their high standards. Luckily, we know which nail art trend is a must for you if you happen to be a Virgo.
Manicures with gold touches are perfect for Virgos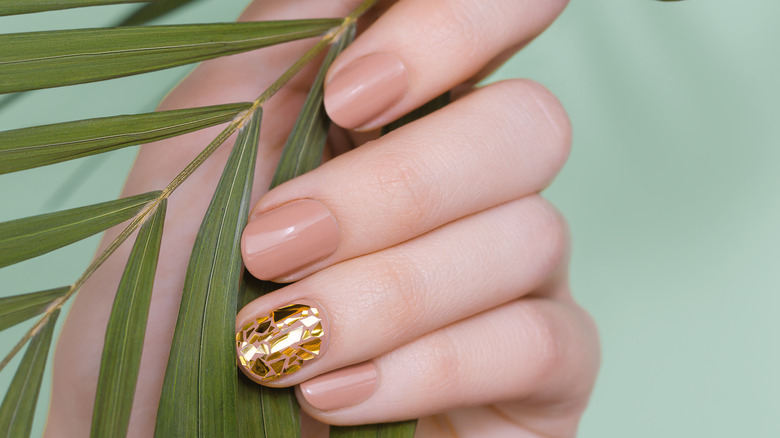 Dev_Maryna/Shutterstock
PopSugar explained that Virgos typically prefer low-key trends over maximalist styles; gold nail art is an excellent choice for this Earth sign because you can make it as subtle or intense as you desire. Furthermore, Well + Good noted that Virgos are notoriously meticulous, even to the point where their impeccable attention to detail may seem obsessive. That famous Virgo meticulousness will help you appreciate the most subtle gold details or the way the golden color sparkles in a more intense look.
Any Virgo looking for some inspiration for their next gold-inspired manicure can find a plethora of gorgeous examples on Instagram. For instance, gold nail tips are a trendy spin on the classic French manicure. A golden French tip looks cool enough to get some attention but subtle and sophisticated enough to wear to work or family events. Another idea is wearing a solid color under gold designs such as moons or hearts. Or, if you're feeling bold, why not paint all your nails fully gold for a luxurious look? 
How to rock gold nails
marigo20/Shutterstock
If you're considering trying some gold nail designs, you'll need to invest in the right products. One way to flaunt gold fingernails is to go all out and paint each nail a gold hue. For Virgos who aren't feeling so adventurous, another idea is to paint your pinky, middle finger, pointer finger, and thumb another color and paint your ring finger gold for a beautiful accent. Either way, you'll need gold nail polish. Who What Wear rounded up some of their favorite gold nail polishes, such as the OJBH gold nail polish, available at Olive and June for $9 and Sally Hansen's Mega Strength nail polish in sparkly Wild Card, selling at Amazon for just under $5. Last but not least, they recommend using Essie's Glossy Shine Finish Nail Polish in Good As Gold, which is available on Amazon for below $10. 
Another fun way to explore gold nail designs is through decals. Wearing decals featuring gold designs will look more subtle than fully gold nails while still appearing creative. If you're looking for budget-friendly gold nail art, Shein is selling their Feather & Shell Shaped Nail Art Decoration box for only $1.50, which seems like a steal. Furthermore, the Deco Miami Nail Art Sticker Sheet is available at Urban Outfitters and features plenty of different gold designs ranging from stars to stripes to body parts, so you'll have various gold designs to match your many moods.