If You're A Pisces, This Nail Art Trend Is A Must For You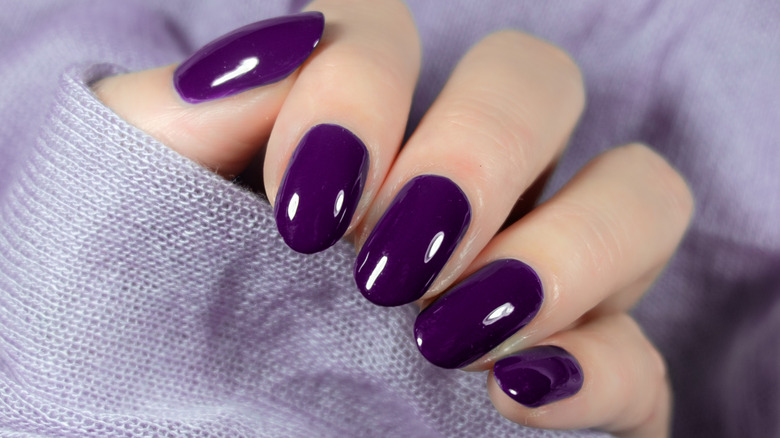 Minszka/Shutterstock
Known for having a sweet personality, anyone belonging to the Pisces zodiac sign was born between February 19 and March 20 (via Allure). While this water sign is notoriously emotional and dramatic at times, Pisces are empathetic people. They're typically dreamers who enjoy escaping reality through daydreaming, music, and movies.
Understanding your prominent Pisces traits can help you with dating and friendships because these characteristics can help you figure out who you'd be compatible with for relationships. Having a grasp of your significant Pisces personality can also help you figure out the perfect pet for you or how to elevate your wardrobe.
It can help your style, too. According to The Style Bouquet, Pisces enjoy wearing clothing with smooth textures like silk or velvet to match their delicate personalities. Their dreamy mindset attracts them to bohemian, artsy pieces. Being a water sign, they typically enjoy cool colors over warm hues as well. Because of this, we also know the perfect nail art trend for any Pisces to try (and love).
Milk bath-inspired nails scream Pisces
According to PopSugar, milk bath nail designs are perfect for Pisces. The milk bath nail trend typically consists of small floral details over a light pink or white base coat, so it looks like flowers are relaxing in a bath of milk. If you want a simpler look, the trend can be very classy even without flowers. We're obsessed with this beautiful, delicate trend.
So, what makes milk bath-inspired manicures perfect for a Pisces? Co-Star Astrology explains that this soft sign is often drawn to romance and can get lost in their dreams, thoughts, and fantasies. Milk bath nail art is naturally romantic through its floral details and gentle pink or white hues, and the movement of the bath-inspired nail design will appeal to the water sign's artistic, dreamy perspective.
If you're looking for even more reason to try this lovely manicure, you should know that the one and only Jennifer Lopez has rocked the milk bath look, too. Celebrity nail artist Tom Bachik posted a picture of Lopez wearing a subtle milk bath-inspired manicure on his Instagram. Her set featured no flowers but a bit of sparkle instead, and we love it. Whenever we see Lopez wearing a nail art trend, we know it's a must-try!
How to rock this look
Since this is a pretty advanced nail trend, we recommend that people with minimal nail art experience go to a salon to get milk bath-inspired nails. But if you're an experienced nail artist or you're feeling adventurous, you can follow along with KatesNails, who explained how to do this look at home in a YouTube video. 
To start creating this design, apply a clear base coat. Next, add two coats of white dip powder to your nails, making sure to clean unwanted powder off your finger. Then, apply some ready base liquid over it, and put some tiny dried flower pieces on your wet nail with a tool. (You can use floral nail decals on a dry nail instead of actual dried flower pieces to save some time.) 
Next, put a milk-white dip powder on top of the nail when it's dry, and, again, get any unwanted powder off your skin. KatesNails' video also showed some tips for filing your nails and cleaning your cuticles if you want to explore those additional steps. Finally, apply a top coat and secure this look with a UV or LED lamp.
If you plan on getting this milky manicure at a salon instead, keep in mind that there are many ways to rock this look. Instagram users from across the world have displayed many examples of this trend, including long nails with lots of colorful flowers, adding a bit of sparkle, and even using a strawberry design instead of flowers, which we think is perfectly fitting for the ever-sweet Pisces!