Meghan Markle, Prince Harry, And Prince Andrew Will Be Excluded From A Major Royal Event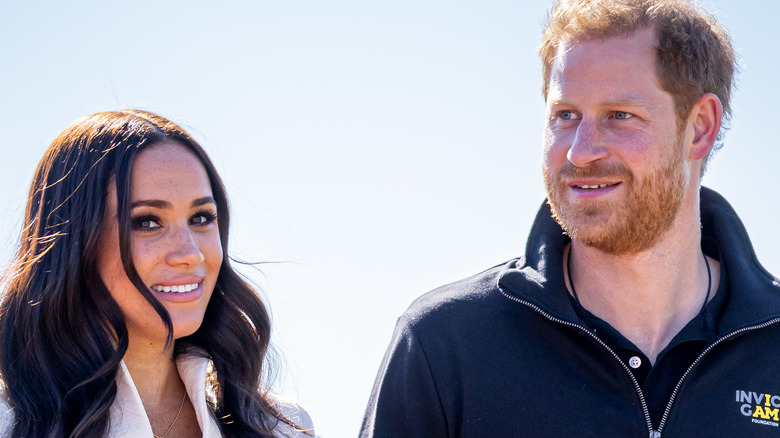 Patrick Van Katwijk/Getty Images
In case you're not up to date on your royal news, Queen Elizabeth II is celebrating 70 years on the throne, making her the longest-serving British monarch in history. As expected, the landmark event is not just simply celebrated with a cake and small family get-togethers, and some major celebratory events are scheduled in the UK throughout the coming year. Per Royal UK, this includes an extra-long bank holiday weekend in the United Kingdom, between Thursday, June 2 and Sunday, June 5. 
One much-anticipated Jubilee event includes the Platinum Party at the Palace, which will see "famous faces from the world of entertainment" come together to "perform for a night of musical tributes to celebrate the Jubilee." This special concert will be held outside Buckingham Palace and the like of Ed Sheeran will take to the stage in front of 22,000 people.
All members of the royal family are expected to attend the Jubilee celebrations. However, Prince Harry, Meghan Markle, and Prince Andrew have been excluded from one major royal event. 
Meghan Markle, Prince Harry, and Prince Andrew won't be on the Platinum Jubilee balcony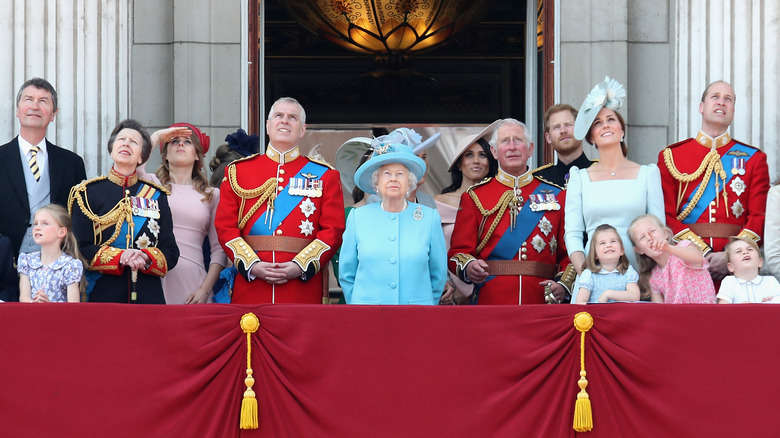 Chris Jackson/Getty Images
In case you missed the big Megxit, Meghan Markle and Prince Harry are no longer a part of the royal family. The two decided to leave the family and start their life in California. As of March 31, 2021, the two were officially no longer working members of the royal family (via People). While Markle, Prince Harry, and their two children, Archie and Lilibet, will be present at the Platinum Jubilee, the family will not get to stand on the balcony with Queen Elizabeth. Prince Andrew will also be absent from the royal balcony appearance. 
"After careful consideration, the queen has decided this year's traditional Trooping the Color balcony appearance on Thursday 2nd June will be limited to Her Majesty and those members of the royal family who are currently undertaking official public duties on behalf of the queen," the palace said in a statement, according to USA Today. 
Despite being left out of this particular event, a spokesperson for the Sussexes said the couple is "excited and honoured to attend The Queen's Platinum Jubilee celebrations this June with their children" (via Sky News). 
The event will also be the first time that Queen Elizabeth gets to meet her great-grandaughter Lilibet, who was named after her nickname as a child.