This MTV Throwback Video Shows A Very Young RuPaul Shopping At The Mall In 1993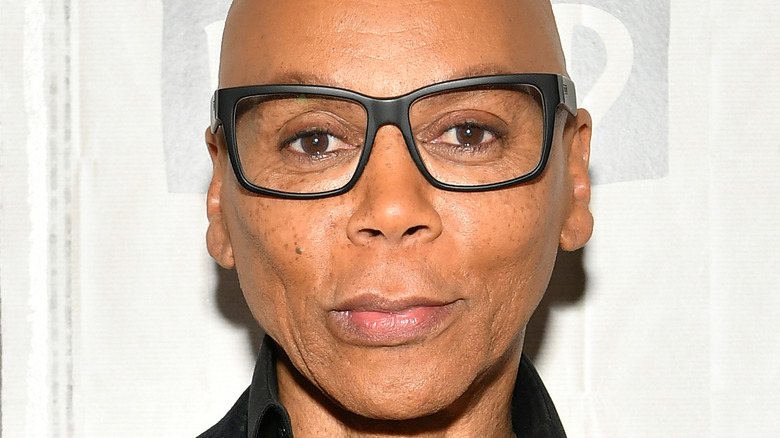 Slaven Vlasic/Getty Images
These days, RuPaul Charles is synonymous with "RuPaul's Drag Race," the groundbreaking, Emmy-winning reality competition the statuesque, self-styled "Glamazon" has fronted since its inception. However, older readers will know that, before "Drag Race" made him a household name, Mama Ru was a model, recording artist, and actor in his own right (Ru even popped up in "Grace and Frankie" just a few years ago). Even without the titular show, then, RuPaul was a star. In fact, according to his mother, Ernestine Fontinette, it was written in the stars.
In an interview with Vogue, Ru recalled how his mom visited a psychic while she was pregnant with him, and "The psychic said, 'It's a boy, and he's going to be famous.' So I grew up knowing that." The prediction has certainly borne out, since it's tough to imagine a time when the "Drag Race" host wasn't famous. But, as CNBC notes, it's been a long road to get here, with Ru working his way up from the New York club scene to becoming arguably the biggest and most well-known drag queen in the world. He's so prolific, there's a goldmine of early Ru material to pore over.
In fact, early in his career, Ru memorably took MTV shopping.
RuPaul enthusiastically took MTV to the mall
Back in the day, MTV was the coolest station on TV so, naturally, they had to get RuPaul to show them around a New Jersey shopping mall — sadly, Ru's BFF Michelle Visage, herself a proud Jersey native, doesn't show up in the throwback clip. A 1993-era RuPaul joined "You Had to be There" (via YouTube) for a lively shopping jaunt, establishing right off the bat that his drag character is "an uptown call girl" who's both "glamorous" and grungy. Ru wears a blonde wig and fur coat for the outing, before whipping the top layer off to reveal Hooters-style hot pants and a tight white tee combo. 
"Drag Race" fans will spot several of Ru's most famous catchphrases during the short clip, including "you're born naked and the rest is drag" and, "everybody say love," solidifying the hustler we know him as nowadays. Once they actually make it indoors, Ru towers over everybody in sky-high heels, happily browsing the stores, signing autographs, and even starting a dance party at one point. She also shows off her best runway walk, too, naturally. 
As a Rolling Stone profile notes, although it took a while for Ru to find her place in the world, "I knew I had a personality, had something that I thought had value." Ru explained, "I just didn't know specifically what language or what venue it would be." Even sashaying around a Jersey mall in the early nineties, that implacable self-confidence is clear.
RuPaul also appeared in a classic music video
By the time RuPaul rocked up on "You Had to be There," he was already a star, or at least well on his way. But it's worth noting, in 1989, his charisma, uniqueness, nerve, and talent were put on full display during a fleeting appearance in the B52's music video for hit song, "Love Shack." In an interview with Yahoo! UK, front-man Fred Schneider recalled, "He was already really working on his look, his star look," pointing out, "He got the line-dance going, that's for sure!"
The beloved band was also Georgia stalwarts, like Ru, so it made complete sense that his big break, as it were, would come in yet another pair of hot pants, showing off his killer moves. The B52's later guest judged on "Drag Race," bringing everything full circle. In the ensuing years since "Love Shack" debuted, Ru has enjoyed cameos in everything from "Sister, Sister" to "Broad City." Nineties kids will also remember him in "Sabrina, the Teenage Witch" (via YouTube).
While chatting to NPR, Ru admitted to initially thinking he'd be a full-time musician, "But then as life unfolded, other things came up, and I said, oh, OK." Alongside drag, acting, and modeling, everything else presented itself and Ru took every opportunity as it came. Unsurprisingly, RuPaul is actually worth an insane amount as a result.