Loren Lott And Mouna Traoré Introduce American Viewers To The Porter - Exclusive Interview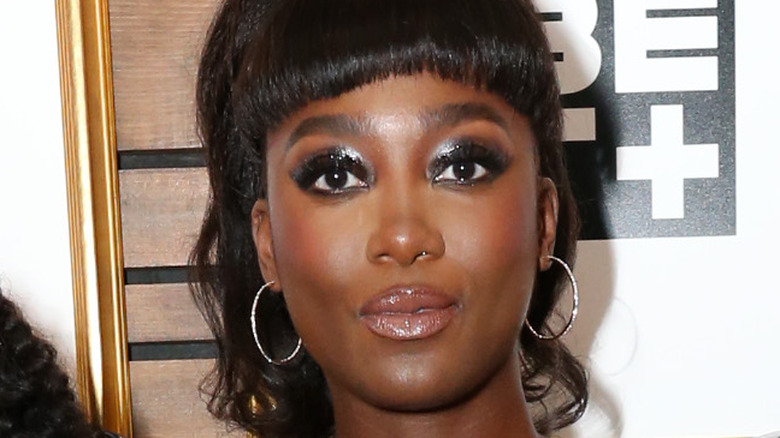 Phillip Faraone/Getty Images
BET+ is on a mission to connect its subscribers with programming that reflects authentic Black voices and experiences that are also produced by Black professionals in the entertainment industry. For example, "Sistas" star Devale Ellis revealed in an exclusive interview with The List what fans can expect from his upcoming BET+ original series "Zatima," as well as how hands-on producers there — in his case, Tyler Perry — really are.
Joining these other programs now is "The Porter," which premiered in Canada in February but has officially landed on BET's streaming service for American viewers to not only consume but learn about an often forgotten time. As noted by The Hollywood Reporter, "The Porter" landed on BET+ on Thursday, May 5, introducing viewers to a period in Canadian and American history about which they may be unfamiliar. The eight-episode mini-series, which is set in the 1920s, stars Aml Ameen, Mouna Traoré, Loren Lott, Ronnie Rowe, and Luke Bilyk, among other knockout performers.
We at The List were fortunate to chat with Lott and Traoré about all things "The Porter," including the fashion of the time period, the series' cultural importance, and how each of them brought their character to life. After all, the series sees Traoré playing Marlene, a steadfast worker who always has her community in mind, while Loren's Lucy is a rising star who faces colorism on her journey to making a living and a name for herself doing what she loves. 
Marlene and Lucy bring interesting, unique perspectives to the series, and both Traoré and Lott provided lovely insight into how they managed these roles.
What viewers can expect from The Porter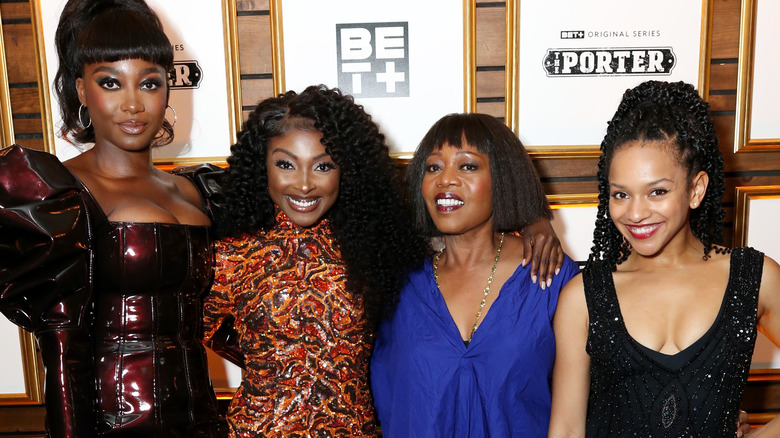 Phillip Faraone/Getty Images
"The Porter" just began streaming this week on BET+, and I know it was released in Canada earlier this year. What can you tell us and tease our readers about what they can expect from the show?
Loren: Expect a wild ride of history, of love, of Black excellence, of Black life, of singing and dancing, and of the authentic life of Black people in the '20s.
Mouna: I think they can expect to be entertained...
Loren: Yes.
Mouna: ... to be educated, to be bedazzled and to be a bit...
Loren: Dazzled.
Mouna: ... a bit, what's the word when you're?
Loren: Taken aback?
Mouna: Taken aback, shooketh.
These are all amazing things. What can you maybe say about how the series might unfold as it goes?
Mouna: Without giving too much away, the series unfolds in really surprising ways. You've never seen a show like this before, and some of the plot twists and turns and the characters we follow go on journeys that you don't necessarily expect. [Viewers] can expect the unexpected and anticipate being surprised.
Loren: Yes, go on. It is a journey. I read every script and was in it and ... watching it back, I was still like — there were so many moments that literally took my breath away. I was like, "Wow."
I know it aired earlier in Canada this year. What was the reception like for you when it aired, and how do you think it could be different in the U.S., if at all?
Loren: I read a bunch of the reviews and I was elated to see that people were loving it, that people were buying everything, that they were eating it up. I was so happy that people were loving it. I have been getting DMs already from people with their opinions of Lucy. People were ... I can't spoil anything.
Mouna: Yeah, your dad hated you. [Laughs]
Loren: [Laughs] I have gotten a lot of email ... not emails. What year is this? I've a lot of DMs and messages already from people having their ideas and their input. People are liking it. So as long as people hear about it and watch it, I think that you will love it.
On Mouna Traoré and Loren Lott's love for period pieces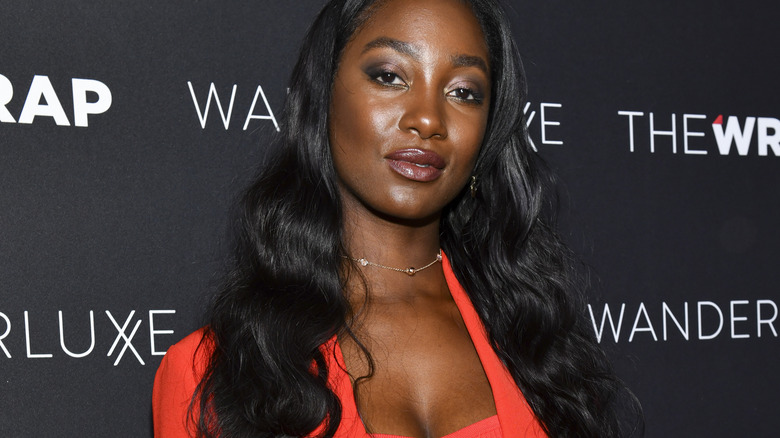 Rodin Eckenroth/Getty Images
Were you two history buffs going into this, or has this maybe made you want to do more history-related work?
Mouna: This is my fourth period show, not on purpose. It has happened that I am a period girl. The period shows love me. I've done... What time period was "The Book of Negroes?" I can't remember, but I've done 1904 [and] 1908. I'm slowly climbing up the history ladder, but I feel like [one of] the last period show[s] I was on [was] "Murdoch Mysteries." A lot of the story that my character on that show was going through, I channeled into Marlene because unfortunately, in that show, I didn't have a lot of time or space to really get into what it was to be a Black woman in medicine for that time period. 
On this show, I really got to [dive into the character], and it was several years later. The mobility and the resources that my character had were so much more than in the last show, and we got to see a much more expansive view of a Black woman who was educated, pursuing her interests in medicine.
This isn't totally related to "The Porter," [but] going off of speaking about different time periods, are there maybe some time periods you two would love to act in that you haven't yet?
Mouna: The future.
Loren: Absolutely. That was energy.
Mouna: I want to be a...
Loren: The future. I want to be-
Mouna: Dark horse.
Loren: I want to be in the future too, because I've never stopped working and I keep doing this forever and I keep booking jobs. I would love to play a ... I did "Motown The Musical" on Broadway and the outfits and everything like that were really fun and the hair, it was a very glamorous time. Playing something like that nice little moment there would be cute.
Did they want to take any fashions from set?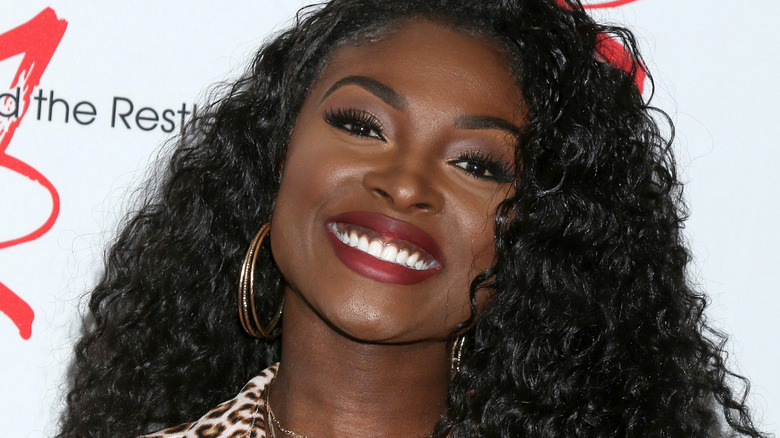 Kathy Hutchins/Shutterstock
That would be so fun! Actually, you played into one of my questions perfectly. One thing I'm obsessed with in period pieces is the costuming. With "The Porter" specifically, what was the fashion like for you? What was your reactions to it? Were there maybe things you wanted to take from set?
Loren: Oh my gosh. I wanted to take so many things from set. My wardrobe was phenomenal. I would come to set and look at my outfits and be like, "Oh," and one trademark of Lucy was this little hat to the side the whole time. I thought that was so cute with my little curly bob. Also, every outfit that I had in Stardust that I performed in my rehearsal outfits, it was so cute.
I wish that you could actually flash to each thing, because I had sparkles. These were authentic costumes. I was scratched a lot with sequins and all of this stuff, but was it worth it? Absolutely. Beauty is pain. I felt so glamorous. I loved the glamor, the head pieces, all of that. The '20s were a very fun time to portray for all of my showgirl things.
Mouna: For you.
Loren: For me, but you were killing that cake.
Mouna: My character was giving ... They were very much matronly. There was no-
Loren: It was giving church.
Mouna: Yeah. My favorite was the night gown.
Loren: Because he's still...
Mouna: That was the hardest part. I didn't want to take my wardrobe home. It was beautiful, and it worked for the character wonderfully, but –
Loren: Look at you. You obviously would never.
Did you two do like a lot of research into this time period, or what research, if not reading up on things, did you do?
Loren: You had to. We all had to really dive in for our own characters. I was watching every documentary I could on showgirls at the time. I was watching other movies that were set in the '20s. I watched "Idlewild" because that's the movie that I felt most related to Lucy as a showgirl and wanting to be a star. I was looking up everything that I could ... I did a lot of research. What about you, Mouna?
Loren Lott and Mouna Traoré touch on The Porter's societal importance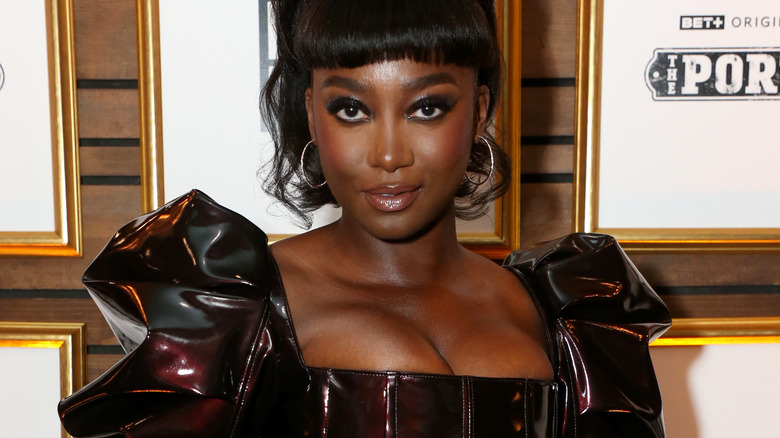 Phillip Faraone/Getty Images
Mouna: I watched a lot of movies. I read a lot of books. I watched that Showgirls documentary, even though my character wasn't a show girl. I was really interested in how they spoke and the cadence of their speech and their accent. It was so specific and interesting. What should I do?
[There] was a lot of reading. I got the Black Cross Nurses manual and I printed it out and read it, made some of the potions in it, because they use natural herbs and remedies to treat people often. That was really fun and they did a really good job of providing us with a lot of resources, a lot of images, a lot of pictures and a lot of things to reference. When I was building the character and building my world, I like to take little bits and pieces. I had some of the elements of what Marlene would've had in her personal space, in my little workbook or on my workstation, [including] recipes and things.
They were very helpful with the information. They did give us a lot to go off of, if we weren't already researching a bunch ourselves.
Mouna: A university course, a whole syllabus.
Loren: It was literally a history lesson.
It shows in the [series], it really does. Mouna, your character is really focused on this idea of community and tying people together. How did you go about building that up, and what does community mean to you personally?
Mouna: I'm a very community-minded person. I always want everybody to get along and be together and I really enjoy bringing people together and that's what I channeled into Marlene, [along with] her desire to serve her community, provide for her community. Understanding the organization she was working with, the UNIA and the Black Cross Nurses movement and what their ambitions were, was really helpful in terms of grounding Marlene and what her perspective was and the challenges of working within those organizations as well as why you would. 
They provide so much support and community, especially when you're a person who is disillusioned with white society, to have something to lean on. You don't have to go to a white hospital, you can go to your own people. I understand the importance of that and the desire to not only preserve that, but to build that up.
Loren Lott discusses the differences between herself and Lucy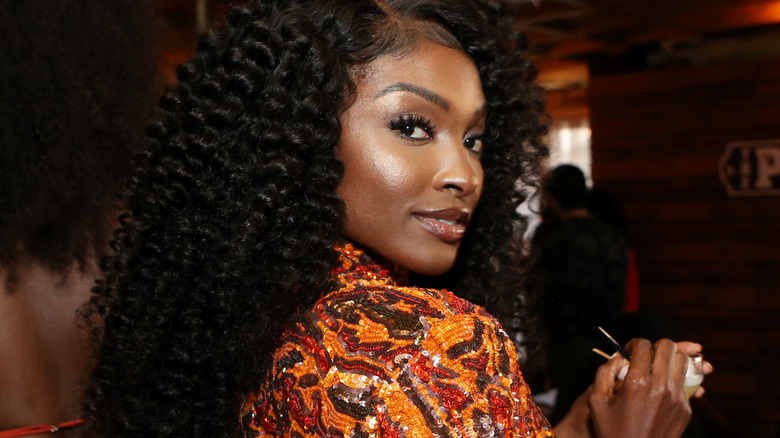 Phillip Faraone/Getty Images
Community, especially now, is more important than ever. To see that on TV is also really amazing.
Mouna: We have Black maternal health organizations and all those things. We still have to do that.
[Loren], I want to ask you about your character, too. Your character is this rising star. How did you bring her to life, and did her journey reflect with your own rise in the industry?
Loren: Oh my gosh. Yeah. I had a lot more support and love and balance than she has in her life. She's literally fighting for herself out there, which I am not. Thank God. My mom has been my backbone through all of this, through rejection, getting close and whatever and not getting it. [She is part of] the support I've always had, with my grandma driving me to LA two hours just for an audition. I had a lot of support. Lucy did not, but off camera, Lucy had a lot of support. I went to boot camp for a little while to learn how to dance in that '20s style and how to get all of that right.
That was really fun. Lucy, overall, was a very fun character to play, even though there were a lot of heavy moments that I wasn't expecting. When I read the script, I thought it was going to be a little more fun, but playing Lucy was a little heavy for me, especially tapping into a lot of the elements of colorism and the struggle of her journey, in general, there were some heavier days I had to separate myself a few times from Lucy.
Specifically, when she got slapped by Corrine, I had to remember, "Oh, are we just playing?" It felt so ... I actually had to sit down with the show runner for a second. I was like, "Do we have to do this? Can we come up with another?" I was very surprised by how much I felt. I felt my fist ball up. I was like, "Dang, this really actually hurt my feelings." There were a lot of moments like that where I had to separate myself from this character that I was playing.
"The Porter" is now streaming on BET+.