Devale Ellis Talks Tyler Perry's Sistas And New Spinoff Zatima - Exclusive Interview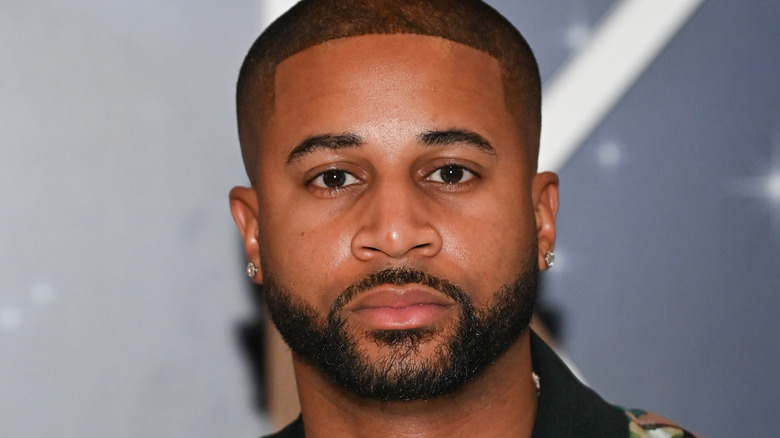 Prince Williams/Getty Images
When we discuss living legends in the entertainment industry, you can't forget to mention Tyler Perry, who writes, produces, and directs countless television series and films. In fact, Perry's net worth is way higher than you think, and he's no one trick pony, even if many began loving him for his iconic, eponymous role in the "Madea" film franchise. Perry even has a solid friendship with Oprah Winfrey, which tells us all we need to know about him.
Of the "Don't Look Up" actor's current projects, it's BET's "Sistas" that's perhaps making the biggest waves. The series, which premiered in 2019 and is in the middle of its fourth season, follows a sisterhood of woman simply trying to make the best of their lives — and relying on each other every step of the way. "Sistas" stars Kj Smith, Mignon, Ebony Obsidian, and Novi Brown as the titular squad. 
Then there's Devale Ellis as Zac, who has blown audiences — and Tyler Perry — away with his professionalism and talent. This rings so true that Perry wrote a spinoff series specifically for Ellis and co-star Crystle Hayslett, who plays Zac's love interest, Fatima. Luckily for these two stars, Deadline broke the news that BET+ greenlit the project, aptly titled "Zatima."
Luckily, we at The List got the chance to sit down with Ellis and discuss all things "Sistas" and "Zatima," as well as his time in the NFL and how he balances being a father of four with his busy career. 
Devale Ellis reveals what fans expect when Sistas returns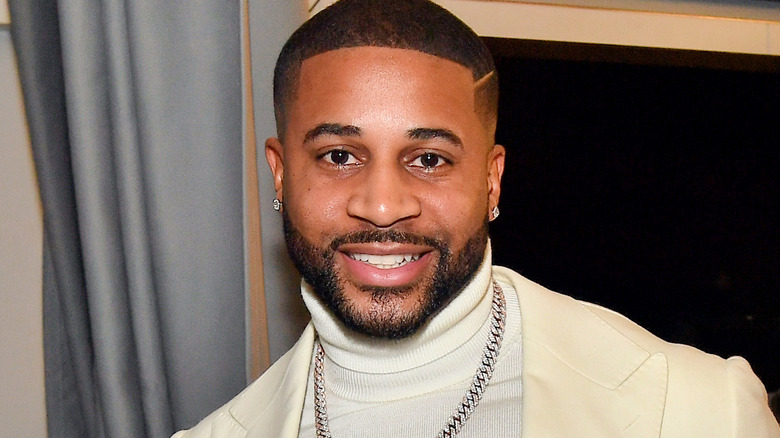 Paras Griffin/Getty Images
What can you tell us and tease about the current season of "Sistas"?
We come back June 29th. I'm excited about it because this is the season where a lot of characters have forks in the road, especially Zac's character, who I play, alongside Fatima, played by Crystal Hayslett, and Karen, who's played by Ebony Obsidian. There's a lot that's happening this season that people aren't expecting. It's going to be a rollercoaster of emotions.
You also have your [own] show coming out as well, "Zatima." At what point did you realize that your characters were really popular enough to get your own show, and then how did that form?
To be honest, I have to give credit to Tyler. When we were filming Season 2 — and this was during the pandemic and the quarantine, we had camp quarantine — and I remember, specifically, Crystal and I were sitting in the bed, going over our lines before we were getting ready to shoot. Tyler walked in, before Zac and Fatima were even seen by the public audience, and he sat there and he said, "I like this. This is something — I like something about this." That was before Season 2 had already aired.
We've heard about Tyler Perry seeing chemistry between people and saying, "This could be good in another realm." Crystal and I said, "Yo, we're going to get our own show." We used to tease about it, and we worked really hard during the pandemic over Zoom to develop our characters and our relationship. We'd say, "We're going to get our own show one day." Right after Season 3, when the popularity was at its most, Tyler talked to us about possibly doing it. I know he had run it by BET and made some decisions, but we found out at the end of last year that it was actually going to happen. We ended up filming Season 1. I'm excited about it.
Will he appear on Sistas less because of Zatima?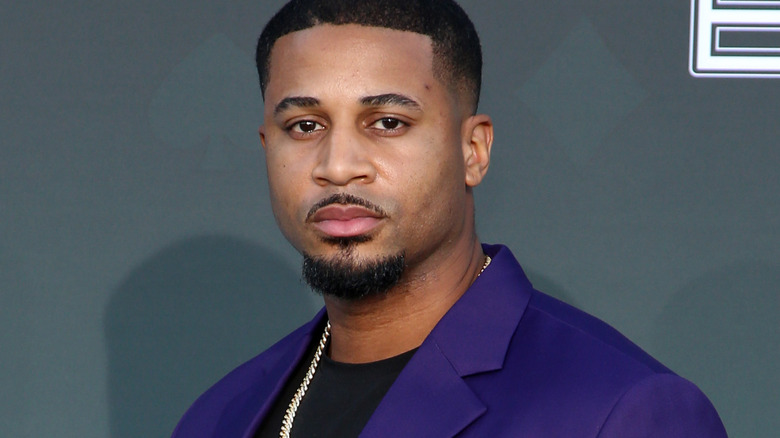 Gabe Ginsberg/Getty Images
How has the fan reception been for your character, and [for] your relationship with Crystal [Hayslett]'s character?
It's been crazy because Zac was not supposed to be who Zac is today. Zac was supposed to be the dog, the down and out boyfriend who couldn't get things right. I brought a little bit of levity to his character because I wanted him to be relatable to people, even though he was the guy that was in and out of prison and he was supposed to be the bad boyfriend. I wanted him to at least be charming so that people could get to like him.
Once again, Tyler saw that and he started to write. He told me at the end of Season 1 that Zac's character was going to go through an ascension throughout the five seasons. I didn't know it was going to be in another relationship with another woman who was a sister. That was an added caveat that Tyler added once seeing the relationship, but the fans have loved it. It's an opportunity for them to see a guy go from down and out to be one of the best. He's gone from in and out of prison to being a multi-millionaire, buying property. It's the American dream without organized crime, [and] it's something that we haven't seen on television too often.
Tell us a little bit about what fans can expect in terms of your appearance capacity on "Sistas." Since you'll also be on your own show, can they still expect to see you a lot?
Yeah. They can still expect to see Zac a lot because Zac's character is always going to be intertwined with Karen and Fatima. Karen is a mainstay on ["Sistas"], so Zac's relationship with Karen is always going to be involved in that show. When you watch "Zatima," it is extremely different because it's just me and Crystal. It's our relationship outside of the Sista circle. It's what Zac goes through with his family [and] what Fatima goes through with her friends and family. We get to see what happens outside of the "Sistas" circle. 
"Sistas" is about that group of friends and how they deal with their boyfriends and fiancés in and out of those relationships. This is specifically about Zac and his family. It's like a different world when a different world spun off of "The Cosby Show." It was Denise's character in college, not Denise at home. It's a completely different world, no pun intended.
Devale Ellis discusses his chemistry with Crystal Hayslett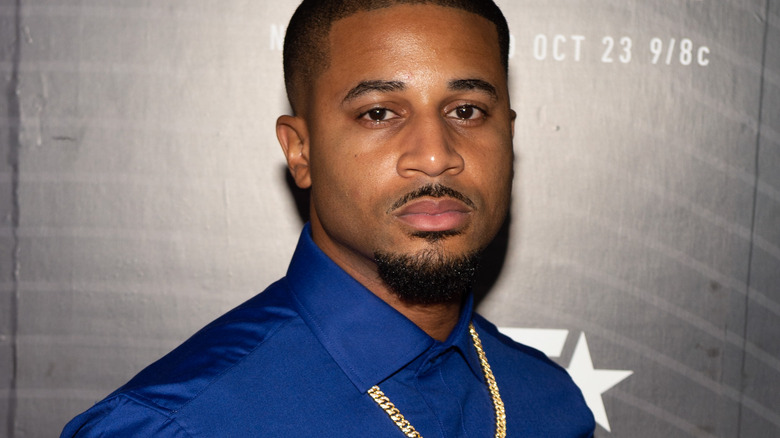 Marcus Ingram/Getty Images
Can fans expect to see crossovers a bunch between the two shows, or with people from "Sistas" or maybe even other Tyler Perry shows?
Without giving up too much, you can expect to see pop-in visits from some of your favorite characters on both shows, from "Zatima" going to "Sistas" and "Sistas" going to "Zatima." It's going to be fun to see fans enjoy watching their characters also in a different light because "Zatima" is not as much of a dramedy, but more of a comedy. I bring a lot of the comedy to "Sistas," so when you watch "Zatima," it's a 30 minute comedy. It's not so much a dramedy, a soap opera like "Sistas" is. So you get to see those actors in a different element. So it's going to be exciting.
That's really fun. Tell us about your chemistry with Crystal [Hayslett] and how you two met, and how you built that relationship.
Well, I remember the first day I met Crystal. She was working as the head costume designer for "Sistas" on Season 1 and she was also a recurring character. We talked a little bit about her wanting to act and getting into acting and things of that nature, but it was never really explained to us in Season 2, that we were going to be crossing paths as love interests. We were supposed to go and film in March of 2020, and then the pandemic happens. They closed all of our productions, but we already had the scripts. I'm going over the scripts and ... I meet Fatima. I'm like, "How does Zac end up meeting Fatima? How did Tyler come up with this?" Crystal and I had a ton of time to actually work on character development because the production got pushed back two months.
As we got the scripts, she was living in Atlanta at the time, I was in LA, [and] we would Zoom every day for about two hours. We would go over every single scene. For that day, say we go over five scenes. We go over every single scene, every nuance, we would build out a story as to why we would respond. These are typically the things that you don't get a chance to do when you don't have that much time for a TV show. I feel like her putting in the work and me putting in the work developed into a great chemistry that people get a chance to see on television every week. It was really a divine intervention, it was God's plan.
Will Zatima cross over with other Tyler Perry projects?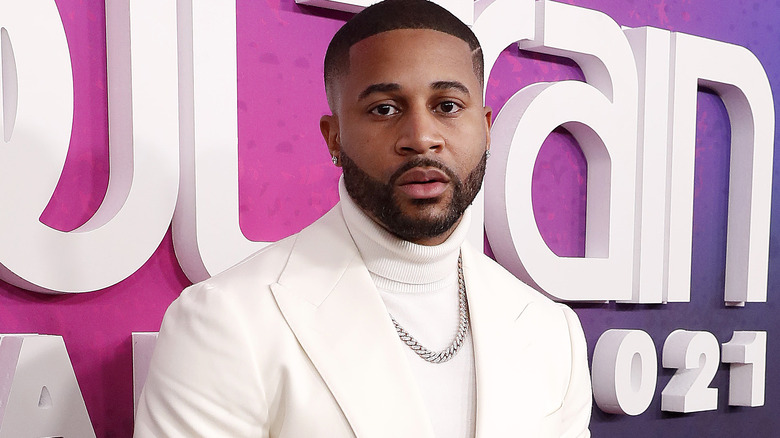 Johnny Nunez/Getty Images
Tyler Perry creates this whole universe with all of his shows and movies and everything. It's really fun to see how they all interact and crossover at points. Are there any other Tyler Perry projects you'd want to appear on? 
To be perfectly honest, you can't be a part of Tyler Perry Studios and not want to be in a "Madea" movie. Those are like cult classics. 20 years from now, people are going to say, "Remember he was in that Madea movie?" Madea is the mainstay of the studio. If I could ever at some point be a part of one of those Madea movies in a comedic way, that would be great. Also, Tyler Perry is known for his movies, [like] "Why Did I Get Married?" [and] "Why Did I Get Married Too?" I'm trying to think of a couple other ones that I watched with Tyler — "Good Deeds," which is one of my favorite Tyler Perry movies. 
I feel like he's really good at the cinematic aspect of entertainment, and I would love to be a lead in one of his cinematic productions. That would be a dream of mine, to be directed by Tyler Perry in a movie that gets a theatrical release. That would be dope.
Speaking of Tyler Perry, we're also interested — because he produces so much content, with your experience with these shows, how hands-on is he with these projects?
Tyler writes all of the projects. He executive produces all of the projects. He also directs and produces all of the projects. When we walk to set, the only voice you'll hear is Tyler's voice. The best thing about that is I've also worked in network productions where, if you have a question as an actor — for example, in this scene, the script says "Zac and Fatima," can I change that to "Zac, but Fatima"? Okay, well let's contact legal, let's get with the writing department. Then, you're waiting there for hours before you film to say "can I make this change?" With Tyler, he wrote it. I go up [and ssay], "Yo big guy. I'm thinking for this scene here, I would like to change this word. I like to change this here." He'd be like, "Alright. If you can make it make sense, make it make sense."
Devale Ellis on how the NFL prepared him to act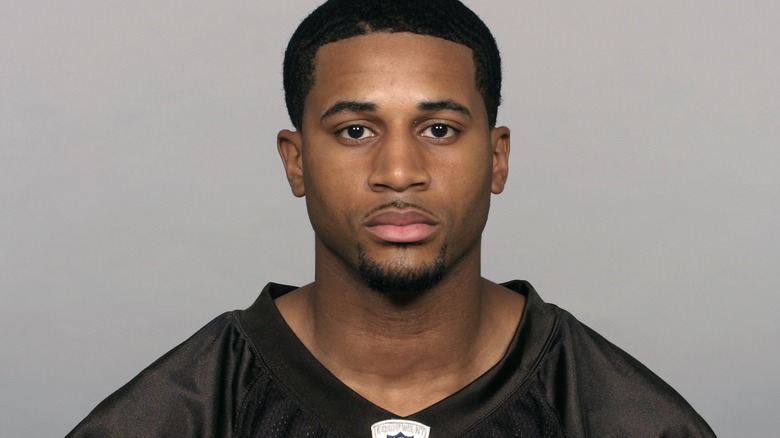 Nfl Photos/Getty Images
He gives us a lot of leeway, a lot of freedom to read the world and the characters for the fans. It's great and it's only possible because he handles everything. He's so hands-on. One time ... during COVID productions, we didn't have as much people on set as typical. I was supposed to be working out and doing a bunch of stuff, and my shirt wasn't sweaty enough. Typically, it's like, "Can we get props? Can we get costumes cut? Can we get makeup?" Tyler comes from behind the camera, grabs a water bottle, and then he's crumpling up my shirt. He's like, "You got to look like you been working out". He grabs the stuff from makeup and he does it the way he wants it.
He's really hands-on. That's the way he's been. He takes so much pride in the stuff that he's done, so he wants it to be the way he wants it. It's exciting to watch. I'm learning a lot as a content creator myself.
You were in the NFL before you turned to acting and the two professions seem kind of different, but I feel like a lot of things you learn in the NFL could also apply to the entertainment industry. How did that help prepare you?
It helps prepare your mindset because in the NFL, you're really not competing to be on a team. You're competing to be a part of a league. It's the same way when you're in TV/film, right? You go on an audition. You don't audition just for that role. They tell you to book the room because that casting director, that producer, that executive producer could see you somewhere else. In the NFL, you hear a lot of no's. You do interviews when you're going through your pre-draft process, you're constantly working out, and all they tell you is what you're not good at. You have to have thick skin to actually go back in the lab and say, "Let me work on these things where I can be better."
When did he know he wanted to act?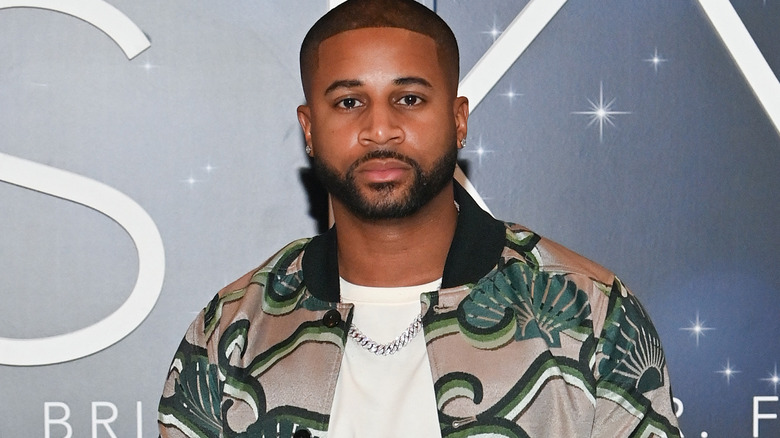 Prince Williams/Getty Images
The more you can do in the NFL, the better. [It's] the same way in entertainment, the more you can do. If you're funny, if you can do drama, if you can sing, if you can dance, if you're athletic, [it's the] same thing in football. If you can catch punts, if you can be a gunner, you can run routes, you can catch the football, but you can run the football if you can tackle on defense. It gives you more ability to stick in a program, and then, all you have to do is get your foot in the door. Once you get the foot in the door and you get to put some film on camera, other people get a chance to see you.
The only ... vast difference is the physical part of football. You're pretty much getting the s*** kicked out of you every day when you're playing football. In acting, that's not happening unless you are a stunt double, but the physical aspect of football helped me because I did stunts for Omari Hardwick for three years behind "Power," which allowed me to get an inside look of what a leading man looks like on a hit TV show. I got to see his preparation and I got to understand what it takes to build chemistry with your castmates. As I'm standing behind him, I'm watching him speak to his castmates about what his plan is for this scene, what his thought process is. I've adapted a lot of that.
Also, being a football player, you have to speak to your teammates. You don't just show up on game day and say, "I'm here throw me the ball." You have to have chemistry with your quarterback. It's a lot of transitional things that I've learned from football that I could take to acting and it's been great, especially the preparation and the work that's needed to be ready for when the opportunity comes.
Related to that, when did you know that you wanted to pursue acting, and were there specific people you looked up to in the industry?
I knew I wanted to pursue acting as a child. I remember it was 1987. My father was watching "Boyz n the Hood" with a couple of the young men that he mentors. I was only three, but I remember this vividly. I remember walking into the living room and seeing "Boyz n the Hood," and I remember hearing on the screen, "Hey, you guys want to see a dead body?" My dad was like, "Hey, you can't watch this," but him telling me that I can't watch this made me want to see what it was.
The smart move he made to get into the NFL and then acting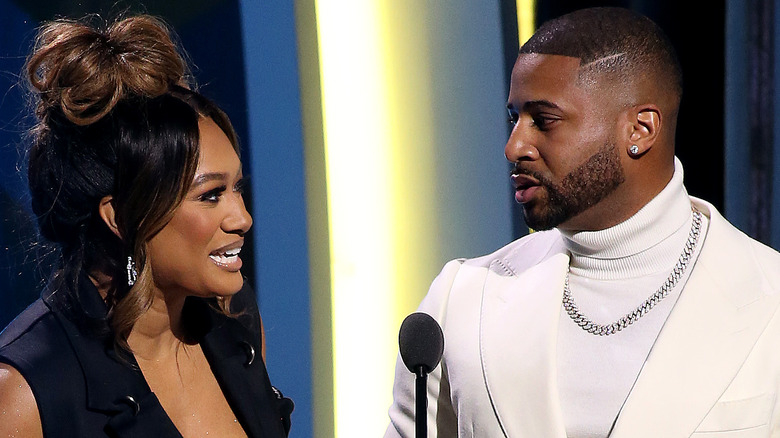 Bennett Raglin/Getty Images
I pouted and went back to my room and then snuck back in through the dining room and I was watching. I'm watching this presentation of what I thought was real and it wasn't, but that sparked something in me, saying "I want to do that." As I got older, I remember watching Will Smith running through the street with his shirt open and the gun in his hand and he saves Martin [Lawrence]. The two of them come up and [in] slow motion in "Bad Boys." He says, "Don't say I ain't never there for you." I was like, "I want to do that. I want to be a superhero. I want to save the day in the movie."
At that point, I said, "I want to do TV." At the time — this was the '90s — there was no traditional way to get into TV film. It's not like sports, [where] you go to high school, play varsity, go to college, get your degree. I followed the role that I knew I was going to follow, which was play sports because I was athletic. Get my degree. The NFL was a possibility. I said, "If I could make a couple of million dollars playing football, I don't have to be a broke artist as I go on this journey."
My wife, at the time she was my girlfriend, that's how our love story started. I told her what my dream was and she was like, "Oh, that's dope. So how we going do it?" That's how I ended up falling in love with her because she didn't shut down my dream. We talked all [throughout] college about getting an opportunity in the NFL, making the money, buying a two-family property so we can rent out upstairs and live downstairs and not have a mortgage, and I can chase my dream of being a TV star. That's always been my plan. There was no other plan. That's what I want to do, and now I'm here. I'm excited to walk in this truth.
On the lifestyle habits he's carried over from the NFL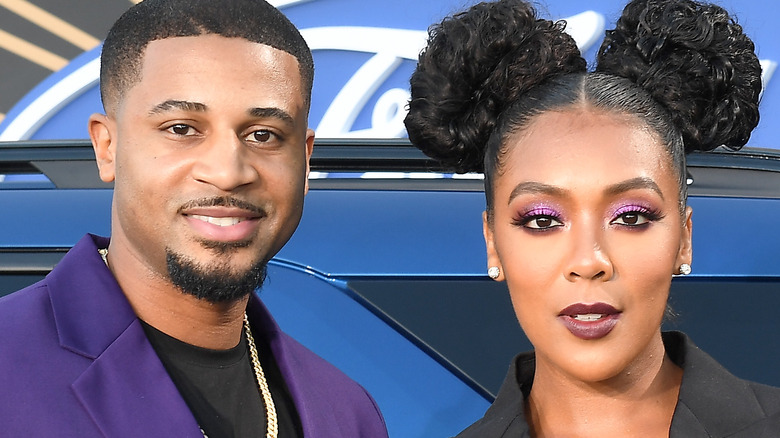 Paras Griffin/Getty Images
In your NFL journey, are there any specific lifestyle changes or habits that have really stuck with you that you still commit to even after not being in it anymore?
Oh, absolutely. My whole lifestyle. My performance style of training all comes from football. I'm a smaller guy. I'm 5' 10", now I'm 195 pounds, but I was 165 pounds when I played in the NFL. I was extremely fast. I ran a 4.28 [seconds, clocked] in a 40 [yard dash], I could jump high, and I was quick. All of the movements that I did to maintain that level of athleticism became part of my routine to stay in shape. When I first retired, I said, "When I'm tired of training like this, I'm going to slow down." 
As I slowed down, I noticed that I developed bad sciatica in my back because I wasn't doing the same movements. My flexibility and my mobility decreased, my range of motion decreased, and I felt lethargic. I realized I should still train like I'm an elite athlete so that my body can still exist the way it naturally wants to exist.
I still wake up every day. I still do high incline sprints on the treadmill. I still do hang cleans. I lift heavy weight. I still run a lot. I still do a lot of lateral movement and speed training moves. That's why, if you've seen me, I've done a couple of shows or things where I had to do physical movements. That's how I ended up doing stunts for Omari [Hardwick] because I could do the physical movements, and at 38 years old, there are a lot of people my age who can't move like I can. 
I feel the like I'm 25 because I still train like I'm in the NFL and I don't think I'm ever going to stop mainly because I got four boys and I know, at some point, they're going to try to challenge me. I got to be ready. You know what I'm saying? I got to be ready to be like, "I know I'm dad, but you challenge me, I'm going to take you out." There's four of them, so I'm excited for that challenge in life.
I know on the charitable side of things, you do a lot of work with awareness for sickle cell disease. What has your experience been like with that, and what's drawn you to that?
Having children. You learn a lot when you're preparing to bring forth life. Shout out to my wife, who is responsible for carrying our four beautiful sons and bringing them into the world safely.
Devale Ellis offers advice to anyone facing adversity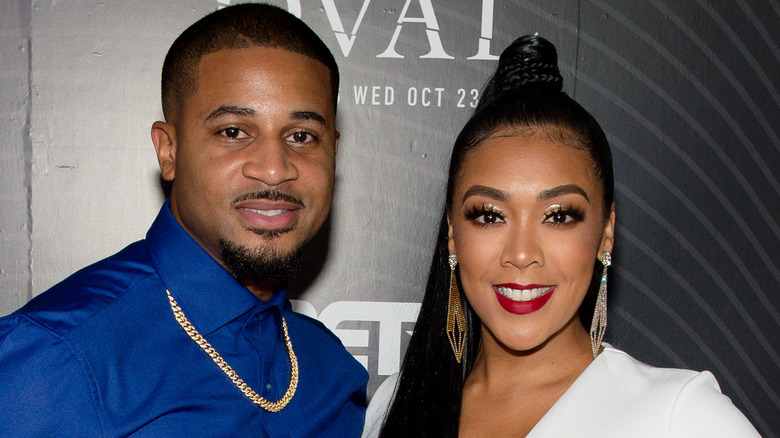 Marcus Ingram/Getty Images
Through getting blood tests and things of that nature, we found out that my wife has the sickle cell anemia trait, [and] if I have the sickle cell anemia trait, there's a large possibility that our sons could have sickle cell anemia or have the trait. It turns out that two out of our four sons have the sickle cell anemia trait. It's good information to know, because when they're dating, that's a conversation you need to have so that you can be aware that if you want to have children, this is something that can happen.
Also, we dealt with COVID last year for my birthday actually, around this time the whole family got COVID and we noticed that [Khadeen] was feeling a little bit more lethargic than everyone else. We started doing research and people with sickle cell are affected [more] disproportionately with COVID than people who don't have it. I was like, "Let me make sure that my sons — because two of my sons have a sickle cell anemia trait — let me make sure that I can do as much as I possibly can to get the awareness out." If you have sickle cell anemia or even just the trait, you can be affected on a daily basis. That's really where it came from, and my wife and I do a ton of work with St. Jude and try to help them get the information out about it.
For anyone who has been struggling with sickle cell or really any adversity, what advice might you have for them?
Know your research, do your research, sit down with your primary care physician and find out what are the things you need to worry about. If it's just a trait, typically, there's not much you need to worry about, but any autoimmune disease or any disease or infection or virus like a COVID-19, can affect you because of the trait or if you actually have sickle cell anemia. It's important to get tested to find out if you have the trait even before you're dating or even before you're having kids to find out how that can affect you on a daily basis.
I know you brought up your kids talking about that. How do you balance being a father with everything?
I lean heavily on my village. My mother-in-law and my father-in-law live with us. We were blessed enough to buy a big enough property where everyone can have their own space, because we have four kids, it's me and my wife, and we also have two additional adults. We grew up in a time, my wife and I, where my Aunt Weezy and my Aunt Debbie were responsible for helping my parents, who were both full-time 9 to 5 workers, help balance their kids.
Devale Ellis reveals what's next for him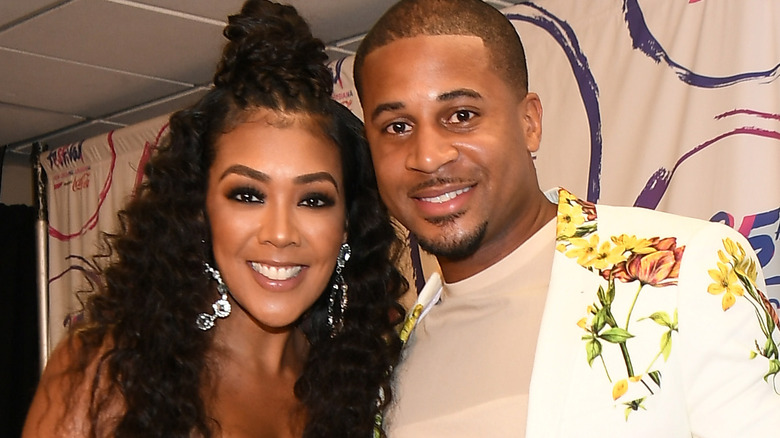 Paras Griffin/Getty Images
We come from the idea that we'd rather have family watch our kids than a stranger, and we have the possibility. Some people have no other choice, and if you have no other choice finding a nanny, it's very difficult.
When Kay's mom retired from nursing, her dad retired from nursing, it made sense. We have two nurses, medical care professionals, that could help us with four children. Let's move them in here because Khadeen [Ellis] and I travel a lot. We're going back on tour with the podcast, I film, she films. We don't want our children's lives to be disrupted every time we go on the road, so we lean on our village. When we come into Brooklyn, they often stay with my dad and my mom. My brother, Brian, helps take my boys to practice. Khadeen's sister, Sakari, helps them so much when we come here. It's been great to have family who is just as involved with our children as we are. We really lean on our village.
What can you tell us about what's next for you?
Right now, Khadeen and I are finishing our eighth season of the "Dead Ass" podcast. Season 9 will be coming shortly, [and] right after Season 9, no more breaks. [Khadeen and I are] in the process of finishing our first book together. It's not your typical relationship book. It's not a how-to book. It's more like Brooklyn's Black version of "The Notebook." It's our story. We've been together since we were 18. We're now 38, that's 20 years of our life. There has been ups and downs, there's been trials and tribulations, but there's also been triumphs. This is a story of how she and I continue to choose each other every single day, no matter what happens in this life. We've been able to build a life that we love with the ones that we love and we want to share it.
Like I said, it's not a how-to book. It's our story. We're both artists, and if I was a singer, I'd be singing this. I can't sing, so I was like, "Let's write a book about it. If I try to sing, I'm probably going to lose some followers, so let's write a book about it, baby, and let's have fun and continue to share our life with people because that's what we want to do."
Season 4 of BET's "Sistas" returns on Wednesday, June 29. "Zatima" is slated to premiere in 2022.