John David Duggar Shares Surprising Mother's Day News
Things have certainly changed for the Duggar family of "19 Kids & Counting" over the years. The popular TLC series showed the world how a (very!) large family led a full life and still managed to maintain family harmony, a neat house, and some money in the bank. The show's spinoff, "Counting On," followed several of the adult Duggar children as they married and began families of their own. It might still be on the air today if not for the scandal surrounding oldest son Josh, which prompted the network to cancel the series in summer 2021, per Showbiz Cheat Sheet.
But while the cameras have stopped filming them, the Duggar clan continues to share their lives and milestones via their social media accounts. The past year and a half has been particularly busy; twins Jedidiah and Jeremiah married within a year of one another, and younger brother Justin wed in early 2021. New grandchildren were added to the family as well: Josh and his wife, Anna, had a daughter in November 2021, and Jed and his bride Katey welcomed son Truett "True" Oliver on May 2 (via their Instagram). In late February, sister Jill Duggar Dillard announced that she is pregnant with her third son, due in early July. 
That would be enough excitement for any family, but the good news hasn't stopped yet. Less than a week after Jed announced the birth of True, one of his nine brothers made a surprise baby announcement of his own.
The Duggar grandchild count has passed double digits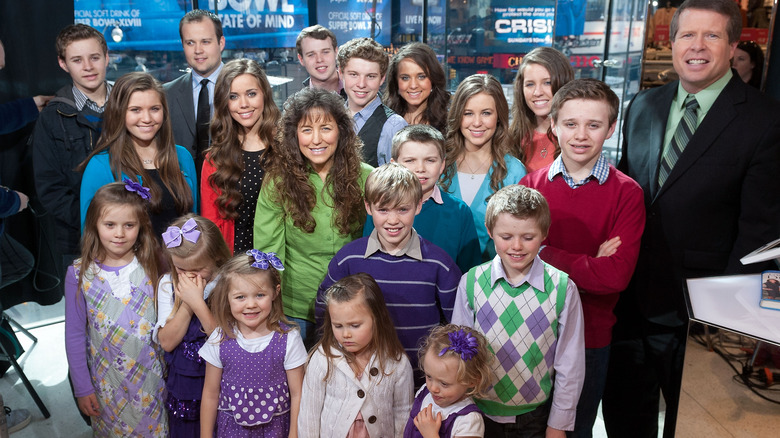 D Dipasupil/Getty Images
In another surprising development for Duggar fans, John David Duggar and his wife, Abbie, announced on Mother's Day that they, too, are expecting. A post shared by both the couple and the Duggar Family's Instagram Stories shows Abbie in a long pink gown, cradling a very visible baby bump. She captioned it: "To the little girl who calls me Mommy and our little boy due in late summer, I'll love you forever!" 
John, the third of the Duggars' 19 children and the second son, married Abbie just six months after they met, and within another six months, they were expecting their first child. Daughter Grace Annette was born in January 2020. The couple hasn't mentioned why they kept this pregnancy quiet for so long. Abbie struggled with hyperemesis gravidarum (severe morning sickness) during her first pregnancy, via Us Weekly, so this may have been an issue for her this time as well. The couple may also have been trying to stay under the radar following the news last fall that they were involved in a plane crash while John was flying.
Having trouble keeping up with all the Duggar babies? As of this writing, the count stands at 22; Jill and Derick Dillard's baby boy will be the 23rd, and John and Abbie's son will follow at #24. Plus, there are eight Duggar children who are either unmarried or still minors, so the grandchild count will surely go up in the years to come.