Are Meghan And Harry Planning A Second Oprah Interview?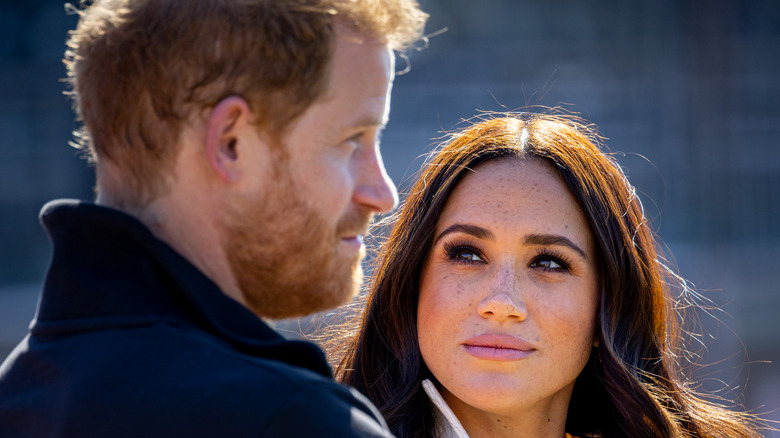 Patrick Van Katwijk/Getty Images
Prince Harry and Meghan Markle shocked fans in early 2021 when they opened up in depth about their lives inside the royal family. The Duke and Duchess of Sussex sat down for a primetime tell-all interview with famed journalist Oprah Winfrey, and they didn't hold back when it came to sharing details about their lives, per People Magazine. During the interview, Meghan and Harry touched on subjects such as the rumored argument between Meghan and Kate Middleton that led to tears, their struggle with mental health issues, the stress involving their royal wedding, Meghan's complicated relationship with her family, and more.
Harry and Meghan went on to reveal that they had planned their exit from the royal family for some time and even admitted that the Duke of Sussex had been cut off financially from the institution. Harry sadly also revealed that his father Prince Charles was so upset by the couple's royal exit that he stopped taking his calls for a period of time. Harry admitted that was tough for him as he was only trying to do what was best for himself and the wellbeing of his family, per Marie Claire.
However, one of the most stunning bombshells from the interview came when the Sussexes claimed that a member of the royal family had made racially insensitive remarks about their son Archie's skin color (via CNN). Since conducting the interview, it's been reported that Meghan and Harry have lost some of their previous popularity with the public, and now they may have a surprising idea about how to do damage control with their reputations.
Meghan Markle and Prince Harry's interview with Oprah Winfrey got strong reactions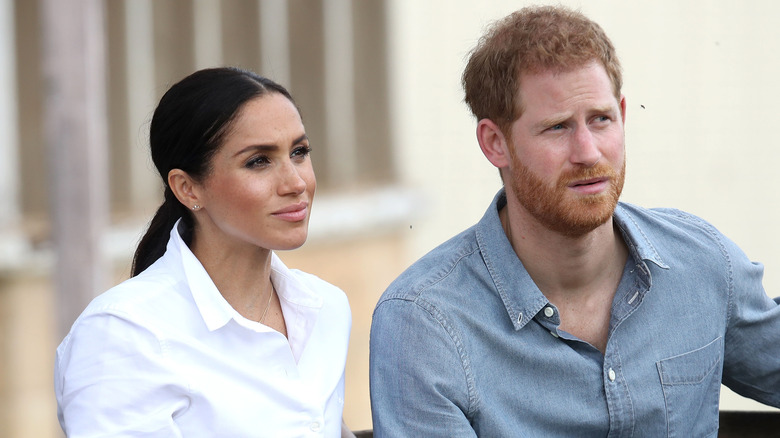 Chris Jackson/Getty Images
The reaction to Prince Harry and Meghan Markle's interview with Oprah Winfrey was mixed. However, many members of the royal family were said to be unhappy about the Duke and Duchess of Sussex's very public remarks against the firm, per Cosmopolitan. Sources revealed at the time that Harry's father Prince Charles was allegedly upset about the couple criticizing the family and believed that Meghan and Harry should have addressed their concerns privately. Meanwhile, Harry's older brother Prince William made a very clear public statement about the allegations of racially insensitive comments regarding Archie. "We are very much not a racist family," William said at the time. 
In addition, Harry's grandmother, Queen Elizabeth II, reportedly had a strong reaction to the surprising interview. The monarch was said to be more sad than angry about the couple's bombshell allegations (via The Sun). "She is not angry, she is just sad," a source told the outlet. "They have always worried about him (Harry) and the Queen feels very protective about him. They all worried less about him when Meghan was on the scene as he seemed so happy," the insider continued. "They always tried to support him when Meghan came along."
Now, rumors are flying that Harry and Meghan may actually sit down for a second interview with Oprah, despite the fallout from the first.
Are Meghan and Harry ready for another tell-all interview?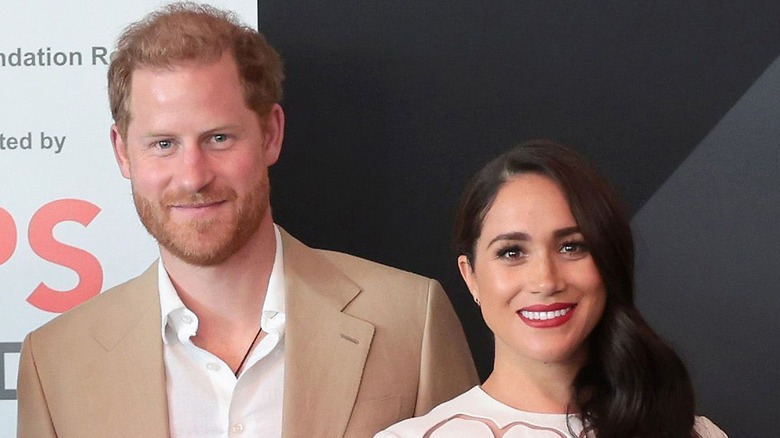 Chris Jackson/Getty Images
According to OK! Magazine, Prince Harry and Meghan Markle may be considering doing a second interview with Oprah Winfrey to set the record straight and clear up any rumors about themselves. The alleged considerations come following former Vanity Fair editor Tina Brown's unflattering comments about the Duke and Duchess of Sussex in her new book. Sources claim that Meghan was particularly upset about the comments, and may be looking for a way to revamp her image.
"These latest claims have really gotten under Meghan's skin," an insider told Heat World. "She's told her team that something needs to be done. She's so sick of the negative headlines and she's desperate to come out fighting with some major damage control. Meghan feels as though doing another chat with Oprah is the best way to change the narrative and counter all the negative claims she's read about herself recently. She's been in contact with Oprah's people already."
Meanwhile, a recent popularity rating by YouGov revealed that Harry had a popularity rating of just 32% and ranked number 11 out of 15 royals while Meghan was in the 14th spot at a 24% approval rating. Royals such as Queen Elizabeth, Prince William, and Kate Middleton all had high approval rating numbers.
Only time will tell if Meghan and Harry decide to do another interview with Oprah, but if they do it's safe to say that people will be tuning in to see what they have to say the second time around.