Queen Elizabeth Pulls Out Of Huge Event Due To 'Mobility Problems'
Wpa Pool/Getty Images
When Queen Elizabeth was 21, she was not the storied ruler we know today, yet she still vowed in a speech commemorating her birthday that her "whole life whether it be long or short shall be devoted to your service and the service of our great imperial family to which we all belong." And she has done just that; she's approaching her Platinum Jubilee, the celebration of 70 years on the throne, and she is still the working royal people know and love. Elizabeth seemingly affirmed that she wouldn't be stepping down as monarch, telling the Archbishop of Canterbury George Carey in 2003, "I'm going to carry on to the end," per Town & Country.
However, in recent months, health issues have caused the queen to cancel events and formal appearances. For instance, Elizabeth missed a climate change conference in Scotland after spending a night in the hospital this past fall. She also canceled virtual events in February 2022 after contracting COVID-19, as reported by The New York Times. She will also be missing this year's traditional garden parties at Buckingham Palace, where the crown honors public service, according to People. Adding to the list of missed public engagements will be the opening of Parliament.
Queen Elizabeth will miss the opening of Parliament for the third time ever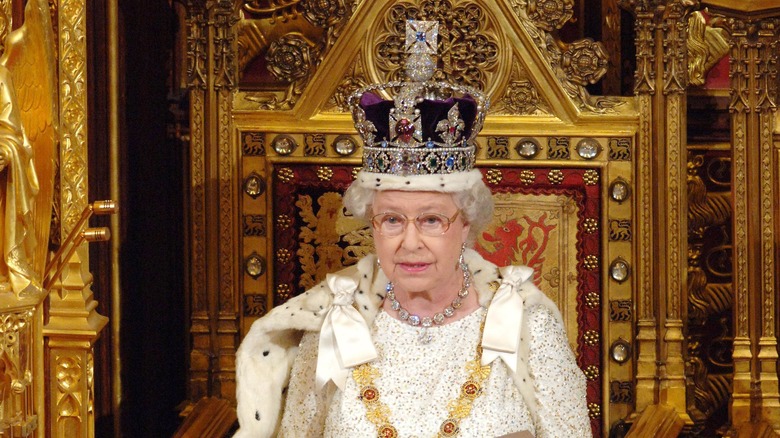 Anwar Hussein Collection/Getty Images
Announced the day before the opening of Parliament, Buckingham Palace released a statement that read, in part, "The queen continues to experience episodic mobility problems, and in consultation with her doctors has reluctantly decided that she will not attend the State Opening of Parliament tomorrow" per CBC. Prince Charles will attend and read her speech, and Prince William will also be present.
Queen Elizabeth has only missed the opening of Parliament two times before, once in 1959 when she was pregnant with Prince Andrew and again in 1963 when she was pregnant with Prince Edward, according to the UK Parliament. The history of the monarch opening parliament started back in the 14th century, and the current ceremony — with its royal procession from Buckingham Palace to the Palaces of Westminster — is very similar to the one established by Queen Victoria in 1852. 
For years, the queen would attend in the formal State Robe, which is 18 feet long and weighs more than 15 pounds. She would additionally wear the Imperial State Crown, which is worn only for a coronation and the opening of Parliament, per People. The crown has nearly 3,000 diamonds, and according to the Royal Collection Trust, it weighs over two pounds. 
The queen will be sorely missed at this year's opening.