Sam Hunt's Pregnant Wife Makes A Big Decision About Their Pending Divorce
Jason Kempin/Getty Images
Sam Hunt and Hannah Lee Fowler's relationship keeps getting more complicated. After an on-again, off-again relationship, the couple married in April 2017 and Hunt often used their union as material for his country music songs. In fact, his song "Drinkin' Too Much" was reportedly inspired by the pair's tumultuous relationship (via Wide Open Country). 
Things appear to have calmed down for the pair, Hunt even talked about his desire to start a family with his wife. "I hope so," he said during a radio interview, per People. "We've been talking about it for a while, but we've really started thinking about it seriously here these past few months, so that's on the agenda right now," he said. "And I'm hoping that we'll have some good news sooner than later."
So fans were shocked when Fowler filed for divorce in February 2022, accusing her husband of adultery. "The husband is guilty of such cruel and inhuman treatment or conduct toward the spouse as renders cohabitation unsafe or improper," according to court documents obtained by TMZ at the time.
In addition, the filing revealed that she was expecting their first child together. As a result, Fowler was asking for child support and primary custody of the couple's unborn child, as well as three different types of alimony. The court documents also explained that "[Fowler believes] that all hopes of reconciliation are exhausted," (via CMT).
But now it seems that Fowler has had a change of heart.
Hannah Lee Fowler has called off her divorce from Sam Hunt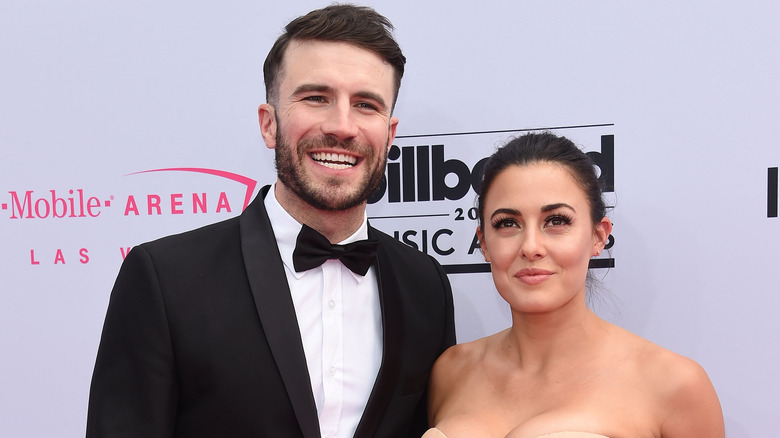 DFree/Shutterstock
It appears that Hannah Lee Fowler has decided to give her marriage to Sam Hunt another try. According to documents obtained by TMZ, Fowler has asked for her divorce case to be dismissed and a judge has already approved the request. Hunt has been seen wearing his wedding band while on stage, and the couple have been spotted together in their hometown of Franklin, Tennessee.
Fowler originally withdrew her divorce petition right after filing in February 2022, but it was due to the fact that it was submitted in the wrong county. Their roller-coaster relationship has now taken a new turn with this latest news, which comes as Fowler and Hunt are getting ready to welcome their first child in May 2022. "I haven't talked about this, but I have a little girl on the way," Hunt said on Country Countdown USA. "I have a baby coming in about 8 weeks. I blocked out two months at the end of May and early June. Really this year revolves around that big news in my life."
Hunt has also been asking his country music friends for parenting advice. "I saw Russell Dickerson a few weeks ago, we talked about fatherhood, I tried to pick his brain. Over the last 4-5 years, I've had a lot of buddies who've had their first kids. So I feel I'm ready for it," Hunt explained.