Here's What Meghan McCain Looks Like Going Makeup-Free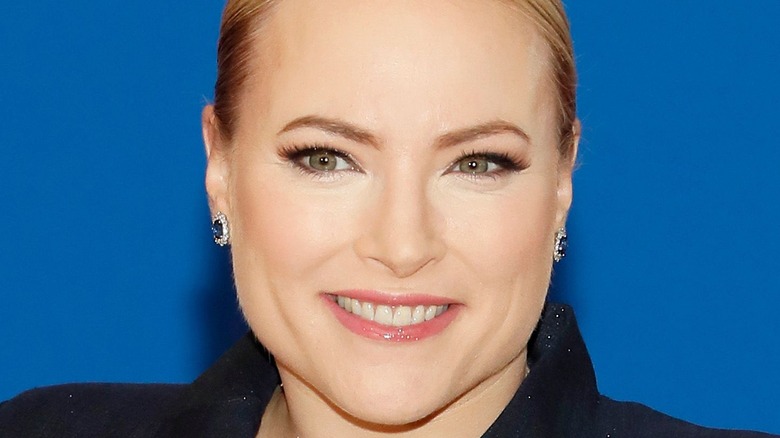 Paul Morigi/Getty Images
During her time on "The View," Meghan McCain was known for her controversial talking points. Co-hosting the daytime talk show alongside the likes of Joy Behar, Whoopi Goldberg, Paula Faris, Jedediah Bila, Sara Haines, Sunny Hostin, and Abby Huntsman during her tenure on the show, McCain became one of America's most popular conservative television personalities.
After joining the team in 2017, McCain decided to leave "The View" in 2021 on her own accord. During the four years that she co-hosted the show, McCain lost her father, Senator John McCain, to glioblastoma in 2018, per Time, suffered a miscarriage a year later, and gave birth to her first child in 2020. Her personal life during her time on "The View" was stressful to say the least. Add that to the burgeoning "toxic work environment" that McCain experienced, she eventually concluded that it would be better for her mental health to leave, per Variety.
Since then, the television personality has been working as a columnist for the Daily Mail, per The New York Post, while raising her daughter, Liberty, with husband Ben Domenech, per USA Today. As evidenced by her Instagram, to say she's glowing would be an understatement. Even more so when she decides to go make-up free.
Meghan McCain collaborated with this makeup artist when she was co-hosting The View
Even before leaving "The View," Meghan McCain looked absolutely stunning when she went bare-faced to introduce her daughter to the world. Even though it's possible the photo has a filter, McCain certainly had that post-baby glow when she was cradling her newborn daughter in her arms. Since then, McCain has shared a few more photos with her daughter without any makeup, including visiting the theatre to watch "Peppa Pig's Adventure."
When she does glam up, McCain usually opts for a pretty natural look with full brows and a variety of lip colors –- mostly sticking to pinks and reds, per Instagram. While she was on "The View," McCain's makeup was in the hands of artist Carmen Currie who told Hollywood Life that she was given complete freedom in styling McCain. "[Meghan] just really lets me be me artistically," Currie said. "However, she's really artistic herself and she's open to things too." And with that combo, they came up with some pretty unique hairstyles.
Meghan McCain's makeup on the show was often inspired by The Real Housewives
False/Shutterstock
The audience at "The View" quickly noted Meghan McCain's collaboration with makeup artist Carmen Currie, which fully blossomed when McCain returned from maternity leave in early 2021. Each day the former co-host rocked up to set with a different hairstyle, which garnered a mixed response online –- so much so that McCain had to eventually address the drama. "People have a lot to say about me in general but in regards to my hair and makeup ... I'm just having fun switching up, playing around and experimenting," McCain tweeted at the time. "It's covid and I just had a baby, let a b**** live!"
As for how Currie would come up with McCain's looks, it all depended on what she was wearing. "She might just have a black sweater on, or she might have something a little more fun, and that dictates the direction, which shapes and colors I emphasize," the makeup artist told The Cut. Sometimes, McCain is inspired by something she's seen and they collaborate. "I'm always down," Currie said. "She gets her inspiration from the [Real] Housewives, but also from magazines, fashion trends, and colors."