Kim Kardashian's Behavior Toward Pete Davidson In Behind-The-Scenes Clip Has Fans Seeing Red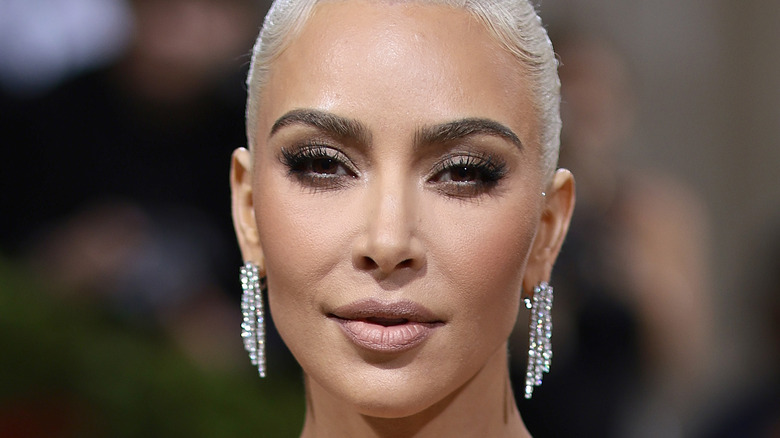 Dimitrios Kambouris/Getty Images
It must be tough to be a celebrity and have your every move picked apart. Such is the case with Kim Kardashian in a recent clip that was shared to social media which shows a behind-the-scenes moment between her and Pete Davidson.
The footage was taken at Ripley's Believe It or Not museum in Orlando, Florida where the reality star famously first tried on Marilyn Monroe's dress — the same one she later wore to the Met Gala (via Page Six). Shared by an Instagram account called Kardashian Social, the moment depicts the SKIMS mogul and her "SNL" boyfriend discussing the merits of his choice to wear two baseball caps. Kardashian is clearly not in favor of the look and tells her famous beau, "Take the double hat off."
We instantly hear a gaggle of admirers, perhaps assistants, giggling, with Davidson explaining he didn't know where to put the second hat. That's when the mom of four tells the actor that a minion will hold it just in case she wants to "use" the moment on social media later. "Oh, you don't want me to have a double hat?" the comedian retorts.
It's Kardashian's response that seemingly has most fans upset.
Fans don't like how Kim Kardashian treated Pete Davidson
As the video posted to the Kardashian Social Instagram account reveals, after telling Pete Davidson to remove his double hat, Kim Kardashian claims she is just looking out for him. While the couple does indeed look cute in this candid moment, the reality star's seemingly controlling and passive-aggressive behavior (pretending she is "looking out for him") is not sitting well with fans.
"She's not letting him be himself by wearing two hats. Let him wear two freaking hats, Kim. It's all about her Instagram aesthetic. Within five months he's going to be a complete accessory," one angry fan commented to the video. Someone else accused Kardashian of simply being in the relationship for "publicity" and pointed out that she seems to be "directing" Davidson on what to do.
While plenty of commenters enthused that this clip shows two people madly in love, others called the Hulu star "bossy" and one observer felt the relationship gave "mother son vibes" instead of a romantic connection. "She [likes] him because she can control him," yet another commenter opined, with several other fans saying that sadly, Kanye West had tried to control her and now it is Kardashian's turn.