Everything We Know About RuPaul's DragCon 2022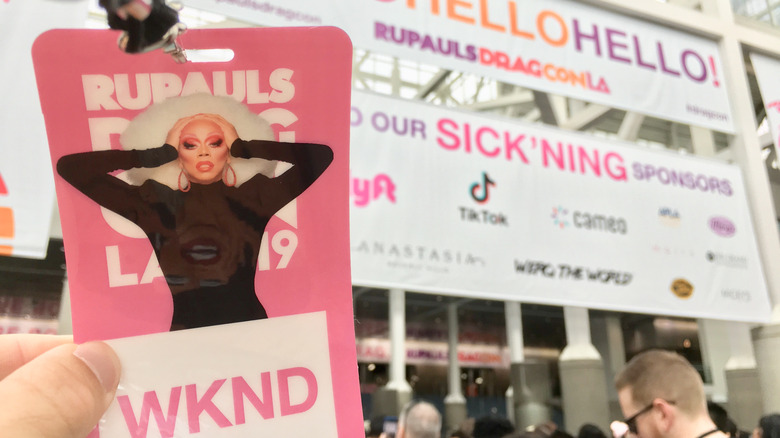 kjarrett/Shutterstock
RuPaul has built himself an empire. The entertainer got his start in the industry by appearing as a background dancer in the music video for the hit B-52's song "Love Shack" (via Talent Recap). From there, he was contracted by the makeup mega-brand, MAC, as a model and spokesperson for their foundation that was raising money for AIDS patients.
From that point on, RuPaul became a superstar. He made his own music, launching to fame with the song "Supermodel (You Better Work)" (via Showbiz Cheat Sheet). It was that catchy tune that opened the doors for RuPaul to bring his drag to TV, starting with his talk show "The RuPaul Show," before the great success of his competition reality show, "RuPaul's Drag Race."
The rest has been history, err, herstory, rather. "Drag Race" now has several international spin-offs, while RuPaul has dabbled in many business ventures. From creating a chocolate bar to an alcohol line, the drag queen does it all. However, it is DragCon, the convention that takes place annually in Los Angeles, New York, and even the United Kingdom, that brings all of his success together for his fans to enjoy.
DragCon is the perfect place for fans of drag to come together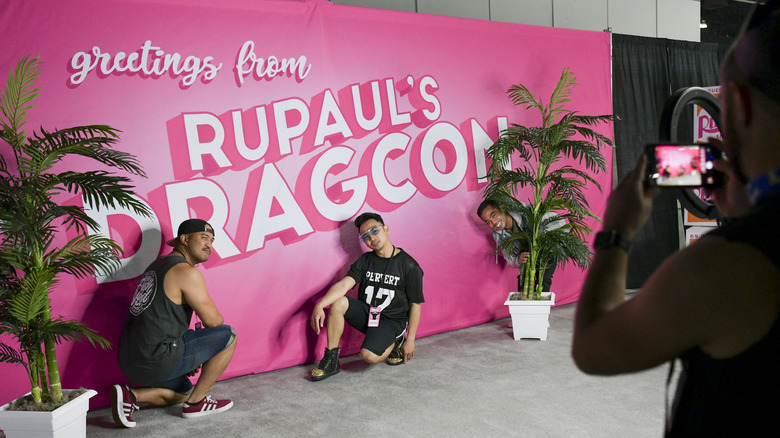 Rodin Eckenroth/Getty Images
RuPaul launched RuPaul's DragCon, an exciting and inclusive place for fans of all things beauty and drag to gather, meet, and of course, shop. The first-ever convention was in Los Angeles in 2015 and spanned two days (via World of Wonder). From there, the event blossomed, changing to three days of glamor and expanding to locations like New York City and London, England.
At RuPaul's DragCon, you have the chance to meet some of your favorite contestants from "RuPaul's Drag Race," and even meet RuPaul himself! Plus, Ru will even hit the main stage of the convention for a fun DJ set.
Aside from being a great place to meet some of your favorite drag queens, the event is totally family-friendly (via the DragCon website). With so many drag events being 21+, DragCon is a great place for the youngsters in your life to meet their favorite queens from the show.
Many fan-favorite queens from RuPaul's Drag Race will be attending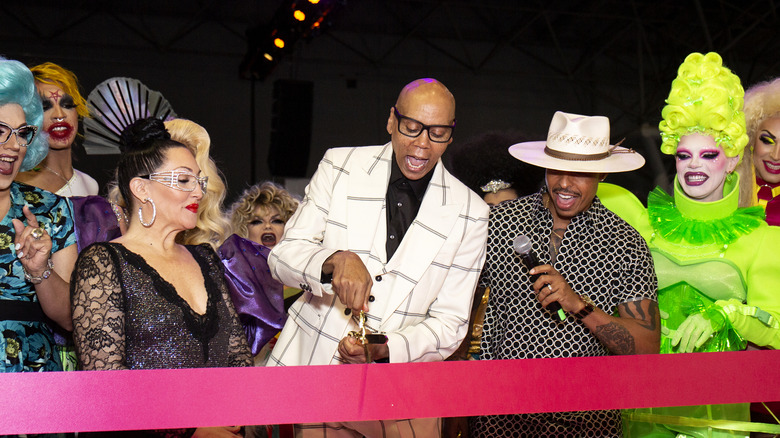 Santiago Felipe/Getty Images
After taking a brief hiatus due to the COVID-19 pandemic RuPaul's DragCon is back this year in Los Angeles, kicking off on Friday, May 13th, and running until Sunday, May 15th (via the DragCon website). You can purchase individual, daily tickets, or splurge on the whole weekend. Weekend passes start at $80, and daily tickets range from $40-$50 depending on which day you'd like to attend. Kids are free!
The convention will feature hundreds of vendors, all LGBTQ+ allies, of course. Brands like Trixie Cosmetics, the makeup line from drag superstar Trixie Mattel will be there, along with non-profit organizations such as the Human Rights Campaign.
The shopping is impressive, but the list of "Drag Race" royalty that will be there meeting and greeting their fans is even better. If you're attending, you can count on seeing series winners like Sonique, Alaska, and the latest to take home the crown, Willow Pill. There will also be a handful of international queens from "Canada's Drag Race," "RuPaul's Drag Race UK," and "RuPaul's Drag Race Down Under," (per Screen Rant).
Don't want to wait in line to meet your favorite queens? No worries. You can catch some of them performing on the main stage within the convention, or take in a panel, where your favorite contestants will be talking about all things drag. It's surely going to be a weekend to remember!