Why Mariah And Tessa's Wedding Is Making History For The Young And The Restless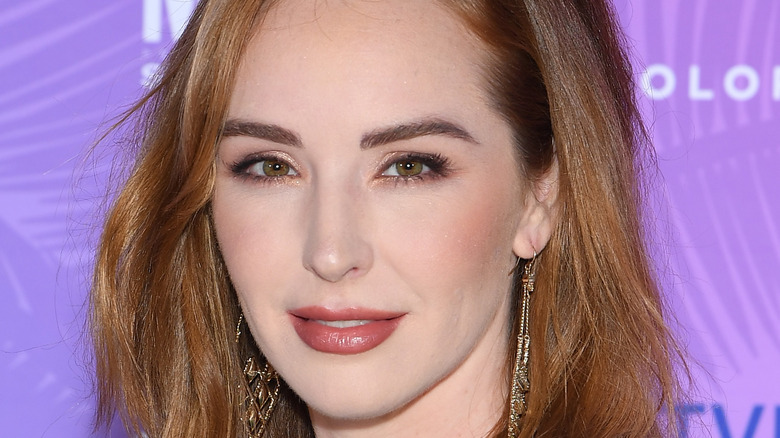 Pascal Le Segretain/Getty Images
When Mariah Copeland and Tessa Porter get married on "The Young and the Restless" on May 13, it will be a long time coming for this fan-favorite couple that's been through it all to be together, just like any soap opera couple should. From the heretofore unmentioned ex-husband to the one-night stand that almost tore them apart for good (via Soaps In Depth), Mariah and Tessa are everything a daytime pair should be. Mariah was even kidnapped while nine months pregnant and she and Tessa were able to communicate with each other telepathically, that's how strong their connection is.
However, they are also different from other soap pairs as they are a same sex couple, which is becoming more the norm on daytime television as the 21st century and progressive thinking has lifted a stigma off same-sex pairs on soaps. Now, they are about to make "Y&R" history when they marry in what promises to be a quirky and poignant affair on Friday the 13th, only a date Mariah and Tessa would choose (via Soaps.com).
Mariah and Tessa will give Y&R its first same-sex wedding
For 'Teriah' fans as they are known on social media, Mariah and Tessa's wedding will be what they have hoped for since 2017, when Mariah Copeland first admitted she had feelings for Tessa Porter (via Soaps.com). It will also be the first same-sex wedding in "The Young and the Restless" 49-year history and actresses Camryn Grimes and Cait Fairbanks can't wait for the audience to see it. They also get the significance of the event.
"I feel especially honored to be a part of this moment because I understand the importance of it," Fairbanks told People. "It's like the best coffee you could ever have going into a scene because you know what this isn't just a couple talking, it's also representing on screen so many people who haven't really had that opportunity to be themselves, and every time I come to work I am reminded of that."
Fairbanks added that she takes pride in what the show is doing by airing this wedding as a big soap event and can't wait to see what's to come for them.
Mariah and Tessa are beloved by fans
Camryn Grimes, who came out as bisexual in 2020 via replies to her own tweet thread about wanting to play the next Batwoman, is grateful for all the support she and Cait Fairbanks have received from the audience over the years.
"Our relationship has been incredibly supported by the fans so far, and that's what makes this such a joy," Grimes told People. "We feel like we get to give this gift back to them, and they get to watch our characters just be happy and in love, and it's a huge culmination of their relationship's journey."
This will also be Grimes' first wedding on the soap. She joined "The Young and the Restless" way back in 1997 as Cassie Newman and played the part until 2005, becoming the youngest performer to ever win a Daytime Emmy in 2000 at the tender age of 10 (via Gold Derby). She then appeared as Cassie's ghost for several years before returning to the soap full-time in 2014 as Cassie's twin, Mariah (via Soaps in Depth).