Teddi Mellencamp Faces Backlash After Revealing The Latest Work She Got Done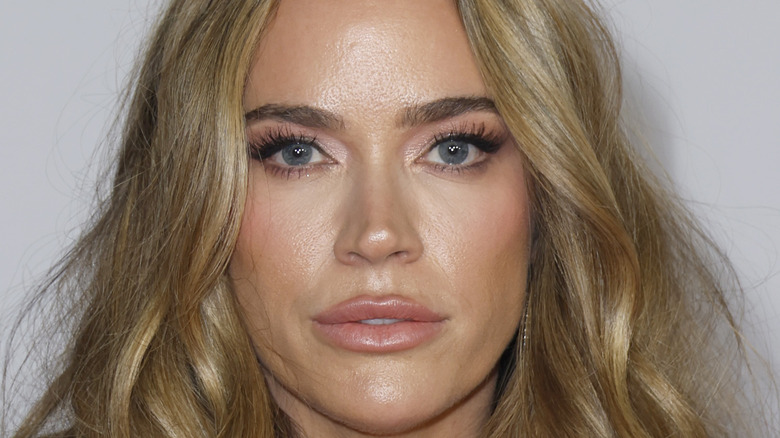 Frazer Harrison/Getty Images
Any true "Real Housewives" fan knows that, when a newcomer joins the scene, you have to give them a minute before fully forming your opinion. They can often start out terribly and then come back their second season better than ever. Or you can have a great addition to the show who wins fans over, only to return the second season and let the fame get to their head and sabotage their character.
Who could forget when Leah McSweeney won "The Real Housewives of New York" fans over in her debut season? Then she had such a disastrous second season that the reunion was canceled and "RHONY" was put on pause and revamped, per Heavy. 
The same goes for the lady that many consider the most "annoying" housewife ever: Teddi Mellencamp, per The Sun. Mellencamp — whose fame can be attributed to her rocker father, John — kicked things off well, as viewers enjoyed her dry, self-deprecating sense of humor. 
But things quickly took a turn. The wellness entrepreneur has always rubbed fans the wrong way for being a troublemaker. And it looks like, even two years after leaving "The Real Housewives of Beverly Hills," Mellencamp still manages to find ways to irritate the public.
Teddi Mellencamp reveals she got a neck lift
While Teddi Mellencamp may have left "RHOBH," she certainly hasn't left the "Real Housewives" arena. In fact, she joined forces with fellow former housewife Tamra Judge to start a podcast, "Two Ts in a Pod," where they discuss the franchise, per Bravo TV. 
Mellencamp had a rough tumble out of "RHOBH" as it became very clear that her departure was not a choice, per People. However, the star still remained a part of the same circle of friends who were once her castmates, and she even recently partied with Kyle Richards at Coachella, per Bravo TV.
Mellencamp continues to share every detail of her life via social media. The latest was revealing to her followers that she had undergone a neck lift, per Page Six. She took to Instagram to explain, "I have always been comfortable with my neck in the front. It's the side profile that has always made me feel insecure." Mellencamp also posted some pre- and post-op photos, including her scars, to document her progress. 
Sharing in-depth photos and descriptions of the process, she even tagged her doctor to be transparent. But, while people on social media often call for celebrities to be more open about the procedures they get done, Mellencamp's followers weren't too happy about it.
Angry fan condemns the former Real Housewife for her neck lift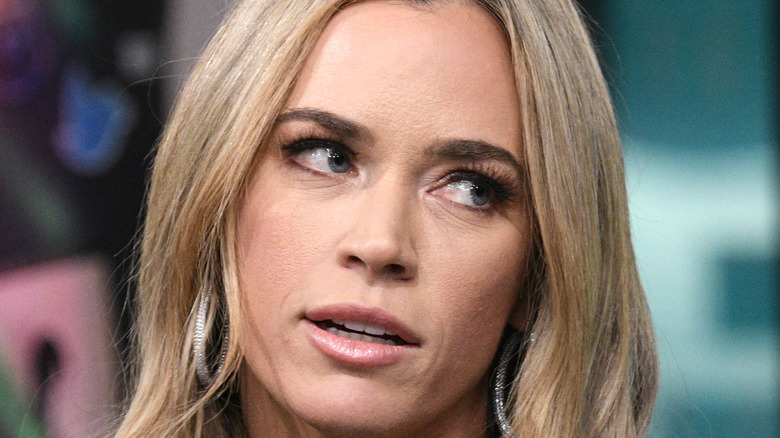 Gary Gershoff/Getty Images
Teddi Mellencamp is no stranger to online scrutiny. After all, she has often alleged that she got fired from "RHOBH" because she confronted show producers about how she was being portrayed. She shared the text she sent producers two weeks before her firing. 
"I've trended on Twitter every single week from hate and you aren't giving me anything else but the negative. Please, I'm doing the work, I'm showing up. I need you to show my life in some other capacity," the text read, as shared by Mellencamp on "Two Ts in a Pod."
That's not to mention the severe public backlash she got for claims that her coaching program, All In, was toxic and overly restrictive, per People. 
Well, Mellencamp can add sharing her necklift online to her list of public wrongs. She shared a screenshot of an angry Instagram DM from a follower that read, "Ur a public figure trying to help women loose [sic] weight yet your [sic] getting a face lift to remind those of us who need one who can't afford one how ugly we are Thanku."
Mellencamp shared the screenshot along with her clap back explaining that she is attempting to be transparent and open rather than "filtered." The podcast host used the confrontation to ask the rest of her followers, "Do you appreciate me being open about my journey or would you rather I just pretend I did nothing?"