Prince William Makes A Silly Joke At Kate Middleton's Expense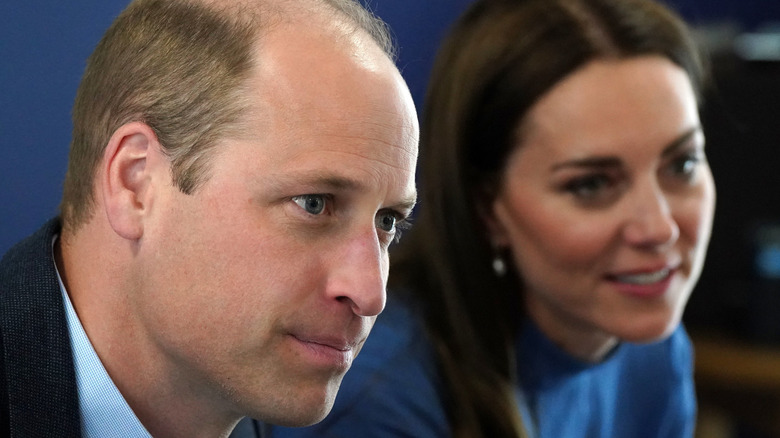 Wpa Pool/Getty Images
Prince William and Kate Middleton's kids are the light of their lives, but juggling being a working member of the royal family and a dedicated parent can be tricky. The Cambridges share Prince George, Princess Charlotte, and Prince Louis, who are third, fourth, and fifth in line to the throne, respectively. 
But, despite their privileged upbringing, William and Kate are intent on the kids having as normal a childhood as possible, per People. Moreover, both parents have opened up about the struggles of raising children in the spotlight, too. 
In an interview on the "Happy Mum, Happy Baby" podcast (via Today), Kate explained how tough it was to accept "it's not totally my responsibility to do everything," acknowledging she experiences mom guilt "all the time." In fact, the duchess quipped, "I think anyone who doesn't, as a mother, is actually lying." 
William, meanwhile, admitted on "Talk Vietnam," per E! News, that becoming a father was a massive readjustment. "There's wonderful highs and there's wonderful lows," he explained. "I'm very lucky in the support I have from Catherine." 
The busy parents have their hands full, but the Cambridges have been dogged by rumors that they're trying for a fourth child for years. William typically jokes his way out of responding to the rumor, which is exactly what happened during a recent royal visit. 
Prince William joked that his wife might be getting ideas about having another baby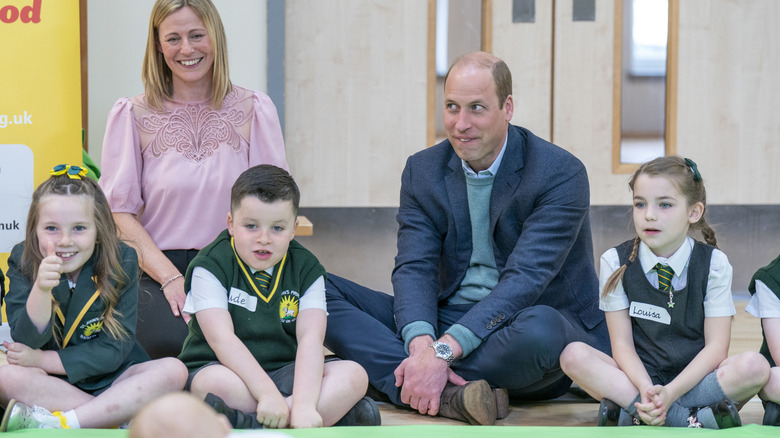 Wpa Pool/Getty Images
Kate Middleton has made her desire to have another child clear, and, typically, whenever she and husband Prince William interact with babies, the duchess is guaranteed to end up snuggling with them before the visit is done. 
Per People, during a recent stop-off at St. John's Primary School, in Scotland — the first stop on their royal visit there — students introduced the celebrity couple to their "tiny teacher," Saul. The baby is educating the pupils about empathy, but William was worried he might give Kate ideas.
"Can you get my wife out of here before she gets broody?" the duke quipped. But it was too late since photos from the event show Kate cuddling the 10-month-old tot in her lap as they leaf through a book together. 
The Roots of Empathy classroom program clearly had an impact on the duchess, who asked the gathered schoolchildren, "Do you think lots of schools should have a project like this?" before agreeing with their confirmation, noting, "We do too." 
Early childhood development is a cornerstone of her work, but it naturally requires plenty of interaction with young kids and babies, which can sometimes be problematic. As Marie Claire UK notes, during a 2017 royal tour, the Cambridges were actually urged by a local family-planning organization to consider how having a big family negatively impacts the environment. Having Kids sternly advised the couple, "Large families are not sustainable." 
Could the Cambridges have a fourth child at some point?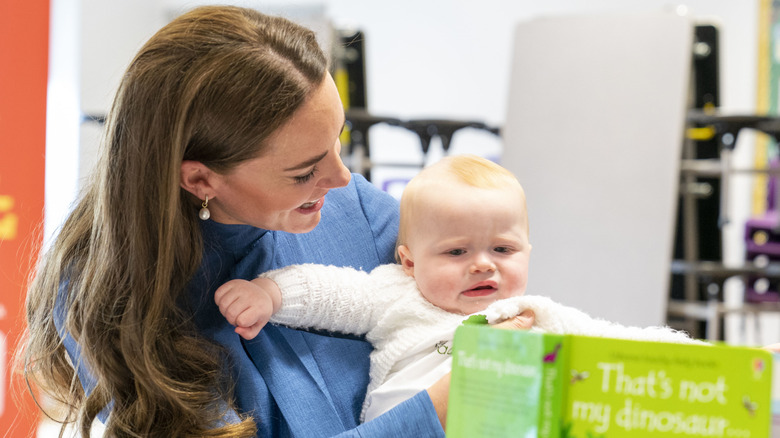 Wpa Pool/Getty Images
Although they're very environmentally conscious, the reason the Cambridges aren't in a rush to have a fourth child is likely more personal. Recently, Kate Middleton revealed why Prince William gets worried about her around children, admitting that the duchess's apparent broodiness often gives him pause. 
As Elle UK noted in 2019, when an eager fan asked whether "baby number four" was on the way, she responded, "I think William would be a little worried." 
Kate's broodiness has become a running joke. During a visit to a Lancashire hospital, she was spotted cooing over a little girl, with William quipping, "Don't give my wife any more ideas," per People. 
Likewise, during a solo trip to Copenhagen's Children's Museum, Kate admitted her husband "always worries about me meeting under one-year-olds." She added, "I come home saying, 'let's have another one,'" according to the Daily Mail. 
A source told Us Weekly, "Having four children was always part of Kate's plan," but the COVID-19 pandemic scuppered it. 
The royal couple was reportedly planning to start trying for another baby once schools were back open again, but there doesn't seem to have been any movement on that front since. Although his grandmother, Queen Elizabeth, is fully onboard with the idea, William isn't convinced, since he reckons "three children is more than enough." 
Considering how dedicated the duke is to his family, though, we could still see another Cambridge baby eventually.