How Did Kourtney Kardashian Break Her Engagement Ring From Travis Barker?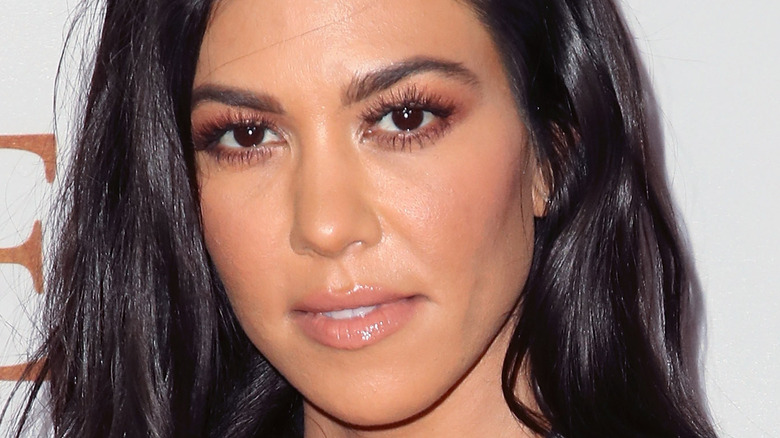 David Livingston/Getty Images
Kourtney Kardashian and Travis Barker's relationship timeline might give the impression of a whirlwind romance, but the PDA-loving couple has notably been close friends for years, solidifying their bond early on. They got engaged in August 2021, as TMZ confirmed at the time, with Barker getting down on one knee surrounded by rose petals and candles on a Montecito beach. An eyewitness confirmed to E! News that the romantic moment was timed to take place right when the sun was setting.
This witness detailed how "Travis escorted Kourtney down to the beach, where he had red and white florals set up in the shape of a heart, before saying, "I could see Kourtney smiling from ear to ear and put her hand over her mouth looking surprised." Several of her famous family members were in attendance, including sisters Kim and Khloé Kardashian.
Although it may seem like they moved quickly, an insider explained, "It was an instant connection and bond ever since they became romantically involved," before adding, "They are in it for the long haul. Everyone in the family adores Travis and their families mesh seamlessly." The engagement is currently being covered on the new Hulu reality show "The Kardashians," and, of course, it's drama-filled.
For one thing, Kris Jenner made a decision that broke her grandchildren's hearts when she forbade them from attending. Elsewhere, Kourtney damaged her hugely expensive ring in a surprisingly relatable way.
Kourtney Kardashian was heartbroken when she damaged her ring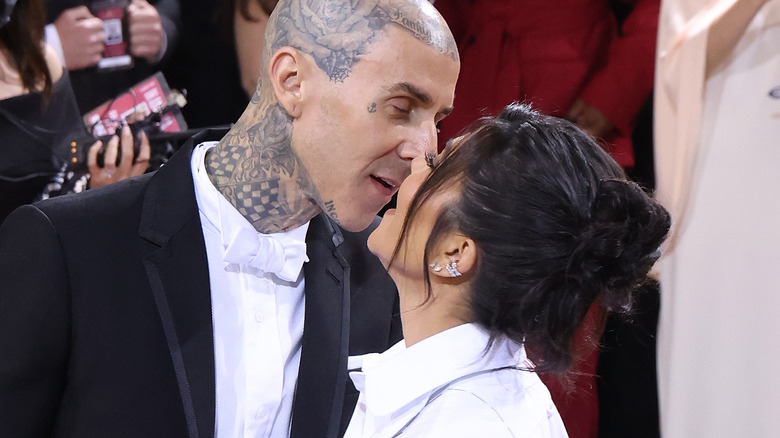 Taylor Hill/Getty Images
Kourtney Kardashian's engagement ring is an absolute stunner, but the reality star was left red-faced after accidentally breaking it while sorting laundry. Per People, during the latest episode of her reality show "The Kardashians," the mother of three revealed she'd damaged the super expensive piece of jewelry while doing household chores. Momager Kris Jenner noticed the ring was missing, with Kourtney explaining it was being repaired after she'd broken it, describing the error as "probably one of the worst things I've ever done in my whole life."
"I was sitting on my floor folding sweatshirts. I took the ring off and I put it next to me on the floor, like, thinking it would be safe right next to me," the Poosh founder explained. "I had to get something up above in my closet, and when I stepped down, I stepped on the ring." This, naturally, led Kourtney to dissolve into devastated sobs, with the reality star admitting she couldn't face telling her fiancé, Travis Barker, for hours. The Blink 182 drummer handled it well, though, despite Kourtney's self-described "nervous breakdown" over the incident.
The ring in question is pretty spectacular, with Mike Fried, CEO of The Diamond Pro, valuing it at an eye-watering $1 million in an interview with Page Six. Hopefully, the stunning piece didn't cost too much to fix.